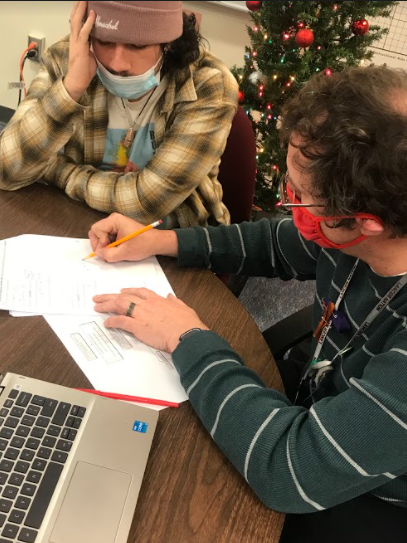 Photo by Gianna Siracuse
LHS Algebra teacher Leon Guertin wasn't always good at math. He said he started having a problem with math "around fifth grade." It made him feel really aggravated and frustrated that he couldn't do it. To him, "it just didn't make sense."
"I was known by my math teacher as the 'Redo King,'" Guertin said, "because I literally had to redo every homework assignment that I turned in. After that I absolutely despised math."
Before Guertin studied math education, he majored in building construction technologies at Manchester Community College (MCC). He did construction professionally for two summers prior to pursuing mathematics.
A college geometry class prompted Guertin's change in attitude regarding math. What once he couldn't comprehend, he became a master at. 
"I wasn't really good at geometry in high school so I wasn't really looking forward to the class," Guertin said. "As the semester kept going on, I was doing really well in the class. I found I was getting nineties and hundreds on the tests. So that's when the mathematics really started becoming more interesting to me because you know, it's something I struggled with, but I found it made more sense to me."
After years of struggling with math, geometry became lucid for him. Guertin started doing well in class, to the point where his construction crewmates began to notice. 
"I started with a couple of my crewmates [who were in my class] and helped them," Guertin said. "They started doing better in geometry. Then, slowly as the semester progressed, it turned into the entire geometry class."
Guertin saw something on his crewmate's face while teaching them. He referred to it as "the lightbulb moment." This is the look on a student's face when everything just makes sense. 
"It's that moment, you know, you just see their faces light up," Guertin said. "It's somebody that just didn't get it before and they were totally frustrated. And then all of a sudden it clicks. It makes sense."
When Guertin's college professor Mr. Trouchon heard he was tutoring members of the class, Trouchon influenced Guertin to follow a career in mathematics. 
"We met up in the lunch line one day," Guertin said. "He had said to me 'You know, building construction is a good trade, but you might want to consider becoming a math teacher.'"
Guertin completed his education in building construction technologies, obtaining his Associates degree. Afterwards, Guertin got his Bachelors in Mathematics Education at Rivier University and has been teaching at LHS for 18 years now.
Guertin believes that something that characterizes a good math teacher is "somebody who struggled with [math]." 
"[Math] was not one of my stronger points," Guertin said, "and I feel that because I struggled, because I had tough times with it, I can relate to students who struggle with it as well. And I try to explain the mathematics very methodically, very detailed so I can pick up and try to have students avoid the pitfalls that I fell into."
As a teacher, Guertin knows he won't ever be very wealthy, and jokes about how he can't get the Lamborghini he always wanted. Yet to him, it's more than getting his dream car. A part of his teen self still lingers in the hallways. 
"I do believe [being a math teacher is] a positive thing, especially teaching in the community I grew up in," Guertin said. "I remember my generation walking through the halls here at the school and now seeing your generation and I've seen it come through. It's just so great to be able to give that knowledge that I've gained throughout the years to your future generation."
Guertin wants to leave a beneficial impact on his students long after Londonderry. Being someone to help them not just with math, but other struggles as well. 
"Someone they can come talk to, if they've got a problem, they can certainly come see me," Guertin said. "I try to make myself readily available for anybody who needs me and not just my mathematically. It always makes me feel great when people come back and not just when they've graduated. Having a junior pop their head in my door, 'Hey G' is an amazing feeling."
Sophomore Brendan Gear, who had Guertin last year, said he enjoyed being in his class.
"Mr. G, as I, and many others call him, was a very good math teacher, and down- to-earth person." Gear said, "I have never really been good at math, and have always been interested in hands-on stuff during my life so far. But Mr. G's class made me think differently about math class, as his class was very enjoyable."
Guertin's goal is to help students understand what he couldn't, so he works to ensure his students are doing the best they can. 
"One of the greatest rewards you have as a teacher is just getting that moment where they get it," Guerin said. "They just light up because they finally understand something they didn't."
He hopes he can "generate a positive work ethic" amongst his students.
"I want to see my students succeed obviously in my math class, but also all around." Guertin said.
He stressed the idea that life is not set in stone since he himself went from vowing to never take another math class to teaching mathematics now.
"Your life can completely flip on you and you'd never imagine where you'd end up," Guertin said.