Girls' track 'hopeful' about upcoming season
With the addition of many talented underclassmen, and lots of returning upperclassmen, the girls' track team is looking strong for the 2022 season. Coming off of a condensed season last year due to the pandemic, the girls are thrilled to be back in action. 
Although there are many new underclassmen, senior Adriana Nadeau sees this as an advantage for the team. Nadeau will be alternating running the 800, 1600, 3200, and possibly the 4×800, and the 4×400.
"This season I expect the team to do very well, because there are a lot of new freshmen and sophomores on the team," Nadeau said. "We are all very hopeful for a good season. I think that our biggest strength as a team is our willingness to learn and get better."
Senior Maura O'Shaughnessy is also hopeful for a successful season this year and knows that the team is capable of doing well.  O'Shaughnessy plans to run the 800 this year because she "loved the fast pace competition of an event that is still considered long distance."
"As a team this season, my expectations definitely revolve around all of us working together," O'Shaughnessy said. "There are a lot of us which means a lot of people to fill events which will be very beneficial in the long run. I'm really hoping to see some wins this season because we have a lot more meets than we did last year and a lot more time to improve."
In order to achieve this success, the team needs to work together to accomplish their goals. 
"Personally, I really want our team to bond this year," O'Shaughnessy said. "Even though we are all out working on different events, it is crucial to connect with one another because as much as track is an individual race, we still work together as a team like other sports."
One girl in particular to look out for this season is Senior Grace McDonough. McDonough has been a stand out runner on the team since her freshman year. 
"Grace has been a critical member of not only our distance team, but our team in general," O'Shaughnessy said. "Grace has many wins ahead of her during her senior season. She's not only an important individual out on the track, but she really ties our team together with her amazing positivity."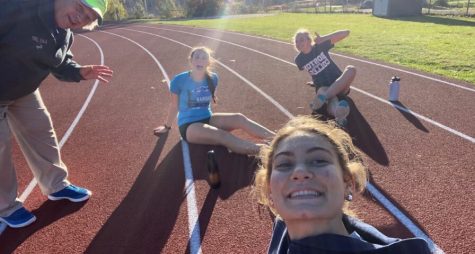 This season is especially important for Nadeau and O'Shaughnessy considering it is their senior year. 
"This season means a lot more to me this year than in the past, because it is my last high school season and marks the official end to my high school running career," Nadeau said. "I am hoping to make it the best season yet. My goal for this season is to qualify for D1's, and run my personal record in each event."
For both girls, this marks the end of their running careers. The team and especially the seniors hope to make it a season to remember.  
"This season being my senior year, means the last of the last," O'Shaughnessy said. "I didn't feel the same type of energy during my cross country and indoor season because I still had outdoor to go, but outdoor is here. Although I don't want it to pass by too quickly, I'm ready to compete again. This season will be my first "normal" track season since freshman year due to Covid. The intensity is definitely more prominent this season but I'm so excited to have the opportunity to compete again."
View Comments (1)