Midterm election was 'too close for comfort' for LGBTQ+ citizens
 This recent election resulted in many accomplishments for LGBTQ+ candidates nationwide, including an extraordinary milestone accomplished here in N.H. as the first ever transgender man was elected into a state legislature from Merrimack County.
The race for the U.S Senate and the U.S. House of Representatives for N.H. was won by their Democratic incumbents, however, it was too close for comfort for LGBTQ+ citizens.
Karoline Leavitt, who ran against U.S. Representative Chris Pappas for N.H.'s second district, is an advocate for more parental rights in our public schools, including supporting Florida's "Don't Say Gay" bill, and is hoping for one in N.H. This bill is barbaric, with homophobic and transphobic tones, which have no place in our state.
On her website, Leavitt claims that transgender people are "absurdities", which is not only transphobic, but actively endangers transgender people. 
Her opponent, openly gay incumbent, U.S. Representative Pappas, thankfully won reelection, keeping LGBTQ+ citizens safe and allowing for greater representation. Fellow Democratic U.S. Senator Maggie Hassan also won reelection against her Republican opponent Gen. Don Bolduc.
Bolduc has made remark after remark on LGBTQ+ issues, all blatantly ignorant.
Just like Leavitt, Bolduc supports the "Don't Say Gay" bill, disagrees with same-sex marriage, doesn't think LGBTQ+ people need employment discrimination protections, and more harmful ideas.
Both candidates whole-heartedly believe that kids are being taught to be transgender. This is obviously false. Transgender people aren't taught to be transgender; they know who they are deep down, then they learn the word to describe their feelings. 
These ideas that Bolduc and Leavitt share are harmful to all citizens of N.H. In Utah, a school led a private investigation into a student athlete on if she was transgender, after other parents complained that she won.
The school went through her records, all the way to kindergarten, to confirm she was cisgender.
Neither the girl nor her parents were aware of this happening until after the incident had occurred.
This invasion of privacy to "protect" cisgender athletes only harmed them. The possibility of that happening here would only increase if we were to elect people with views like Bolduc and Leavitt's. Not supporting LGBTQ+ rights affects everyone, either straight, gay, transgender or cisgender.
 This is not to say all Republicans share these values. Governor Chris Sununu, a Republican, has done plenty in support of the LGBTQ+ N.H. citizens. Earlier this year, Sununu promised to veto a bill similar to the "Don't Say Gay" one if it reached his desk, which was ultimately shot down in the House. 
These harmful views, however, have no place in N.H. It was concerning how close we would have had ignorant homophobes representing our state. It was a close call, and we need to ensure that future representatives, whether elected or not, represent everyone in N.H. 
We're not all heterosexual and cisgender in the Granite State, but we are all human. It is not hard to forget that LGBTQ+ rights are human rights.
View Comments (2)
About the Contributor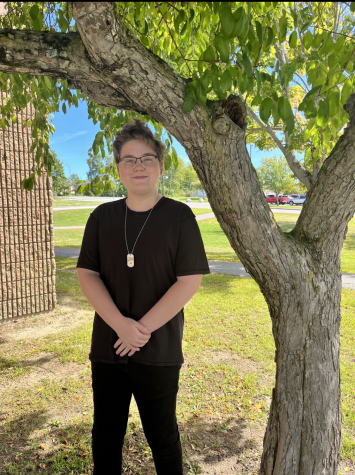 Andrew Macpherson, Opinion Editor
Senior Andrew Macpherson has written for The Lancer Spirit for three years, but this will be his first year as Opinion Editor. He is an avid activist for mental health and LGBTQ+ issues. In New Hampshire, he has spoken at the statehouse against harmful bills to the LGBTQ+ community. In his spare time, he enjoys riding his horse Whiskey.