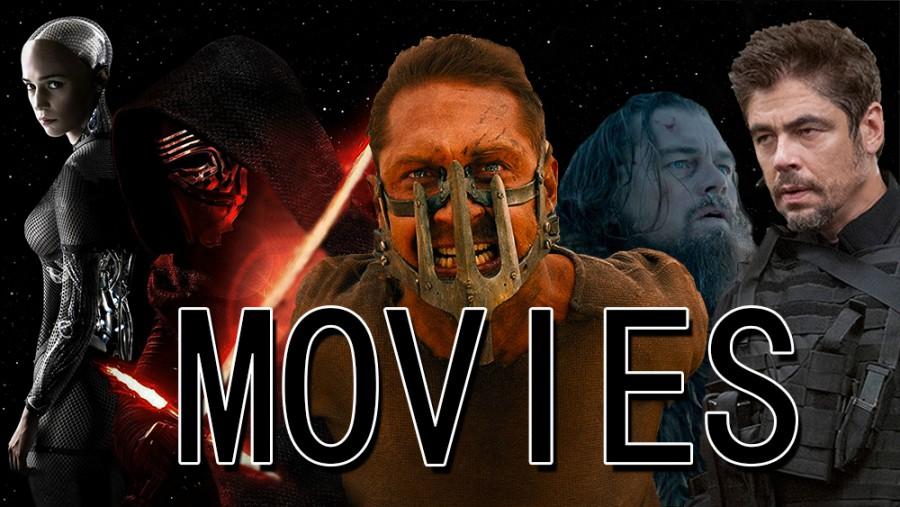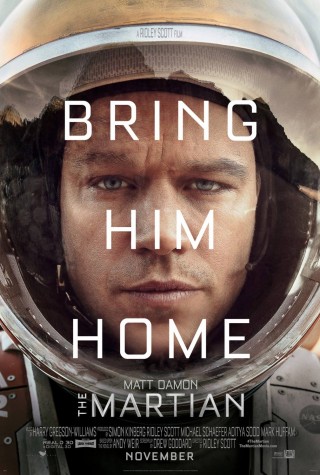 10. The Martian
____________________________
 Ridley Scott's adaptation of Andy Weir's sci-fi yarn about a marooned astronaut manages to combine grounded, realistic science with pulse-pounding action and endearing characters. In a role that mostly consists of explaining plot points to a camera, Matt Damon engrosses the audience in his captivating and frequently funny performance. Being no stranger to the sci-fi genre, Scott delivers one of his most lighthearted yet intense space epics in recent memory.
Resurrecting what was one of history's worst summer blockbuster seasons, The Martian was just what the industry was looking for. With its incredible visuals and visionary storytelling, it is one of the most exciting and satisfying blockbusters of the year.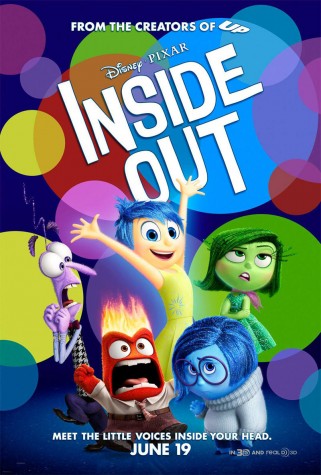 9. Inside Out
____________________________
    Few studios have had such a long and well-deserved reputation for quality as Pixar. Their track record for churning out animated features that can capture kids' wiry attention spans and still have enough emotional depth to appeal to their parents extends over decades. Inside Out, with its overarching themes of maturity, change, and self-expression, is perhaps the deepest Pixar outing to date.
     The story is, on its face, simple enough. Riley, an eleven year-old girl, struggles to find herself after a move from small-town Minnesota to sprawling San Francisco. This internal strife is symbolized by her mind's "Headquarters," a collection of physical manifestations of her emotions. Amy Poehler, Phyllis Smith, Bill Hader, Lewis Black, and Mindy Kaling are all exceptional in their roles as Riley's emotions, and the story gives enough credit to its audience to play with mature themes and subjects at will, resulting in a film that resonates with just about anyone.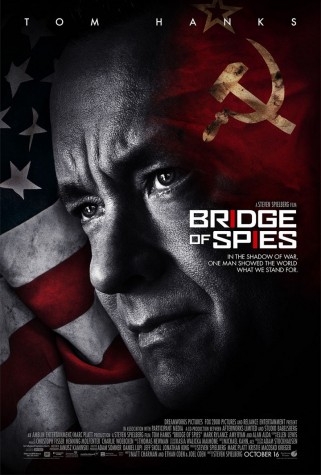 8. Bridge of Spies
____________________________
With his twenty eighth feature film, legendary director Steven Spielberg, holds back from his typical epic sweep style and turns a monumental moment in history into an intimate and personal story. In his fourth collaboration with Academy Award winning actor Tom Hanks, Spielberg tells the story of James B. Donovan, an American lawyer sent Cold War East Berlin. to negotiate the exchange of American and Soviet prisoners.
Surprisingly through a film made up almost entirely of dialogue, Bridge of Spies is a tense, heartwarming thriller. Delivering a fascinating insight into war torn Berlin, the film captures the period with exciting pacing and pulsating dialogue. It's one of Hank's most memorable performances in recent years and a continuation of Spielberg's unparalleled reputation.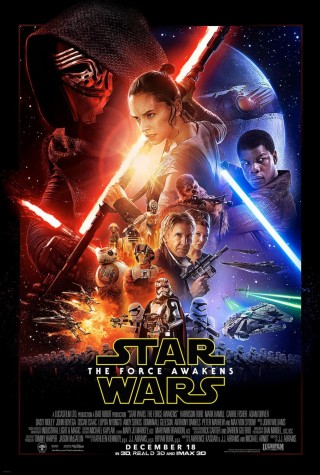 7. Star Wars: The Force Awakens
____________________________
 After the decade long aftermath that was the end of the Star Wars prequel trilogy, hope is restored for the iconic series. Continuing on with where the original story left off with Return of the Jedi in 1983, The Force Awakens introduces new characters and brings back the old. Sewing up the scars of the prequels was no small feat for director J. J. Abrams, but with a return to practical effects and a comeback from Episode V screenwriter Lawrence Kasdan he was able to create a film that will spawn a new generation of fans and reinvigorate the interests of the original ones.
   Abrams' new vision of Star Wars brought and exciting fresh story that may at times be a bit too much like A New Hope, but regardless of that it is an excellent reboot. The Force Awakens may not erase all of the mistakes of the prequels, but it does undo most of the damage. Star Wars is back and bigger than ever, being host of great characters, revolutionary costume design and mesmerizing special effects.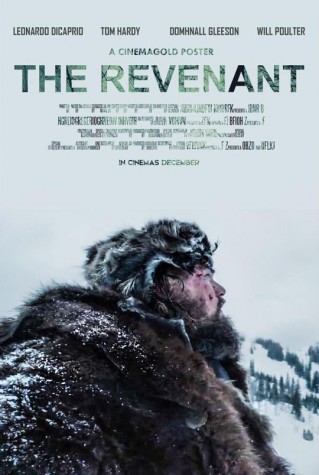 6. The Revenant
____________________________
Alejandro Gonzalez Inarritu's fifth feature length film may at times feel a bit hollow, but it is undoubtedly one of the most beautiful films ever created. Shooting entirely in natural was an ambitious move for the director, but it more than paid off especially with the help of his choice cinematographer Emmanuel Lubezki.
Following the events of a bear mauling, frontiersman Hugh Glass (Leonardo DiCaprio) is forced to drag himself through frozen America in search of revenge on those who left him for dead. The Revenant is occasionally fairly empty and even pretentious, but its visuals and performances from every cast member make it an unforgettable and intense experience.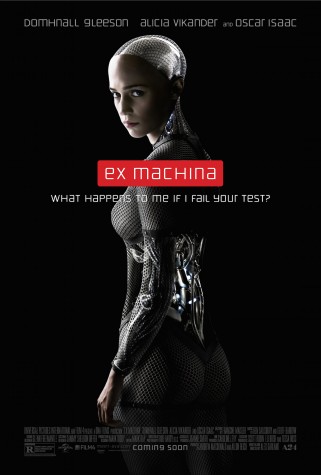 5. Ex Machina
____________________________
Fresh off from writing the screenplays of Dredd and 27 Days Later, Alex Garland had burst into the spotlight with his directorial debut Ex Machina. The year's best sci-fi film is a heady thriller that gives an in depth look into some of today's most technologically controversial topics such as data mining and A.I. development.
When Caleb (Domhnall Gleeson), a programmer for a company very much like Google, wins a trip to a remote, secret location to meet Nathan, the company's founder, he discovers that Nathan has invented the first functioning artificial intelligence. Summoned to conduct a Turing Test, which will determine the quality of the A.I., Caleb interviews a "female" robot to test her humanity.
As the film asks the audience what it truly means to be human, Ex Machina becomes one of the most thought provoking films of the year. With a mix of at times, David Lynch style directing and immersive sci-fi storytelling, it is one of the most exciting and fascinating movies of the year.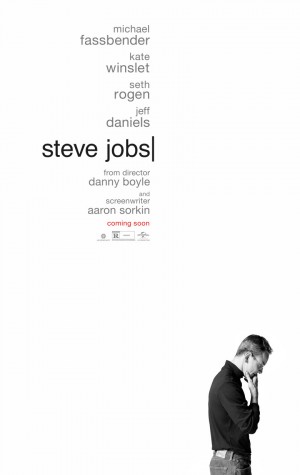 4. Steve Jobs
____________________________
Through the hundred plus years of film, biopics have always been a subject of interest, but with director Danny Boyle and screenwriter Aaron Sorkin, the genre is reinvigorated in an original and refreshing way. Instead of focusing on the entire life the Apple co-founder, the film captures the moments of three different events in Jobs's career.
Each third of the film focuses on the 45 minutes leading up to a new product launch. These minutes show Steve's true colors, as he is under some of the most pressure of his career. Combined with flashbacks from his early days, Steve Jobs provides an in depth and never biased insight into the man's life. Sorkin's script passionately details the portrayal of a complicated man. Taking on the role, Michael Fassbender steals the show in his role as Jobs that rightfully earned him an Oscar nomination. The heart of the film is in its direction, script and the fire behind each performance making it stand out among many decades of biopics.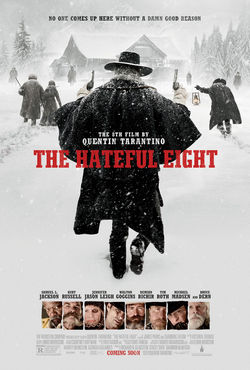 3. The Hateful Eight
____________________________
Eight films into his career entering its third decade, Quentin Tarantino continues to surprise. Shot on 65MM film and with a gorgeous 70MM optical soundtrack, The Hateful Eight fills the screen with some of the most gorgeous visuals in a film in years. Majestic landscapes and intimate interior settings are brought to life with equally vivid details. The ensemble cast invigorates the intricate story of murder, revenge and betrayal in a snowed-in frontier shelter. Sam Jackson, Michael Madsen, Tim Roth; all of Tarantino's favorites are on fill display in The Hateful Eight.
The Hateful Eight is a multilayered film, with its racial-political undertones wrapped in a fairly straightforward whodunit. It is these subversions of typical Western fare that make this one of Tarantino's more thoughtful scripts. Like all of his projects, the dialogue is intensely riveting and the violence is gloriously over-the-top. The Hateful Eight is one of Tarantio's best and despite its lengthy runtime it is perfectly paced and truly flies by. Few directors can imbue their work with such effortless, unbridled style and panache.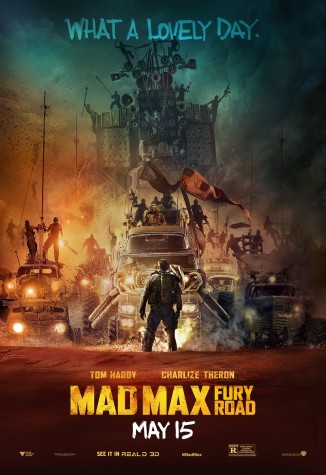 2. Mad Max: Fury Road
____________________________
After a thirty-year gap that would sink just about any franchise, quiet years, George Miller reinvigorated his beloved franchise with a fourth entry that lives up to the lofty standard set by its predecessors. As one of Hollywood's burgeoning go-to big guys, Tom Hardy takes on Mel Gibson's iconic titular role with aplomb. Virtually a two hour long car chase, Fury Road uses a thrilling blend of digital and practical effects to capture the magic of the mayhem. Max and Charlize Theron's Furiosa are compelling leads as the flee the maniacal cultist Immortan Joe and his cadre of War Boys over the open roads of post-apocalyptic Australia.
The stunts are real and the stakes are high as Fury Road's high-octane sequences and set pieces make for some of the most fun white-knuckle moments in action movie history. Whether Fury Road will endure the way Mad Max or The Road Warrior has is up for debate, but as it stands, no action movie this year delivered on its premise with such flawless execution.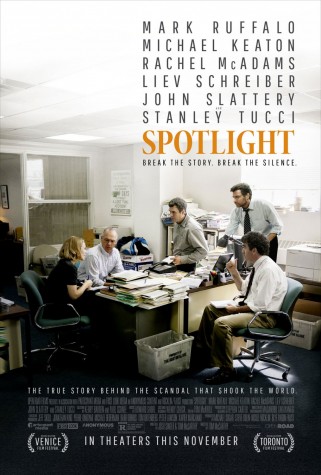 1. Spotlight
____________________________
Fresh off a reviled Adam Sandler vehicle, Tom McCarthy rescued his reputation with an extraordinary depiction of the bleak cross- pollination of journalism and faith. Spotlight tells the story of a team of Boston Globe reporters investigationg accusations of pedophillia with the Boston archdiocese. The film follows the investigation as encounters with victims and perpetrators alike wease a hauntingly evocative web of intrigue and scandal.
Bolstered by a superb main cast consisting of Mark Ruffalo, Michael Keaton and Rachel McAdams, the film is a rollercoaster of emotion. Spotlight stands out as one of the year's best for many reasons, but its realistic, self-contained depiction of raw pain, anger and frustration is perhaps its biggest strength. Its focus on realism, from the emotionally-charged dialogue to its cold, distant cinematography, adds gravitas to the heavy dramatic turns within. Like a good horror movie, Spotlight lets the emotion and tension slowly build. The inevitable conflicts arise over the course of the film's indelible two hours are grounded in an undeniable sense of realism.
Raw and powerful, Spotlight is a brutally honest movie that covers a dark chapter of history in the most impeccable way imaginable. It's a gutrenching movie that's never forced. In a year of memorable dramas, Spotlight's masterful direction, compelling story, and riveting performances make it stand head-and-shoulders above the competition.