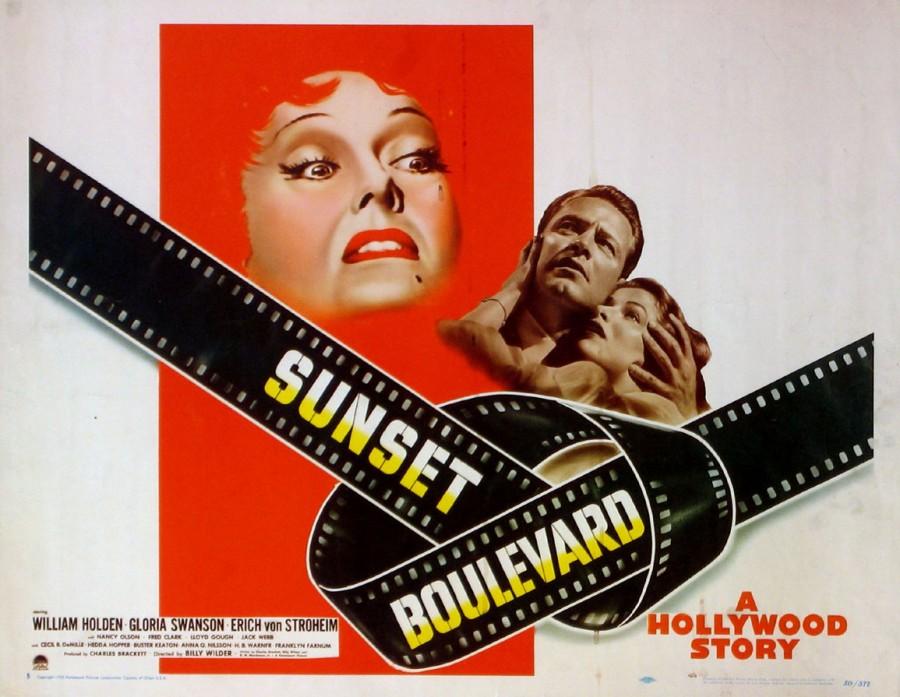 Fair use image from Paramount Pictures
Sunset Blvd. stands apart.
With inspiration drawn directly from its cast's history, it transcends ordinary cinematic experience and becomes a journey into the real demons our Hollywood stars bury down deep.
Telling the tale of an aging, former silent film star, actress Gloria Swanson essentially plays herself. As Norma Desmond, Swanson portrays the life of a once adored but now forgotten icon. In this, her definitive performance, she details the loneliness and delusions that may have consumed her own life.
Director Billy Wilder paints an elaborate depiction of 1950's Hollywood with Blvd., cutting to the heart of a massive spectrum of human struggles.
In the midst of all the emotional entrapment is protagonist Joe Gillis. Actor William Holden depicts Gillis, a poor, green screenwriter who is, in a sense, captured by the charm and wealth of Desmond. Desmond hires him to ghostwrite a screenplay, her debut effort, and he moves into her mansion to do his work. Desmond is enthralled with her new house guest and quickly grows an impenetrable obsession and lust for Gillis. To keep him in her home, she flatters him with elegant clothing and gifts, spinning a web of deceit. Gillis becomes anxious to finish his work and leave, but eventually caves to Desmond's needy demands and falls for the comfort of her spoiled lifestyle.
Despite the movie's characters being in fantastical scenarios of Hollywood extravagance, their cores are entirely relatable. The sense of claustrophobia emitted by Desmond's control over Gillis creates an unwavering eeriness in the movie's atmosphere that quickly pins the audience to their seats in discomfort and intrigue. Sunset Blvd.'s generous array of thematic scenery, in its dark comedy and heartfelt dialogue, creates many entranceways for the audience to dive deeper into the film's layers.
A great contribution to the effect of the movie's depth lies in its performances. Mixing the audacious and dramatic style of acting, found primarily in the Golden Age of cinema, with the more modern penchant for realism, the movie shows the vast differences between the silent age and those beyond. A large factor in why this film works today is this very thing. It perfectly blends the old with the new without ever feeling inconsistent.
What makes Sunset Blvd. whole is its many variations of romance. The film's noir, melodramatic tone fuels its incredible array of romantic thought, whether that be a romance of cinema, human connection or of one's self. Throughout, the movie expresses many stages and forms of love. Through the amorous tensions in Gillis's friendship with a fellow screenwriter, we are shown the blossoming romance of youthful passions; on display in his entanglement with Desmond is the desperate comfort of an exhausted relationship spread too thin. Love may not seem to be at the forefront of Blvd., but it is most certainly one of its more alluring and insightful aspects and possibly its backbone.
Somehow, Billy Wilder created a movie that feels as fresh today as it did in 1950, as though he knew exactly how it would be taken in today. Perhaps this is also a testament to how the industry hasn't changed all that much. Stars still forgotten, writers still underappreciated: Wilder's turn on the industry with Blvd. brought forth many of its blunders.
Among many things, Sunset Blvd. is quite likely the greatest film about the film industry. Its defiance of genre placement gives it a justifiable reason to be watched in many settings. It is a haunting look at many themes, that provokes thought just as it does entertainment.
It is the greatest work of a great director, and it built a legacy for him that, ironically enough, has defied one of its most palpable themes: waning relevancy. For a movie about that which is forgotten, it most certainly will not be.
10/10