Jason Coburn's keys to success
The following is reproduced as it appears in the April 2016 issue of the Lancer Spirit Newsmagazine.
There's nothing hereditary about hard work and dedication, but senior Jason Coburn has generations of talent behind him.
"My great-grandfather played trombone in a military band," Coburn said. "Later on, he played the organ for his church. I got my first electric piano from him. It's still plugged in today, ready to play whenever I visit my grandparent's house."
Coburn has been playing music since the fifth grade, starting out on a secondhand saxophone before taking up his signature instrument, the piano, in seventh grade.
"The piano is the ultimate instrument," Coburn said. "It teaches you the principles you need to learn just about any other instrument."
Over his high school career, Coburn has performed everything from Vince Guaraldi's piano-jazz odysseys as a solo artist to Mighty Mighty Bosstones covers as the bassist for Power Serge, a band of LHS music students. Additionally, he debuted an original piece; the nostalgia-tinged "Final Stride," at his final Coffee House performance in March.
"It's a different sort of process when I'm composing compared to when I'm performing prewritten music," Coburn said. "It's very interesting. I have this tendency to work at something until it's perfect by my standards, but I'm not that concerned with what other people think."
In the face of a music scene where authenticity loses meaning, where image and branding have begun to surmount creativity and identity, Coburn strives to maintain a standard of talent and relaxed, musical spirit.
"I do what I do for myself," Coburn said. "I'm not so interested in building a fanbase or anything. I think that people are starting to lose track of the fun in music, but I'm trying to keep that alive and keep myself from going down a similar path. I'm a huge admirer of [Nirvana drummer/Foo Fighters frontman] Dave Grohl, because he takes that idea of fun to its extreme."
Coburn tries to avoid the pitfalls of labelling his work along genre ties. He is beholden to no style in particular, ranging from the stylish theatrics of his jazz playing to the smooth rhythm of his bass work in Power Serge.
"I have nothing against any genre, as long as there's a force behind it, driving it creatively," Coburn said.
The anxiety and stage fright associated with live performance can be a hindrance to many artists, but Coburn does his best to stay loose and unstressed every time he takes the stage.
"I never really get nervous onstage," Coburn said. "I try to relax and just play. I honestly feel more stressed as part of a group, when people are depending on me to play my part well, than I do when I play solo."
Even still, behind every great performer is a network of support. Due to their mutual largely musical backgrounds, Coburn's family and friends offer a font of support for his developing artistry.
"Having such a supportive group of people behind me really helps me pursue the path that I want to," Coburn said.
This month, Coburn was part of the instrument pit for LHS Drama's production of Shrek: The Musical. Coburn plans to continue to play music and hone his craft after high school, and sees himself as an ensemble player for years to come.
"Music is such a fun thing that everyone can connect to," Coburn said. "Every person you meet has had music play a role in their lives. I hope to keep getting better at this, and hopefully have an impact. It's a great feeling when I meet people who can connect with me through my music."
Leave a Comment
About the Writer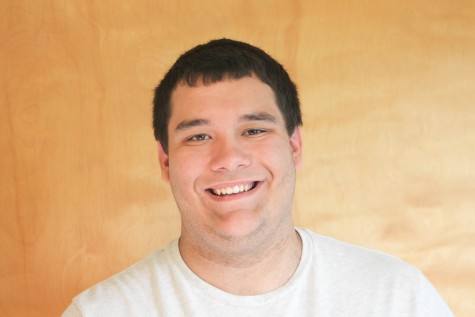 Conor Battles, Editor-in-Chief, Arts & Entertainments Editor
By day, Editor-in-Chief Conor oversees the Lancer Spirit in all its forms, from print to online to social media.

By night, A&E editor Conor hates things for fun and profit.