Bringing mental health issues out from the shadows one word, one 'Sign,' one fact at a time.
John Broderick, who is a mental health advocate, spoke to LHS students, teachers and community members about mental health issues on Wednesday, February 13.
February 15, 2019
John Broderick, co-chair of the Campaign to Change Direction N.H., wants to start a new conversation about mental health.
Over the last four years, this former chief justice of the N.H. Supreme Court, has traveled over 70,000 miles to speak to hundreds of kids in over 125 schools to help eliminate the stigma surrounding mental illness.
"This is the most important work I've done in my entire life," Broderick said.  "If I could do it every day I would."
The road he had to travel to become a mental health advocate has not been easy, however. His life–and his understanding of mental illness–changed when his son Christian physically assaulted him in 2002.
Broderick said he now knows there were signs that his son was depressed, but back then his knowledge of mental health issues was limited, so he didn't know that what his son was going through was depression.
"He is a talented artist, and he would stay up in his room alone for hours," Broderick said. "Withdrawing is what I would call that now."
Then Christian started drinking heavily. He somehow still managed to go to college and eventually even get his Master's degree, but it wasn't easy.
"I don't know how he did it," Broderick said. "Knowing what I know now, I don't know how he did that."
But when Christian would call home, Broderick knew something wasn't right.
"You could hear the drinking in his voice," Broderick said.  "He'd say, 'I don't have a drinking problem,' and I couldn't prove it or disprove it.  I chalked up his disheveled-ness to being in college."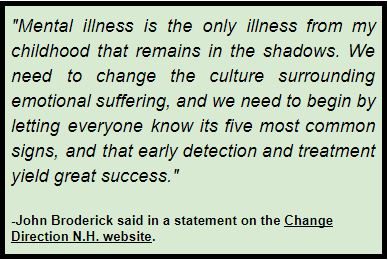 But his son drank every day while denying he had a drinking problem.  He eventually moved back home and continued drinking every day.
At a loss of what they should do, Broderick and his wife reached out to "the alcohol experts."
"They said, 'Your wife and you can hope he bottoms out or he can die in this house drinking,'" Broderick recalled.
So he and his wife started going to Al Anon meetings and even sent Christian to rehab facilities, hoping he'd have "an insight about his drinking."
"Up to this point," Broderick said, "no one, not one doctor or anyone, said 'Do you think he has a mental health problem?'"
When their son continued drinking even after going to rehab several times, they realized "our only choice was to put him out. Our only choice."
Knowing their son was living in his car, out on the streets was not easy for Broderick and his wife.
"For most of the day I'd worry about him," Broderick said. "He called us from the streets and said he wanted to come home.  We said 'no.'  But after three weeks, we couldn't take it anymore."
They let Christian come back home, but nothing had changed.  He was still drinking heavily. Broderick thinks his son may have been "fearful we'd put him out of the house again," which is what led to the attack.
Broderick spent 6-8 days in the hospital after the attack and had to have intense reconstructive surgery on his face. When he finally regained consciousness, he said didn't know what had happened and asked his wife "What am I doing in the hospital?"
"I didn't remember anything," Broderick said. "My wife told me what happened.  The two of us just cried.  I'd been a judge for most of my life, so I knew what this meant [for my son]."
After the attack.
Broderick spent several months recovering from the attack, and his son spent three years in prison.
But Broderick never gave up on him.
He told his wife, "We got into this as a family, and we'll get out of it as a family."
While Christian was in prison, Broderick and his wife spoke with a doctor in the secure psychiatric room in the clinic. The doctor told them how smart and talented their son was, which is something they already knew.
Then he told them their son also had severe depression.
He told them that drinking gave him relief.
That he was self-medicating his mental illness.
"When he said this," Broderick said, "I knew we had failed him."
His son also felt a great deal of guilt for attacking his father and told him he would "never forgive himself."
However, while Christian was in prison, he was properly diagnosed and given medication to help him with his mental illness. He told his dad he could finally focus and said "I haven't felt this good since I was little."
This gave Broderick hope that things would be okay.
"I always thought emotional problems and mental health problems were hopeless," Broderick said. "I know now they aren't hopeless. My son is not a bad person who is suddenly a good person. He was always a good person.  He is well now."
Broderick joins the Change Direction Initiative
Broderick became an advocate for mental health after getting a call from Barbara Van Dahlen, Ph.D., founder and president of Give an Hour, which is a "national network of mental health professionals who provide free services to U.S. troops, veterans, their loved ones, and their communities."
Broderick said Van Dahlen wanted to start a national mental health movement called Change Direction and asked Broderick to be a part of it.  The Change Direction initiative is "a collection of concerned citizens, nonprofit leaders, and leaders from the private sector who have come together to change the culture in America about mental health, mental illness, and wellness."
"There are more people walking through the valley of mental illness with us than we knew," Broderick said.
Broderick becomes co-chair of the Campaign to Change Direction N.H.
In 2016, Governor Maggie Hassan launched the Campaign to Change Direction NH with Senator Jeanne Shaheen, Senator Kelley Ayotte, Congresswoman Annie Kuster and Congressman Frank Guinta at the NH State House in Representatives Hall, making N.H. the first state to introduce this kind of campaign.
"We are thrilled to be the first state to launch an effort like this," Broderick said in a statement on the Change Direction NH website. "This is a conversation we, as a state, must have. Imagine a future where people can ask for help for mental disorders as easily as they seek treatment for a physical illness or injury."
As Broderick began speaking more often, he wasn't sure how his son would feel about him becoming such a strong advocate for mental health awareness.
He needn't have worried.
"[Christian] told me, 'Dad, I'm really proud of what you're doing," Broderick said. "He told me 'we need to talk about it.'  And we do."
After getting the help he needed, Christian is now thriving.  He married his long-time girlfriend while still in prison, and they have a daughter who Broderick described as "truly beautiful."
"My son hasn't had a drink in 10 years," Broderick said.  "He told me 'I'm not that person anymore.'"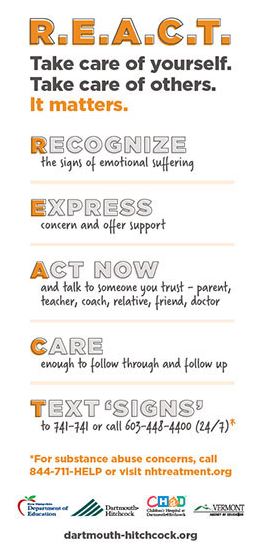 Broderick encourages people to R.E.A.C.T.
Broderick is also the leader for Dartmouth-Hitchcock's R.E.A.C.T. Mental Health Awareness Program,which provides students throughout N.H. and Vt. with tips to deal with signs of emotional suffering as well resources for support and help.
Broderick hopes that by starting and continuing these conversations about mental health issues, it will help eradicate the stigma surrounding mental health.
He grew up in a time when no one talked about it. Or when they did talk about it, they made uninformed comments about what mental health is and how to help those undergoing emotional suffering.
"Physical illness is seen with empathy," he said. "Would we say to someone with diabetes–snap out of it?  We'd never do that. Why do we do that with mental illness?"
Broderick visits LHS
Principal Mr. Parent recently heard Broderick speak at the state level, and said his message "really resonated" with him. He decided to have him come to Londonderry High School to speak with students, teachers and community members.
"I thought it could be very beneficial for our students and staff because what he is saying is the truth," Parent said. "Everyone has someone they know who is dealing with mental health issues–or they are dealing with mental health issues themselves.  If we're willing to talk about it, process it, get help and see it differently, we can truly save lives."
One way Broderick thinks this can be accomplished is by making the "5 Signs of Emotional Suffering" cards with "R.E.A.C.T." on the back clearly visible to students. He said he's passed out 400,000 of these cards to people throughout N.H.
Broderick has spoken to students from schools throughout N.H. and Vt. and has been impressed with this new generation.
After speaking to students at Pembroke Academy when he first started out as an advocate, he was nervous that the students would be rude or would be asking themselves, "Who is this grandpa talking to us?"
"When I was done [with my talk]," Broderick said. "There was dead silence. I thought to myself, 'I must have really bored them.  They fell asleep.' Then 842 kids stood up and applauded for almost a minute."
He knew then that what he was doing was making a difference.  That his words were resonating with those who needed to hear them.
There have been times, however, that Broderick has wondered if what he's doing is making any sort of difference.
"Maybe no one cares about this," he said he would think. "Maybe it's just me."
Then he would remember how often students would come up to him after his talk to give him a hug.
"I've hugged hundreds and hundreds of kids because they know I won't be judging them," Broderick said. "It's amazing how many kids say they are ashamed of their mental illness. This is 2019. We need to listen to kids more. We can change the culture."
He told the LHS teachers he spoke to on Wednesday, February 13, that they can have a significant impact on kids.
"Teachers matter," he said. "You are 10 feet tall to these kids. You can make a difference. Not just here, but in this community. We can pretend and say it will pass. Then we can keep going to funerals."
LHS students speak about Broderick's impact on them
Junior Alyssa Treanor, who went to the student session with Broderick, said she thinks most people are scared to talk about mental health issues because "there is still a stigma, which is horrible." However, after listening to Broderick, she feels like he "made it seem like it was okay to speak up about it."
"If you had an issue," she said, "[listening to him] would make you feel better about talking to someone."
While Broderick was speaking, Treanor said she was impressed with how the students in the audience were listening so intently. She said it was very quiet in the room, so she knew the students were taking what he said seriously.
"People weren't fooling around because they could relate to the story in minor and major ways," she said. "The whole thing was very emotional."
Treanor said it's important for parents in the community to also get this information, so she was glad to hear that Broderick spoke to community members as well on Wednesday night. She wishes more parents would be tuned into mental health issues.
"It would be nice if they would go to [see a speaker] like this," she said. "Parents could learn about the symptoms and listen to other stories and take in all he said about it. I'm not saying parents should be asking you every day if you're okay, but if [their child] was putting out signs, then they could show an interest and show they care."
As far as how well LHS does in dealing with mental health issues?
"I think we deal with it pretty well," Treanor said. "There's always someone to talk to here. But there is room for improvement. It'd be nice if students could get closer with their guidance counselor to make you feel comfortable. Maybe if everyone had private time with them once a month or so."
Senior Blake Melnik, who also went to see Broderick speak, wasn't sure what to think when he first sat down to listen to Broderick speak.
"I thought it was going to be boring," Melnik said. "But once I sat down and gave him the attention and respect he deserved, I found he had a lot of touching stories that were motivating and inspiring."
Melnik thinks Broderick's advocacy is going to make a difference to a lot of people.
"[Broderick] told us he didn't think he would be able to get to the younger generation because he was so much older than they are," Melnik said. "But he has a lot of respect for our generation. He told us about a kid my age coming up to give him a hug. He's doing something right if he's making people want to tell their story and give him a hug."