Recent Sports Scores
Monday, January 15

Gymnastics

Londonderry High School 133.2 - Windham, Goffstown, Pelham 111.45, 113.4, 116.95

Saturday, January 13

Boys Basketball

Londonderry High School 69 - Exeter 59

Wednesday, January 10

Gymnastics

Londonderry High School 131.15 - Pelham, Milford 113.15, 94.5

Tuesday, January 9

Boys Basketball

Londonderry High School 53 - Concord 52

Tuesday, January 9

Girls Basketball

Londonderry High School 59 - Concord 34

Sunday, January 7

Hockey

Londonderry High School 2 - Trinity 3

Saturday, January 6

Boys Basketball

Londonderry High School 47 - Bishop Guertin 39

Saturday, January 6

Hockey

Londonderry High School 1 - Bedford 4

Friday, January 5

Girls Basketball

Londonderry High School 23 - Bishop Guertin 65

Thursday, January 4

Wrestling

Londonderry High School 48 - Exeter 30
Recent Recent Posts Stories
A Daisy for Hannah Jane: Chapter V
January 11, 2018
A Daisy for Hannah Jane Chapter V The postman bore me fresh news. I thanked him and snatched the envelope greedily, but smiling all the way. The let...
January 11, 2018
Throughout our lives girls are told to "look pretty" by our parents, siblings, grandparents, friends, and pretty much all of society. At this point, ...
A Daisy for Hannah Jane: Chapter IV
January 11, 2018
A Daisy for Hannah Jane Chapter IV I knelt beside my bed, hands folded, knuckles turning white. We hadn't expected "Charlie" Jamison Jr. to vanish completely, a...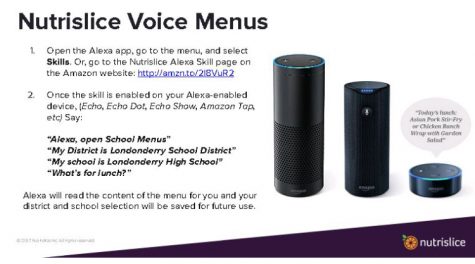 Sean Cavanaugh, News Editor
January 8, 2018 • No Comments
Have you ever wondered whats for lunch the next day, or even the day after. Alexa can tell you. The voice command device created by Amazon can inform you about what's for...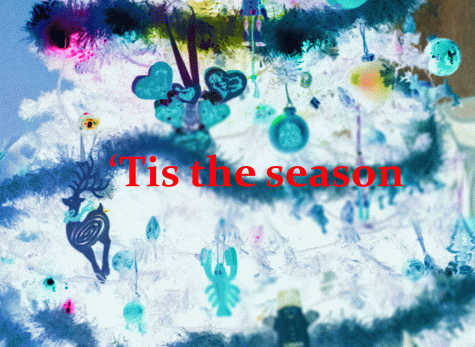 November 17, 2017 • No Comments
What: Annual wreath sale and craft fair When: From 9 a.m. and 3 p.m. on Saturday, December 2 Where: The Londonderry Grange, located at 260 Mammoth Rd, Londonderry, NH...
Recent Briefs Stories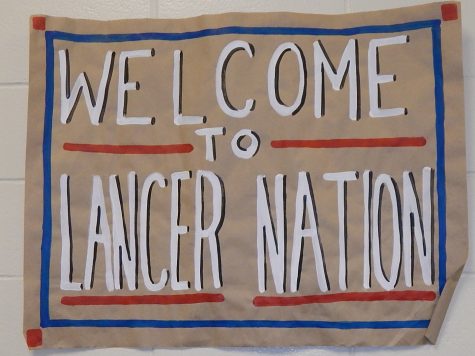 How to make the most of parent-teacher conferences on Friday
November 15, 2017
Parent Teacher Conferences for the high school will be on Friday, November 17, 2017. This means a day off for students, but not for the teachers. P...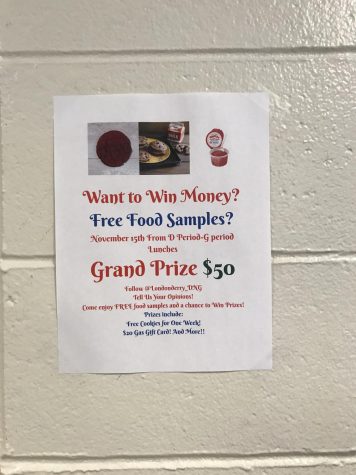 Londonderry dining to host student choice food show
November 2, 2017
Students: it's time to have your voice heard. On November 8 in the cafe during all lunch periods, Londonderry Dining Services is hosting a Student C...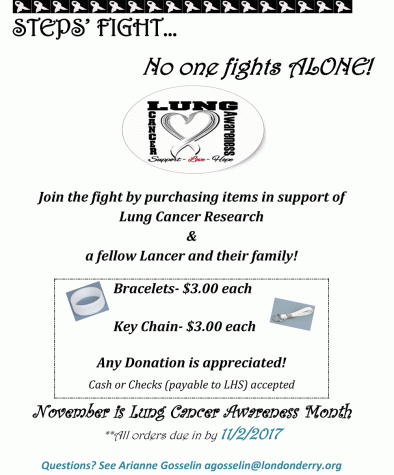 STEPS program to raise money for lung cancer research, Lancer family
November 1, 2017
November is Lung Cancer awareness month, so the STEPS program is selling key chains and bracelets for $3.  All proceeds will go to lung cancer research...
Recent Sports Scores
Monday, January 15

Gymnastics

My School 133.2 - Windham, Goffstown, Pelham 111.45, 113.4, 116.95

Saturday, January 13

Boys Basketball

My School 69 - Exeter 59

Wednesday, January 10

Gymnastics

My School 131.15 - Pelham, Milford 113.15, 94.5

Tuesday, January 9

Boys Basketball

My School 53 - Concord 52

Tuesday, January 9

Girls Basketball

My School 59 - Concord 34

Sunday, January 7

Hockey

My School 2 - Trinity 3

Saturday, January 6

Boys Basketball

My School 47 - Bishop Guertin 39

Saturday, January 6

Hockey

My School 1 - Bedford 4

Friday, January 5

Girls Basketball

My School 23 - Bishop Guertin 65

Thursday, January 4

Wrestling

My School 48 - Exeter 30