THE MUSIC
December 4, 2019
To start, K-12 is not a bad album. However, it's not a great one either. 
The journey begins with "Wheels on the Bus," which samples the nursery rhyme of the same name. On my first listen, the clunky transition from the lively verses to the whimsical chorus shocked me. The fresh, whooshing percussion; melodic keyboards; and incessant, bright piano contrast the dreamy chorus, which brings back the sample, but tones it down with muted guitar. While I do enjoy this track, it can be jarring, especially with its on-the-nose lyrics. And, as the album opener, it doesn't warmly welcome the listener in; perhaps it's a consequence of the story aspect of K-12, but Cry Baby didn't suffer from the same problem.
The album continues with "Class Fight," an extremely repetitive track. The call-and-response keyboards, claps, and this candied, vintage-sounding guitar sound fantastic, but it's all overpowered by the monotonous lyrics. I get it, Martinez needs to "go for the throat," which is repeated 38 times throughout the entire song.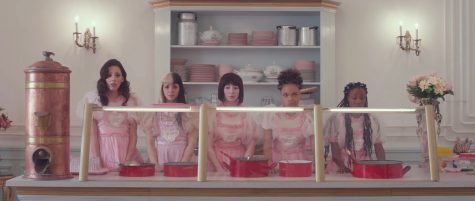 Following the mediocrity of "Wheels on the Bus" and "Class Fight" comes one of my favorites: "The Principal." The first time I heard "The Principal," the chiming keyboards and tense blurts of violin immediately caught my attention. I keep coming back to this track, especially because Martinez's vocals meld so well with the apprehensive instrumental. But, looking past the sound, Martinez excels at commenting on societal issues without overloading the listener. She executes this skill on more than just "The Principal," in which  Martinez sings, "I've tried to make you listen, but you won't, it's your way, right? … Shooting at the angels while claiming you're a good guy… Oh, where's the principal?" Here, I believe Martinez is speaking about how politicians are ignoring issues and blaming the wrong people/things in certain situations. Also, the "where's the principal" may either be referring to a person who will save society from the hands of the politicians who do nothing, or it could mean "principle," indicating a lack of morals when it comes to certain issues, such as racism and women's rights, which Martinez doesn't shy away from speaking about (but more on that, later). 
On "Strawberry Shortcake," Martinez touches upon body image ("Wondering why I don't look like Barbie / They say boys like girls with a tiny waist"), as well as sexual harassment ("It's my fault, it's my fault 'cause I put icing on top… That's my bad, that's my bad, no one taught them not to grab.") Besides the incredibly important message, "Strawberry Shortcake" is, sonically, impactful; in particular, there are two layers of keyboards: the first is somber and muted, and the second, biting and bright. Combined with the steady, occasionally rolling percussion and poignant lyrics, the melancholic feel of "Strawberry Shortcake" is simply unforgettable.  
Unfortunately, the same cannot be said for "Nurse's Office," for which I didn't even bother taking down notes. I also didn't particularly care for "Recess," which, as the closing track for K-12, was disappointing and didn't leave me feeling like the album was concluded; however, considering the film, this isn't surprising…