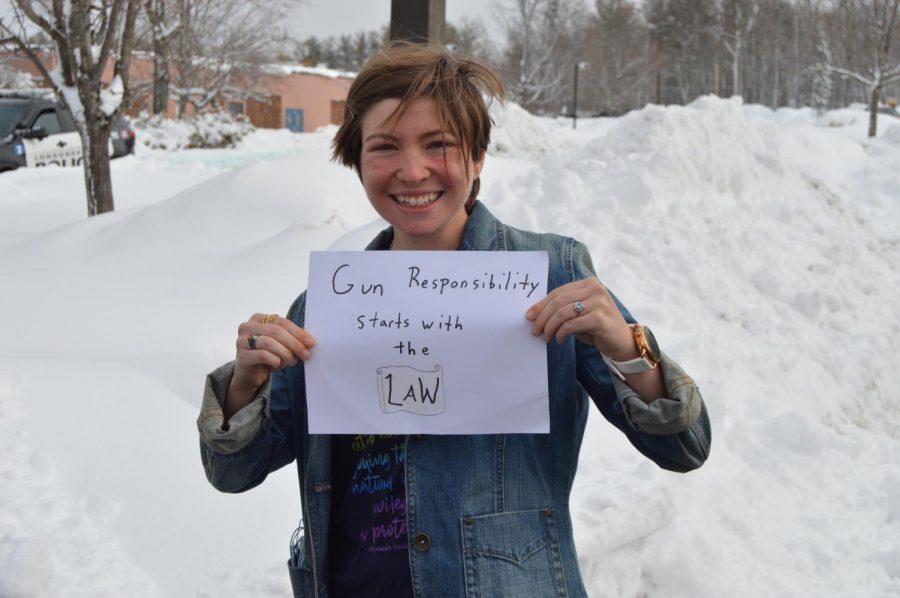 Photo courtesy of The Lancer Spirit
Woman to watch for March 1: Abi Whitcomb
The Lancer Spirit is celebrating the women of Londonderry during the month of March in honor of Women's History Month. For each day of the month, LSO will be highlighting an inspiring woman within the Londonderry community who has demonstrated strong leadership and influential behavior. 
---
Today's "Woman to Watch" 2018 LHS Alumni Abi Whitcomb, who has exhibited influential behavior through her leadership within her community. 
---
Whitcomb has always held a strong role in the community by voicing her opinion. Throughout high school, she made her thoughts heard as the Opinions Editor for The Lancer Spirit as well as being an avid member of the Podcasting Club. 
According to LHS Podcasting Club Adviser Mrs. Robinson, Whitcomb was a reliable student who was "not afraid to take on any topic."
"She speaks her mind and doesn't just sit back quietly and wait for other people to do things," Robinson said. "She jumps in and does everything with 100 percent passion." 
Throughout her time at LHS, Whitcomb devoted much of her energy toward working hard and standing up for her beliefs. 
As a result of her strong voice within Lancer Nation, Whitcomb was named the Opinions Editor of the school newspaper during the 2017-2018 school year by The Lancer Spirit Adviser Mrs. Dewinkeleer.
"Abi is a go-getter. She's a mover and a shaker who isn't afraid to do whatever it takes to achieve her dreams," DeWinkeleer said. "I know she will help create big changes for those who are oppressed in our world."
After graduating from LHS in 2018, Whitcomb began her studies at Manchester Community College as an English major. Once she graduates from the program in the spring of 2020, Whitcomb plans to earn a major in mass communications and media studies and minor in political science through online courses at the University of Arizona.
Whitcomb continues to use her voice and is a strong advocate for Women's Rights. The LHS graduate is currently interning with the Planned Parenthood Action Fund whose goal is to elect people locally who are for reproductive rights. 
"I haven't really had much experience with opposition groups, but the most frustrating thing is people that think they can tell people what to do when they have no stake in what women do with their bodies," Whitcomb said.
Whitcomb believes that women should have a right to choose what to do with their bodies regardless of their background. 
"Planned parenthood doesn't care who you are or what economic group you come from," Whitcomb said. "You should be able to get affordable care that makes sure that you can live your best life."

In addition to her internship at Planned Parenthood, Whitcomb fights for what she believes in by working on political campaigns and supporting candidates with similar ideas as her. 
Whitcomb spent time volunteering on both Kamala Harris as well as Elizabeth Warren's campaigns, knocking on doors in "pouring rain and heat stroke."
Although she did experience some challenges throughout her time spent volunteering, Whitcomb enjoyed the connections she made. 
"It was really hard because I was in Londonderry most of the time so a lot of people were not big fans so there was a lot of rejection," Whitcomb said. "But all the times I did connect with someone, it was so valuable."
Whitcomb is passionate about the time she spent campaigning and hopes to continue working in the political field. 
"I feel like the only way to make lasting change is by supporting lawmakers who really have faith in what I believe in and who see that what unites us is so much more than what divides us," Whitcomb said. 
Along with her desire to fight for what she believes in in order to make change, Whitcomb also thinks that making connections within a community is a critical component in making change happen.
Whitcomb first learned a new appreciation for branching out to her community through her job at Starbucks. 
"Working here has really taught me to connect with people that I wouldn't normally know," Whitcomb said. "When you connect with the values of the community to what your goals are and what your political campaign's beliefs are, you make those people feel more valued."
Whitcomb continues to use the values she learned about connecting with her community, but doesn't want people to be limited to just those connections. 
"People sometimes think that women are not electable or are second class citizens and it's just not true because there have been many strong women over time that have paved the path to where we are today," Whitcomb said. "Don't let anything or anyone's preconceptions of you hold you back."