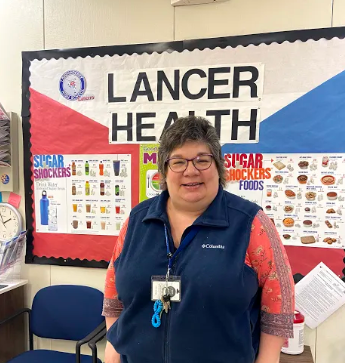 Women to watch for March 5: Mrs. Cullen
The Lancer Spirit is celebrating the women of Londonderry during the month of March in honor of Women's History Month. For each day of the month, LSO will be highlighting an inspiring woman within the Londonderry community who has demonstrated strong leadership and influential behavior.
---
Today's "Woman to Watch" is LHS school nurse Mrs. Cullen for demonstrating influential behavior through her positivity. 
---
From 30 years at the Catholic Medical Center in Manchester, N.H. to the halls of LHS, Nurse Casee Cullen has devoted her life to helping others with her resilience and optimism.
Cullen continues to be an inspiring member of her community through her positive attitude and kindness despite the fact she was diagnosed with ovarian cancer. Since then, she has undergone surgery and treatment.
"I have gone through chemotherapy, which I know is crappy but I try to look at it like, 'okay this is bad but let's not panic, take it one step at a time'," Cullen said. 
After finding out the news, Cullen and her family received a lot of support from their community. 
"We had so much outpouring of support between the school and my nurse friends from the hospital," Cullen said.
Cullen is grateful for the overwhelming support and uses it as motivation to always be kind and helpful toward other people. 
"Whether I needed it or not, it cheered me up and it was fun to get something as a distraction," Cullen said. "It made me think to always be a giving person because you never know what somebody's going through." 
Despite the challenges Cullen faces, she continues to be understanding of students who are struggling with problems of their own. 
"Kids here may be having a stressful day or they're upset or uptight, even though we know medically what's going on we might go 'oh it's just a cold,' but maybe their stress level at home is so much," Cullen said. "We just don't always know what people are going through so it's important not to be judgy."
Cullen always makes an effort to connect with her students and support them as much as she can no matter how big or small their struggle is. 
"She definitely is caring," Senior Jon Stark said. "I would often come in and she'd just listen to me rant about work and stuff without it being part of her job description or anything." 
When Cullen does come across students who are going through a hard time, she tries to help them see things from a different perspective. 
"If you look at something big you think 'oh my God I can't even bite that off' but if you take a little bite of it and you start with just the little thing, you realize you actually do know what to do," Cullen said. 
Cullen strongly believes that things are never as bad as they seem, and that it is always important to remain calm and "not panic" 
"You have more power in you than you realize, like kids with grades or school or college or for anybody who gets overwhelmed, if you just break it down a bit you might know more than you think you do," Cullen said. 
In addition to the advice Cullen has to offer to her students, her personality comforts them through difficult times. 
"Her eternal optimism is infectious," Senior Tj Ruzicka said. "It's hard to be down when you're around her because she just picks everybody up around her which is a true testament to the kind of person she is."  
Even though she works as a school nurse, just her presence often helps students feel better. 
"She works in a place where students come to get medicine, but her smile is the only medicine that kids need," Ruzicka said. 
Cullen always tries to keep a positive attitude no matter what is going on in her life.
"I can pretty much have fun doing anything, even fighting cancer," Cullen said. "It's not great, it's not optimal, but there could probably be worse things." 
Cullen encourages people to always be positive and kind to others and to stand by their loved ones through all of life's hardships.
"Life is scary and there are a lot of unknowns," Cullen said. "It is so important to be a solid person in all aspects of life! Be a kind and honest person, stand by the people you love, be strong for them and for yourself."