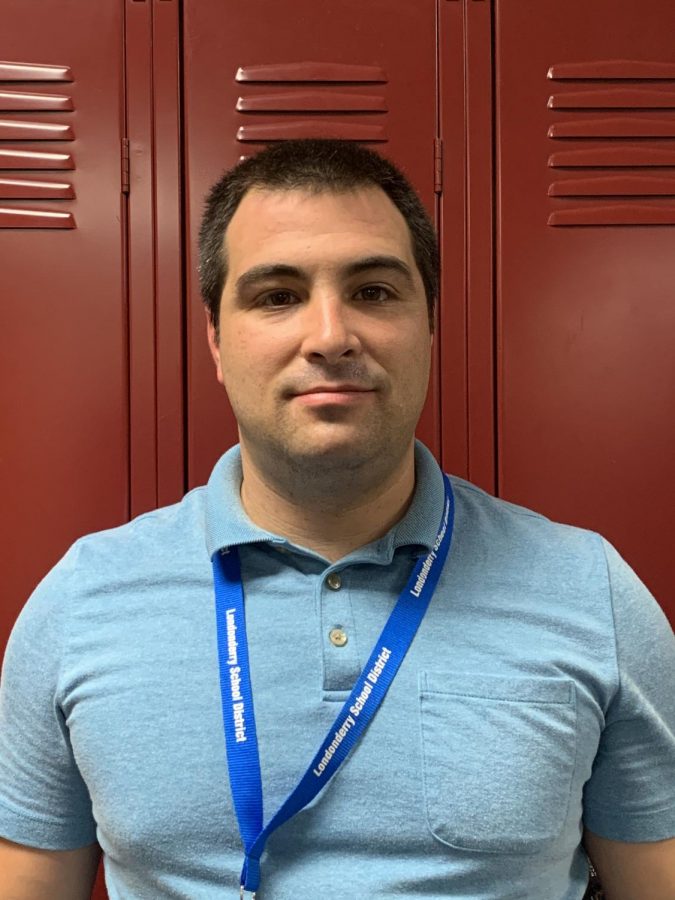 Eric Idelson, social studies
The Londonderry High School is proud to welcome Mr. Eric Idelson as the new social studies teacher. For Idelson's sixth year of being a teacher, he will be teaching economics and world history. Idelson has not always been a social studies teacher, he has taught a wide range of courses varying from biology to physical education.
Idelson was born in New Jersey and moved to the suburbs of Philadelphia for high school and college at Rutgers University. There, he received his undergraduate in journalism, specifically sports broadcasting. 
"I graduated and didn't really know what I wanted to do because sports broadcasting is tough to get into," Idelson said. "So I joined the National Guard because that's something I always wanted to do, and from there I decided, because I always loved history, I wanted to become a history teacher. So I went back to get a masters in education from Holy Family University."
This is definitely not Idelson's first rodeo when it comes to teaching in a new environment. But now he is finally able to solely teach the subject he has been striving for. 
"I am most excited about teaching social studies full time and having in-depth discussions about course material with students," said Idelson.
This year, his goal is to refine his two courses, world history and economics, so he has a structured foundation to build upon in the future. However it is clear that Idelson prioritizes his students above all else.
 "I want my students to know that I'm willing to do whatever I can to ensure they're successful," Idelson said.
Idelson is a role model for the students of Lancer Nation. He has pursued his interests and successfully made it to what he had been working towards. This is what high schoolers are preparing to do and Idelson is proof that we can make it. He has a few wise words from what he wishes he had known in high school.
"It doesn't matter how popular you are," says Idelson. "It doesn't matter who likes you. It doesn't matter what people think about you. All that matters is that you are getting a little bit better, a little bit smarter, you're learning something new everyday and getting closer to your life goals. In the long run, the people who build themselves up will have others gravitate towards them, and that is important," Idelson said.