Melanie Martinez returns to music with her sophomore album, K-12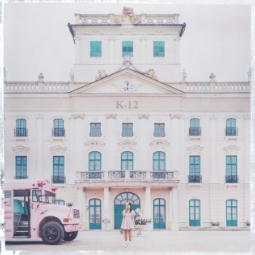 Hang on for a minute...we're trying to find some more stories you might like.
Given there was a span of four years between her debut and sophomore album, I'm a bit disappointed in Melanie Martinez's K-12. In 2015, Martinez debuted with Cry Baby, a concept record that told the story of Crybaby, a character based upon Martinez herself. K-12, released Sept. 6, 2019, is a continuation of Crybaby's life as she's sent away to a boarding school. Because Cry Baby was a 10 / 10 debut, Martinez set the bar high for her next project. Unfortunately, while taking her shot, Martinez couldn't quite get her grip.
I want to preface this review by explaining how I give my ratings. When I review albums, I follow a specific process. First, I take notes on each of the songs and rate them on a scale of 1-10; following this, I employ three ratings, also using a 1-10 scale. The first, the "personal rating," is what I would rate the album, and the second, the "calculator rating," is the average of the ratings I gave the songs in my notes. Because the first and second numbers are normally similar, I tend to go with the rating I gave first, which is the third and final rating, which I call the "overall."
With K-12, however, that wasn't the case. For my personal rating, K-12 was a 6.5 / 10; the average, however, was exactly an 8 / 10. And, while that may not seem like a huge difference, it is. So, what I'm trying to say is that K-12 is not a strong, cohesive album, but 13 tracks that are loosely connected by a weak storyline and, sonically, are extremely similar. Additionally, Cry Baby was released on its own. Music videos accompanying each song further explained the plot, but these music videos were released over a period of two years. Martinez took a different approach with K-12, releasing the album and a film at the same time. So, I'm going to break K-12 down into the music and the film and explain why there is such a large difference in my personal rating, what the calculator said, and the final rating. First, the music.
---
THE MUSIC
---
To start, K-12 is not a bad album. However, it's not a great one either. 
The journey begins with "Wheels on the Bus," which samples the nursery rhyme of the same name. On my first listen, the clunky transition from the lively verses to the whimsical chorus shocked me. The fresh, whooshing percussion; melodic keyboards; and incessant, bright piano contrast the dreamy chorus, which brings back the sample, but tones it down with muted guitar. While I do enjoy this track, it can be jarring, especially with its on-the-nose lyrics. And, as the album opener, it doesn't warmly welcome the listener in; perhaps it's a consequence of the story aspect of K-12, but Cry Baby didn't suffer from the same problem.
The album continues with "Class Fight," an extremely repetitive track. The call-and-response keyboards, claps, and this candied, vintage-sounding guitar sound fantastic, but it's all overpowered by the monotonous lyrics. I get it, Martinez needs to "go for the throat," which is repeated 38 times throughout the entire song. 
Following the mediocrity of "Wheels on the Bus" and "Class Fight" comes one of my favorites: "The Principal." The first time I heard "The Principal," the chiming keyboards and tense blurts of violin immediately caught my attention. I keep coming back to this track, especially because Martinez's vocals meld so well with the apprehensive instrumental. But, looking past the sound, Martinez excels at commenting on societal issues without overloading the listener. She executes this skill on more than just "The Principal," in which  Martinez sings, "I've tried to make you listen, but you won't, it's your way, right? … Shooting at the angels while claiming you're a good guy… Oh, where's the principal?" Here, I believe Martinez is speaking about how politicians are ignoring issues and blaming the wrong people/things in certain situations. Also, the "where's the principal" may either be referring to a person who will save society from the hands of the politicians who do nothing, or it could mean "principle," indicating a lack of morals when it comes to certain issues, such as racism and women's rights, which Martinez doesn't shy away from speaking about (but more on that, later). 
On "Strawberry Shortcake," Martinez touches upon body image ("Wondering why I don't look like Barbie / They say boys like girls with a tiny waist"), as well as sexual harassment ("It's my fault, it's my fault 'cause I put icing on top… That's my bad, that's my bad, no one taught them not to grab.") Besides the incredibly important message, "Strawberry Shortcake" is, sonically, impactful; in particular, there are two layers of keyboards: the first is somber and muted, and the second, biting and bright. Combined with the steady, occasionally rolling percussion and poignant lyrics, the melancholic feel of "Strawberry Shortcake" is simply unforgettable.  
Unfortunately, the same cannot be said for "Nurse's Office," for which I didn't even bother taking down notes. I also didn't particularly care for "Recess," which, as the closing track for K-12, was disappointing and didn't leave me feeling like the album was concluded; however, considering the film, this isn't surprising…
---
THE FILM
---
As I indicated, the film was not as great as I expected it to be, but let's start with the positives. K-12, as a film, features an incredibly diverse cast and explores difficult issues, as I mentioned earlier. Within the first eleven minutes, Martinez tackles the debate over kneeling, as Henry, one of Crybaby's classmates, refuses to stand for the Pledge. Later, when Crybaby inquires about taking on a role less domestic than the one she was assigned in the school play, her classmates and teacher laugh at the idea of a woman holding a position of power; yet, Crybaby claps back, "Having a larger capacity to feel and express emotion are one of the many qualities that make [women] superior to [men]." 
The intricate choreography and delicate, gorgeous scenery is nothing short of what I would expect from Martinez. But, the emotionally charged scenes, especially "Orange Juice" and "High School Sweethearts," show Martinez's true strength as an artist. The latter, "High School Sweethearts," begins a cappella, with only wavering bursts of heart-tugging keyboards; Martinez sings about how she doesn't want a frivolous relationship, she wants a serious, lasting one. In the film, "High School Sweethearts" comes in two different scenes. In the first, Crybaby is surrounded by flowers and stars while lying on the bottom of a bunk bed. The solemn feel of the song manifests itself in the beautiful imagery of this scene (pictured to the side), and the bunk bed, to me, suggests Crybaby is open to love. The second scene is Crybaby dancing by herself. She's taking her own advice, "We all have to learn to love ourselves without the approval of others," and her dancing by herself represents that self-love and admiration.
The advice Crybaby offered came during "Orange Juice," in which Crybaby helps a fellow classmate of hers. While I love the sound of "Orange Juice," with its resonant, hollow keyboards and forceful drums that transition to striking piano, the conversation Martinez incites about eating disorders, specifically bulimia, and body image is extremely important. Crybaby speaks to Fleur, a fellow student who is struggling with bulimia and a toxic friend group that only encourages her eating disorder. In their conversation, Crybaby says, "[Bodies] don't define us. We aren't our bodies. They're just temporary." Those words and this song leave a lasting impact, especially because body image and how we view ourselves is such a universally fought battle, so scenes like these make us feel heard and understood. I can't overstate the importance of "Orange Juice," and all that Martinez tried to enforce here. 
With that said, I believe music should be able to stand on its own. K-12, the album, does not tell a complete, comprehensible story without the film to back it up, and one of the prime examples of this flaw rears itself through "Orange Juice." Throughout the song, different characters are singing different lines; Fleur's family begs her to stop ("Please say that you won't continue / Ordering oranges off the menu), after a teacher sings, "… I believe [Fleur] chose to blow it on the reading carpet." Without the visual, the story of "Orange Juice" is not clear, and the listener doesn't get the full picture from just the audio.
But, even with the film, the plot is practically nonexistent. The film begins as Crybaby wakes up on the first day of school, and she describes a strange dream she had while she changes into her uniform and eats breakfast. On the bus, Crybaby sits alongside her best friend, Angelita. Crybaby is teased by her peers, not only on her appearance (e.g. receiving a paper airplane note that called her "Gap toothed"), but her personality, too. In particular, Crybaby is relentlessly bullied by Kelly, whose toxic personality is explored throughout the film.
After arriving at school, Crybaby and Angelita go to class as "first graders," but they are not six/seven-year-olds. My idea of it is that the two begin the film emotionally immature and irresponsible. Yet, as time passes, Crybaby and Angelita grow and become mature individuals that speak their minds and lead those who need guidance. 
For example, during the school play, Crybaby breaks character from her role as a housewife, and she yells at the audience of students to wake up and open their eyes to the brainwashing the principal had been doing. The students wake up and then storm the principal's office, where they kill the principal. This entire sequence of events happens during "Drama Club," an intense track that features twinkling, melodic keyboards, stinging drums, and piercing "ooh"s that are punctuated by the whooshing wind in the foreground. While I appreciate "Drama Club," I can't help but feel that "Drama Club" doesn't fit the narrative of the film.
In the past, Martinez has been accused of sexualizing children and romanticizing mental health issues/traumatic experiences. Through "Drama Club," Martinez directly confronts this accusation, singing, "You're overanalyzing every word I say / There's a whole world out there, you're living a play… I never signed up for your drama." Personally, I don't think Martinez has done any of those things, and it's not my place to dictate someone else's art. Regardless, this call-out doesn't have a place in the film, and it's not the only one. In "Show and Tell," Martinez sings about her fame, insisting she's human too ("If I cut myself, I would bleed / I'm just like you, you're like me), and that she feels like people think they have a right to her ("Show and tell / I'm on display for all you… to see"). I love the slinky, creeping keyboards; slithering bass; and metallic-sounding percussion of "Show and Tell," but a track about fame doesn't quite match a film about growing up and becoming your own person. 
Besides not matching the film's tone, the scenes "Drama Club" and "Show and Tell" are contained within are extremely rushed. During "Show and Tell," Crybaby, dressed up as a puppet, dances for three-and-a-half minutes while her classmates watch in delight, still brainwashed. While I was watching, I didn't understand this scene, and I still don't. Additionally, for the first half of the film, the primary conflict was the principal and his authoritative drug schemes to brainwash the students. Then, after "Drama Club," he was just… dead; it was all very anticlimactic. 
---
So, this brings me back to the rating debacle. As I said, I gave K-12 a 6.5 / 10 personally, and the average of the songs was an 8. I commend Martinez for her relatable, emotionally impactful work, on both the music and the film, but I can't overlook the inadequate storytelling and lack of growth from album one to album two. Melanie Martinez began her career as a force to be reckoned with, and unfortunately, K-12, a 7 / 10, depletes that reputation. That doesn't mean I don't look forward to hearing from her in the future, I just hope that next time, Martinez can actually expand on the unique narration and sound she began with.