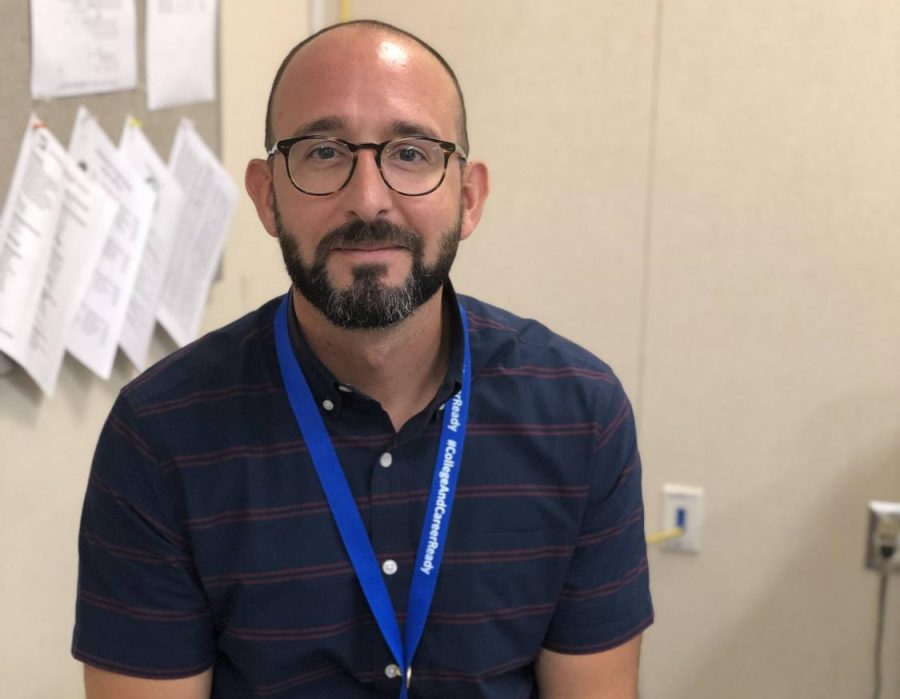 Math teacher Mr. Dodge
Question: Is this your first year teaching or did you teach somewhere else before?
Answer: "I taught at Bow High School for 18 years. Bow is a much smaller high school, only about 680 kids. When I was at Bow, I taught almost every kind of math. Whatever you can think of I have probably taught it. The only thing that I haven't taught is probability and statistics. Over at Bow, I had a good reputation, the thing about starting over at a new school is that no one knows about your old reputability, my goal for this year is to show people that I am good at what I do."
Question:  What are your first impressions of Lancer Nation? Students? Teachers? Admins?
Answer: "It has been a fantastic experience so far. Everyone that I have encountered has been nothing but kind and helpful to me. Back when I was a student here many years ago, Londonderry had a family type of environment. I can definitely say that nothing has changed and the family type of environment is still something I notice. I even see it in the students, everyone is looking after one another and giving off a great friendly vibe. The same goes for the other teachers here." 
Question:  What is something you would like to tell your students? Any messages?
Answer:  "A big thing that I like all of my students to know is that you will fail. You will mess up and that is okay, it's perfectly fine to fail a test or mess up on your homework. That is why I am here, to help the people who made that mistake." 
Question:  Tell me a little bit about your family? Kids? Pets?
Answer:  "My wife Emily and I have been married for two years, we have two kids and we do a lot with them. Over the summer we took a lot a day trips. The funny thing is that my parents and my sister both live in Londonderry so I'm always gonna have them around."