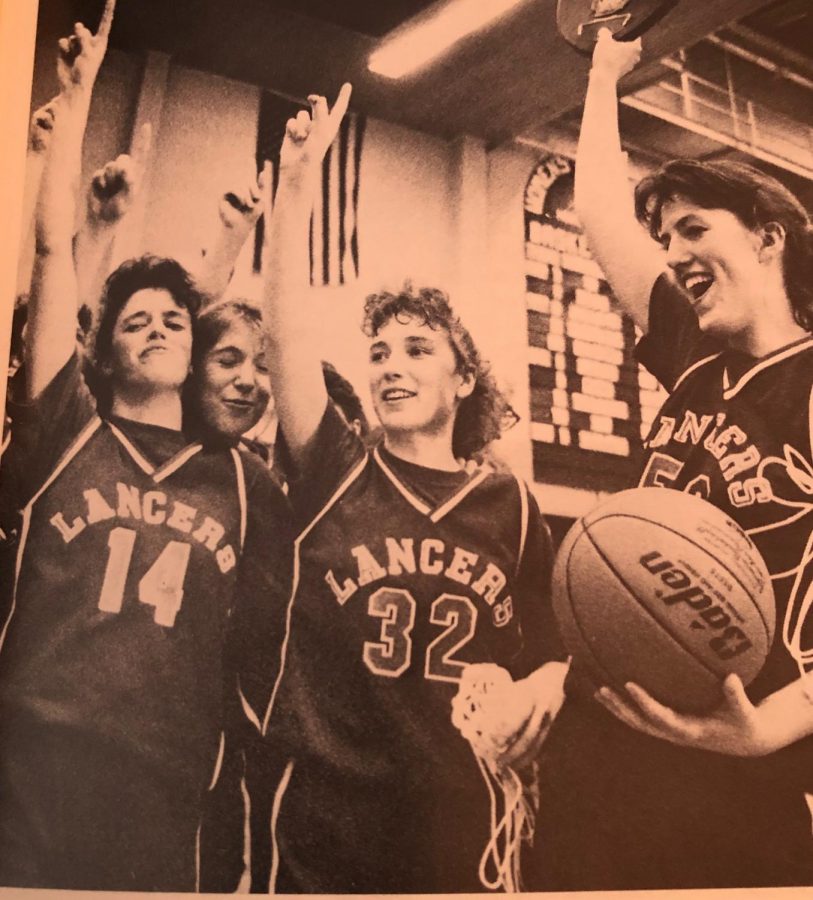 Women to watch for March 7: Ms. Sullivan
The Lancer Spirit is celebrating the women of Londonderry during the month of March in honor of Women's History Month. For each day of the month, LSO will be highlighting an inspiring woman within the Londonderry community who has demonstrated strong leadership and influential behavior.
Today's "Woman to Watch" is LHS House 4 assistant principal Ms. Sullivan for demonstrating influential behavior within her community.
As a role model and volunteer, House 4 assistant principal Ms. Sullivan shows her love for the community that raised her by inspiring those who confide in its borders.
Growing up in Londonderry, Sullivan was influenced by both teachers and admin of LHS to develop her into the leader and educator she is today. The deep connection she made with the town and the people in it was what drew her back to Londonderry after seeking her initial higher education.
"I know so many people in this town that watched me grow up so now that they're getting older I love being able to help them out because they helped me out so much when I was younger," Sullivan said. "I always wanted to come back and play and teach in the town that did so much for me. Since I was blessed with amazing teachers who showed me what it's like to be an educator and how lucky we are to be in this town. They helped me grow into the person I am today. I am a strong believer that wherever you are, you should be giving back to that community."
Sullivan also looked up to her parents during her years of personal development and still sees them as her constant support and her biggest role models.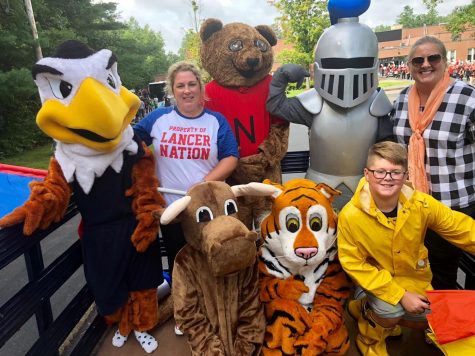 "[My parents] held me accountable when I did wrong, they were strict and they cared," Sullivan said. "I never wanted to disappoint them. I knew what they gave me, they provided a roof over my head, gave me the opportunity to be an awesome student, play sports (basketball, soccer, field hockey and softball), they did everything right."
Sullivan then left Londonderry to pursue college studies in education, later receiving masters in counseling and administration. Of the 24 years that she has been in the field of education, Sullivan has been at Londonderry for 14.
Now that she is back in action, Sullivan is well known throughout the town for her deep involvement with volunteering. She volunteers at the Lion's Club to support struggling members of the community, plays Bingo at the Veteran's Hospital every Monday alongside a group of students from the Pay It Forward club, soup kitchens, and other small events that go on during the course of the year.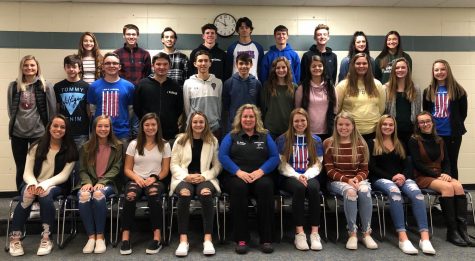 "I think 90 percent of my life is spent volunteering and helping out others; it's a big part of who I am and what I do," Sullivan said. "I'm lucky because I grew up in this town so giving back to it is even better. Giving back to the town that I work in and grew up in and still live in is awesome, it's a great feeling."
As one of her annual gatherings, Sullivan organizes the Veteran's breakfast that takes place in the school's cafeteria. 
"We started out eight years ago with 10 veterans and now I have over 200 veterans who attend that breakfast from this town every year," Sullivan said. "That event alone is hundreds of hours of preparations and planning; it's the biggest thing that I love and am proud of."
Sullivan uses the people that she surrounds herself with as role models to shape her into the woman she strives to be every day. She hopes to expand this energy to the students around her.
"My goal as a woman, as a citizen and as an educator is to always try to be a role model," Sullivan said. "I hope every day to be doing just that. If you have a role model that inspires you, go and tell them. Do those small things that can make a difference in someone's day because you never know, you could change someone's whole day with just a high five or saying hello or telling them they look good. I always make sure that the people who inspire me or send me a card or a nice note know how thankful I am."
Settled now in the community she deems her home, Sullivan continues to make an impact on the lives of those around her, whether it be other members of staff or students.
House 4 school counselor Mrs. Nelson has been repeatedly impressed over the span of 12 years by Sullivan's impact on the high school and Londonderry communities.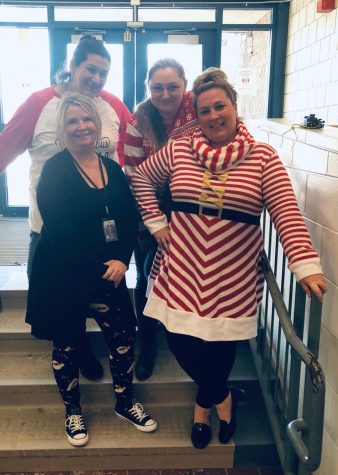 "I'm always impressed by her love for her family and her friends, for her dedication to the community and the school, and just her genuine desire to care for people," Nelson said. "I think that's really great to see and it's great to have in a friendship and great to see in other women that are strong and constantly want to make others better and that's who she is for me."
Nelson has seen through the years the helpful and strong nature of Sullivan through her extensive involvement and outreach through all aspects of the town and school.
"She's like the mayor of Londonderry, everyone knows her. I think that people see her as an outstanding leader, as a friend, a champion for students and the underdog," Nelson said. "She's inclusive, she wants to build connections with people and I think that's evident through her involvement in our community. To the people that know her, she's always setting a good example. I think that's the biggest thing no matter where you see her. I think that is one of her gifts, she makes people feel special."
As one of her outermost qualities, Sullivan is always striving to meet new people and help those around her stay steady on their path no matter their outlook on high school and the town of Londonderry.  
"She has a way of connecting with people to make them feel like they are important and that they matter and you see it with all different kinds of students, those deeply involved in the school or those who feel that school isn't their favorite place, but they know they're safe talking to Sullivan," Nelson said. "She's always trying to build a relationship and that's apparent with all of the students who value her as a woman."
Nelson has grown very close with Sullivan over their 12 years of friendship and still admires and appreciates all that she has to give.
"It's a privilege to work in an all female house, we are all women here. It's awesome to have her as our leader in House 4 because she does set a good example and makes all of us want to be better," Nelson said. "She really is authentic and true which relays to our friendship. She makes me laugh like no one else, she's been there for some of the really hard points in my life and has become like a sister to me. I appreciate her so much and we are so lucky to have her here."
Senior Grace Chicko has known Sullivan for only the past two years, but has developed a strong relationship with her all the same and notices the impact she has on those around her.
"I know I can always go to her whenever I need her and she has been there for me through my bad days," Chicko said. "I know that if I need her, she will take time out of her busy schedule for not only me, but any student at LHS. She is someone that is extremely approachable, and brings a different energy to the school. She thinks about the little things in the school that no one else does and makes our school the best it can be"
Sullivan has since become one of Chicko's biggest role models due to her ability to stand up for what she believes in and that she can share that empowerment with others. 
"She inspires young women to strive for what they believe in and that anything is possible," Chicko said. "She is a woman that has put others before herself, but in certain times she will do what she needs to for herself and I think that helps the people around her even more. She has shaped me to be a great role model and stand up for what I believe in…I love her with my whole heart and I think she is the perfect representation of what I strive to be like when I'm older."
Sullivan is a woman that has repeatedly given her honesty, support, guidance, time, and effort into all that she does for the community and the appreciation that follows her is extensive. She is a role model and a friend; a Londonderry woman, born, raised and employed and where she always wanted to be.
"There's no place I'd rather be, this is my happy place. This is where I want to be and I know this is where I need to be," Sullivan said.