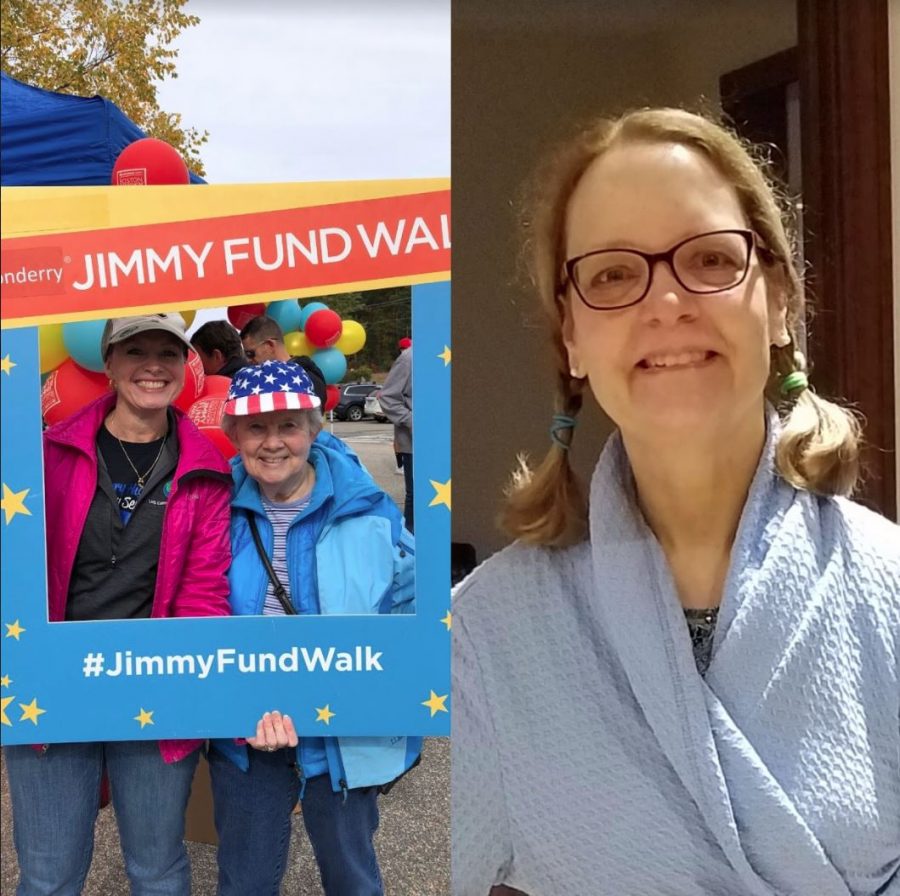 Photos courtesy of Mrs. Wakelin and Mrs. Marzik
Women to Watch for March 10: Mrs. Marzik and Mrs. Wakelin
The Lancer Spirit is celebrating the women of Londonderry during the month of March in honor of Women's History Month. For each day of the month, LSO will be highlighting an inspiring woman within the Londonderry community who has demonstrated strong leadership and influential behavior.

---
Today's "Women to Watch" are LHS social studies teachers Mrs. Marzik and Mrs. Wakelin for demonstrating influential behavior within their community.
---
For years, the Community Service Club (CSC) has made an impact on countless lives, from helping out at the Upper Room in Derry to picking up trash from the stands after football games. None of that support would be possible without CSC advisors and social studies teachers Mrs. Marzik and Mrs. Wakelin, though.
Wakelin launched the CSC a few years ago after a student approached her asking if she would be interested. Since then, it has expanded into one of LHS's most notable clubs with the help of Marzik and many students passionate about helping others. 
While Wakelin and Marzik work to forge connections with various organizations in the area, such as communicating with the Upper Room in Derry about donation needs, they say it is the students who maintain those strong ties.
"Being an adviser, I think I'm just an adult presence," Marzik said. "They do the work. It's really about them."
Many students, such as CSC President senior Beau Spillane, give them more credit, however.
"They give us the resources we need to do what we do best: help others," Spillane said. They also "take time out of their already busy schedules to oversee [CSC] meetings."
Marzik and Wakelin also cultivate an environment within the CSC where students can expand upon certain skills they may otherwise not have the chance to do.
"We have the opportunity to provide these community service options which also gives these people who are part of the club an opportunity to develop leadership qualities, responsibility, things like that," Marzik said.
Marzik and Wakelin are also known for recruiting students from their own classes into the CSC, always introducing a new person excited to help their community in any way they can. They are proud of all CSC members, new and old, who can always be counted on to dedicate the time to putting others ahead of themselves. 
"I'm really impressed and I'm very proud," Wakelin said. "Some of the things these students will volunteer for and help out with are just amazing. There's compassion in what they do, there's no judgement."
Wakelin and Marzik have very different personalities, which is one reason why they "work really well together," Marzik said. While Marzik is incredibly organized and always on top of the nitty-gritty details, Wakelin is constantly in an upbeat mood, which encourages students to make a stronger impact on their community and the people around them.
"It's good if you have a partner or an adviser who has different strengths than you," Wakelin said. "It has allowed me to see her in a different light; not just as a teacher and colleague, but as a friend."
Wakelin enjoys working with the CSC because it allows her to become a bigger part of the Londonderry community. Since she doesn't live in town, this club has given her the opportunity to make an impact on the town.
"Stepping outside the classroom and doing things where you are maybe meeting different people in the community, or possibly even siblings or parents, and doing activities that are outside of teaching just makes it a richer experience," Wakelin said. "I don't think of it as just my job. This is my life."
To Marzik, dedicating time and energy to help the people around her is natural.
"I think that's part of being human, you do things for other people," Marzik said.
Wakelin's grandmother is one of her biggest inspirations for helping others and making an impact on those around her, both in the community and in her personal life.
"She wasn't a very loud, boisterous person," Wakelin said. "I would say she's someone who had a very quiet strength, but one of the kindest people that I know. She would do anything for anybody."
Wakelin also looks to her colleagues at LHS as a source of inspiration.
"I would definitely say Mrs. Murphy and Ms. Giguere," Wakelin said. I look at them and I think about the things they've gone through in their life and I just find their strength amazing. I also look at the connections they make with kids and I'm just in awe."
One of Marzik's inspirations when it comes to lifting up the people around her is Anne Sullivan, Helen Keller's teacher.
"She was pretty amazing," Marzik. "I just thought she was an amazing teacher to be able to break through and give this little girl who was blind and deaf and mute, to be able to communicate."
Massachusetts Senator Elizabeth Warren also serves as an inspiration for Marzik. Marzik admires Warren's dedication and passion for what she does.
"She is a strong, articulate woman," Marzik said. "Whether I agree with her or not, her passion is an inspiration."
Marzik doesn't need to look far past her classroom door to find more women who she looks up to. Marzik's home in the upper 600s is surrounded by strong women that motivate her on the daily.
"When you get into a job, the people around you are the ones who keep you going," Marzik said. "I have a really nice neighborhood over by my classroom. We're all there for each other."
And though Wakelin and Marzik find inspiration in many of the women in their lives, it's hard to find someone who doesn't think the same way about them. Both Wakelin and Marzik have been an inspiration to so many women, especially their students. 
"They, as well as the community service club as a whole, have pushed me to become a better person," Spillane said.  "I've learned through their example just how much impact an individual can have on others if they try."
Being teachers to high school students, Wakelin and Marzik have the opportunity to influence the lives of hundreds of young women, and opportunity both have taken in and out of their classrooms. Wakelin's advice to young women?
"Believe in yourself, you can do it," Wakelin said. "So many times I think we don't think we have the strength or we're not smart enough, or we shouldn't do that or we don't have the skills, but you do. You really do. And be the best version of yourself. There are so many small things you can do to make someone's day. You don't know  what kind of an impact you can have."
Marzik's advice?
"Drop the competition, drop the drama," Marzik said. "Be friends with each other. It's pretty self-destructive to care so much about the externals and not about feeding your soul with a friendship."