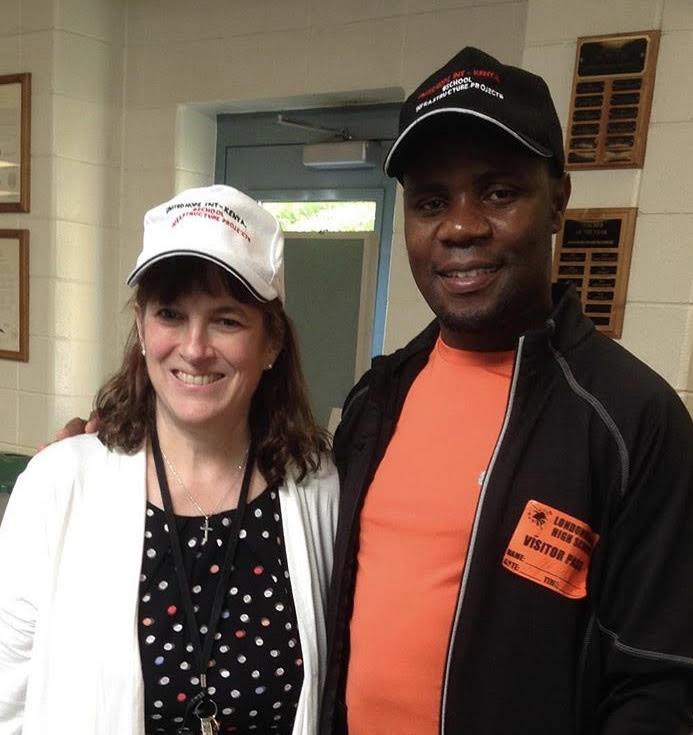 Photo courtesy of Kim Kerns
Woman to Watch for March 13: Kim Kerns
The Lancer Spirit is celebrating the women of Londonderry during the month of March in honor of Women's History Month. For each day of the month, LSO will be highlighting an inspiring woman within the Londonderry community who has demonstrated strong leadership and influential behavior.

---
Today's "Woman to Watch" is science teacher Kim Kerns for her dedication to helping our community and underprivileged communities worldwide.
---
From Kenya to our home town, science teacher Kim Kerns has spread her charitable and generous attitude far and wide.
Kerns started her world-wide service ten years ago with giving a girl in Nicaragua and eventually an orphan girl in Kenya money for school, food, and other necessities.
"I've been sending two girls money, because I think girls are oppressed around the world," Kerns said. "I talk back and forth through letters and emails, so I can know how they're doing. It's just a whole different world there, everything is much harder to do."
After Kenyan Willis Auko visited Kerns' church a couple of years ago, she knew there was more for her to do to help.
"He was a game changer that day for me," Kerns said. "He said he wanted to build a school, so I decided to start Heal the World to help him build it."
Between building the school and paving the path for young girls, Kerns wants to take a step in the right direction towards stopping the abuse of women.
"I really want to support women and people that try to help them," Kerns said. "Women are generally mutilated around the world. I've read a lot of books and watched a lot of documentaries about women getting out of awful situations. Around the world, everywhere, women are oppressed. I think helping other women be successful is just so important, we're all sisters."
Even Kerns herself has been in some unfair situations, just because she's a woman.
"In my first job, I would go to a lot of electronics shows, negotiate big contracts with companies, and travel," Kerns said. "Because my name is Kim, a lot of Asian people thought I was a man, and when they found out I was a female, they wouldn't want to talk to me anymore, which I thought was kind of weird. At the shows, I was always the only female in that field. There were a few of them there to kind of lure the men into buying, just eye candy, but I was the only woman working, but I knew my stuff, so I could hold my own."
While she feels strongly about helping other women, her advice is to find a passion and run with it.
"If you're really passionate about animals or safe drinking water, you should do something with that and figure out how you can make your little dent on the world and leave your mark," Kerns said. "It's just so fulfilling. If you're passionate about something, you're going to be more excited about it. You don't want to do it out of obligation, like 'oh I have to get a certain number of community service hours,' you want to do it, because you're passionate about it."'
She believes that it's important to be selfless and step outside of your own troubles for a while.
"I think when you do things for others or try to help others or look at life in their shoes, you don't concentrate on yourself and the little things," Kerns said. "People get wrapped up with themselves and social media, comparing themselves to others. If you're helping others, you don't worry about all of that so much.You can focus on making the world a better place, and it makes you happier. Other people have it worse off, so it's important to help."
Kerns also strives to make her classroom a healthy environment for her students.
"My friends' moms growing up were role models for me," Kerns said. "I had a very dysfunctional upbringing, so my friends' houses and school were my safe places. That's why I always want school to be a place where kids can be themselves and feel comfortable in being able to express themselves."
Between Heal the World, paying for teens to go to school, and helping all of her students feel comfortable in class, Kerns is trying to do what she can to give back to her community.
"I just feel like people always complain about the world, but at least I'm trying to do something," Kerns said. "I'm just one person, but if everyone did something that they were passionate about, maybe we can change the world that way."