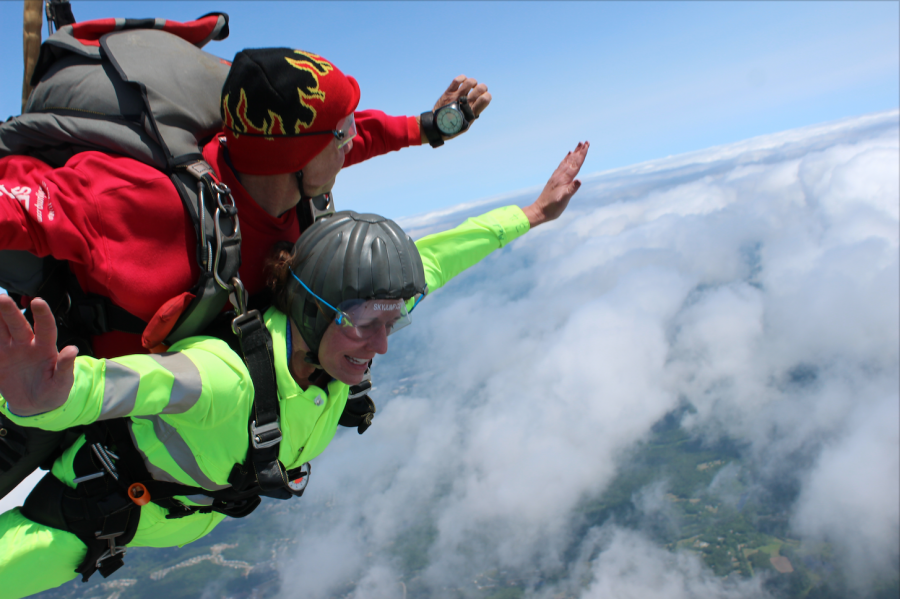 Photo courtesy of Karen Ruzicka
Women to watch for March 17: Karen Ruzicka
The Lancer Spirit is celebrating the women of Londonderry during the month of March in honor of Women's History Month. For each day of the month, LSO will be highlighting an inspiring woman within the Londonderry community who has demonstrated strong leadership and influential behavior.
---
Today's "Woman to Watch" is
Karen Ruzicka

 for consistently giving to others in her community.
---
If empathy could be personified, then it would be Karen Ruzicka.  An unflappable protectorate, champion of the underdog and an altruistically inclined mentor, Ruzicka has dedicated herself to those society has made inherently disadvantaged and given them a platform to stand on and wings to fly.  She unapologetically lives and loves with a depth of mind and rawness of heart in a world that chews compassion up and spits it out. 
While Ruzicka's selflessness seemingly comes down solely to the content of her character, she'll be the first to redirect any praise from herself onto the people around her.  Two of her most celebrated figures were her parents growing up. Both were professors and both allowed Ruzicka to gain a new perspective into teaching.
"Seeing my parents help students really instilled my desire to help kids learn," Ruzicka said. "Especially with my mother. Seeing her work in the learning center alongside kids with learning disabilities got me thinking that there are so many options to offer to allow kids to learn."
Ruzicka used the perspective she gained as a child when she began work at Manchester's Lifeshare.  Signing on as a Direct Support Professional (DSP), Ruzicka worked alongside developmentally disabled individuals on a daily basis.  It didn't take long for Ruzicka to find that the work of a DSP was taxing, but she never once looked for pity. Instead, Ruzicka embraced the challenge and galvanized every special-needs individual she worked with. 
"The whole point of the program is to understand that people have differences," Ruzicka said. "I wasn't going to let some pessimistic mood take away from the opportunity to let these people who've always been casted out that we were in this together."
While Ruzicka loved the work she was doing at Lifeshare, her ever-changing, family-centric schedule thrust her into a new challenge; this time she'd be undertaking new tasks at Londonderry's South Elementary School.
Starting as a substitute in 2008, Ruzicka was tasked with filling in at just about every role an elementary school had to offer.  It was the variability of her roles at South School that allowed her to come upon the job perfect for her: Special-Education Assistant.  Being able to use similar skills that she had honed and developed at Lifeshare, Ruzicka became a full-time employee in South School's PFS (Program for Success) program.
"I loved working in PFS," Ruzicka said. "I felt like I could help make their day a little easier. Not every kid can sit down in a classroom and just learn. Everybody has their own unique way to learn and I wanted to do everything I could to help them get there." 
It was this drive and inherent devotion to seeing kids succeed that lead to Ruzicka working at South School for 10 years.  Years full of students noticing that one wonderful lady who never gave up on them.
"She was always the teacher that could make you smile," current LHS senior and South School alumni Owen Rouse said. "Her positivity was contagious.  You couldn't help but get giddy when she was one of the helpers in your classroom."
After her time at South School, Ruzicka transitioned towards a new world of people to help, heading back up to Manchester. This time working at the Moore Center in the Family Directed Services Program.
"My job is to work with families and allow them to decide which programs they want their special-needs loved one(s) to be a part of," Ruzicka said. "As their kids are turning 21 and aging out of high school, they can join these programs to have support while they transition into a more independent adulthood."
And while most people only know Ruzicka through just her time at Lifeshare, South School, or the Moore Center, there are a select few who have seen her every step of the way. One of these people is her husband Dana Ruzicka.
"She has a subtle strength and commitment to helping those in need," Ruzicka said. "Not just in her work, but also how she lives. She's dedicated literally her entire life to helping others. She's been a rock for students and has been a beacon of hope for every person she's touched. She's truly a saint."
While her husband has a loquacious way to articulate the lifelong message his wife has been sharing with the world, Karen Ruzicka likes to sum up her message tritely.
"Be you."