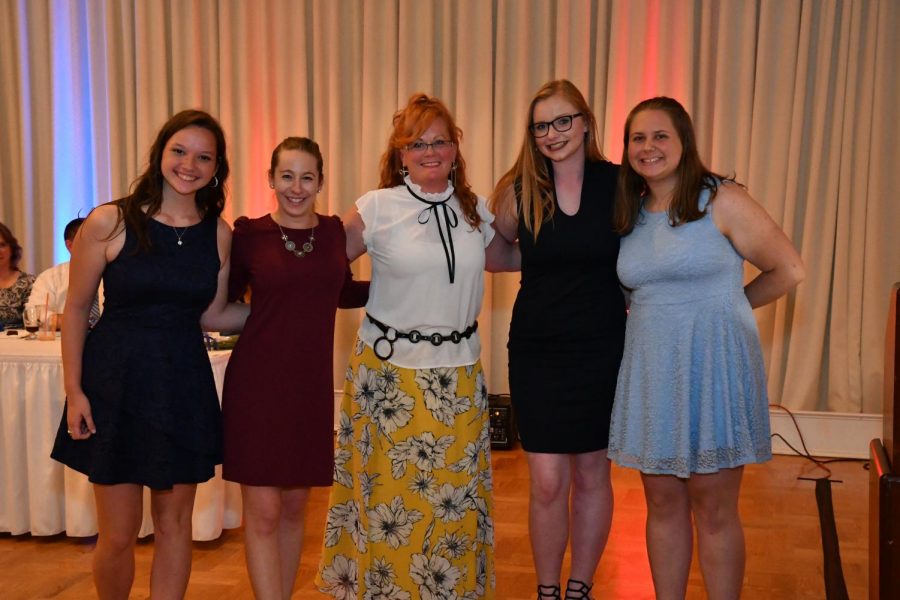 Photo courtesy of Lancer Music SmugMug
Woman to watch for March 22: Jennifer Horne
The Lancer Spirit is celebrating the women of Londonderry during the month of March in honor of Women's History Month. For each day of the month, LSO will be highlighting an inspiring woman within the Londonderry community who has demonstrated strong leadership and influential behavior.
---
Today's "Woman to Watch" is

Colorguard Coach Jennifer Horne

who has exhibited influential behavior through her leadership within her community.
---
From cheering on the sidelines to marching through different weather elements in an array of cities, Colorguard Coach Jennifer Horne has become an integral part of the Lancer Marching Band staff.
Even though Horne joined the coaching staff just three years ago, in a short amount of time she has become a leader, coach, friend, inspiration, and family member to each member of the guard, especially to Senior Captain Rhiannon Black.
"It was a weird transition when she first joined the guard since we were saying goodbye to one coach and saying hello to another," Black said, "but now she's more than a coach, she's like another mom to us."
While Horne was a new face at Londonderry, she is no stranger to Colorguard, for she used to compete as a Colorguard and winter guard member throughout her four years of high school. This past skill allows her to coach to the best of her abilities.
"My first band was filled with lots of difficult routines, and serious expressions. We did a lot of hard work because we were a competition band and our style was really more military," Horne said. "I then got to kind of transition out of a very military-style type guard into something that was a little bit more dancey."
All of these different kinds of styles of guard that Horne has experienced lead her to coach her team to hold themselves in a respectful way, while also learning to have fun when performing, a lesson Junior Captain Morgan Dow has picked up on.
"She's extremely nice on and off the field, but she also pushes us to a degree without being too harsh," Dow said.
Through coaching, Horne has taught her team that even though the polished performance will be amazing, their success will only come with hard work and practice. 
 "I love seeing the difference from the first rep to the 20th rep along with seeing all of the accomplishments that the team does and how good it makes them feel when they finally nail a drill," Horne said.
When out on the field, Horne encourages the guard to utilize her coaching even when practices are not taking place.
"I always make it known that whenever they turn to my door it is always open," Horne said. "I'm always available to help when there's a problem."
Because of Horne's open-door policy, it has made it a lot easier for the team to connect more with their coach, and members such as Junior Emily Nowak take advantage of the opportunity.
"She is very kind and will always try to talk to someone or understand what they are going through, and she'll always do her best to empathize with you," Nowak said.
Horne is a big believer in women's rights and believes that when talking to young girls they shouldn't just be talked down to. 
"I believe that all women young and old can do absolutely anything that they ever want to do and I always want to speak to them in a way that lets them know this," Horne said
Throughout her practices and especially during games, Horne is always ready to remind the girls on the team that they are strong and independent and that they should show that on the field.
"I want to make sure that they know that I see strength in every single one of them," Horne said. "Strength comes from within, and I'm hoping that they get that out of doing Colorguard."
Horne also wants the girls to take away what it means to be a woman in these times, and how no one should sacrifice who they are for anything or anyone.
"From day one, she identified herself as a feminist, and I remember she talked about how she was married and yet chose to keep her maiden name because that was the name she built for herself," Black said. "She wanted to show that you didn't have to sacrifice anything or any of who you were to have love in your life."
Horne has always wanted the girls to be comfortable in who they are and show that on the field and in their daily lives. 
"Individuality is so important right now. It's a great time for women to be who they are. People are talking and women are listening to one another more." Horne said " As a whole, we are all inspiring one another in any way that we can just by listening and being accepting."
Even though these lessons were taught directly by Horne, some lessons were picked up by the team without Horne knowing.
"She's really good at commanding a room and making everyone feel at ease, which are things I struggle with sometimes," Dow said.  "So I use her as somewhat of a guiding light to try to be in command of my own life."
At the end of the day, Horne wants every child, girl, and woman to know that they can accomplish so much if they believe in themselves.
"I want to show that these girls are strong, stronger than they even know, and I'm hoping that they know that they have their own individual strength and they can go do whatever they put their mind to," Horne said. "Even if that includes twirling a flag above their head or 50 feet above them if they feel like it."