The light amidst the darkness of 2020
This year was supposed to be one for the record books, and it was, but not necessarily in the way we wanted. We were expecting a happy, successful year, but we got one filled with death and isolation instead. Events like Kobe and Gigi Bryant's deaths, Trump's impeachment, Covid-19, and the stock market crash filled the breaking news tickers across the nation. But there were some good things that happened in the middle of all this chaos. They were hard to find, but I promise that not everything was bad. 
---
January 
In response to one of the worst wildfire seasons Australia has ever experienced, Leonardo DiCaprio's Earth Alliance Organization donated $3 million to the relief efforts. Other celebrities including Kylie Jenner, Nicole Kidman, and Sir Elton John generously donated their time and money to help the country recover from this tragedy. A Muslim community even donated trucks of supplies for firemen in Australia as well as cooking them meals.
In the more recent past, California's housing crisis has hit lower-income families more than ever. Real estate prices have gone through the roof in response to the integration of large tech companies into Oakland and San Francisco. At the corner of 37th Street and Martin Luther King Jr Way in Oakland, an abandoned lot was converted into a sanctuary space for homeless women. There are solar showers, gardens, bathrooms, and walkways to make this place a temporary home and a safe place for those in need. 
February  
At the Oscars this year, for the first time ever, an Asian director took home an award for Best Director. South Korean Bong Joon Ho won the award for his work on the film "Parasite". In addition, "Parasite" received the Best Picture award, the first foreign-language film to win such an award at the Oscars.
"Hollywood kingmaker" Harvey Weinstein was finally convicted of raping an aspiring actress as well as sexually assaulting a filming assistant. The #MeToo movement was kickstarted due to his allegations and grew to a nationwide, and internationally participating movement to spread awareness for sexual assault victims. This was not just a movement for Weinstein's victims, but for victims around the world who had struggled to come forward before then. Weinstein's guilty verdict was celebrated across the country, but especially by his dozens of accusers. A total win for the female community.
March 
Many years after the spike in the Ebola outbreak, the final patient was released from their treatment center in March. The last patient was being cared for in the Democratic Republic of Congo. Although it took some time, this release shows that we have finally overcome the second deadliest outbreak of the virus, giving hope for the Covid-19 pandemic and the second wave coming. 
In the last 10 years, about 9,900 rhinos have been lost due to poaching. But in March, it was announced that 45 rhinos have been saved from poachers due to a group of dogs. This pack is made up of bloodhounds and beagles that have been trained to track down said poachers. 
April 
Spotify launched their "Daily Wellness" playlists consisting of podcasts and relaxing music to help relieve even the slightest bit of stress that this pandemic has caused all of us. There are morning playlists to inspire and refresh you for the day and an evening playlist to calm you down before bed. Giving you a great night's sleep to start your next hectic day. 
Masterclass is a company that has been around for many years, but during quarantine this spring, the number of users started skyrocketing. Many experts and celebrities offered virtual learning sessions to enlighten their viewers and inspire them to learn to do whatever they do. From cooking classes led by Gordon Ramsey to acting classes from Natalie Portman, users could learn pretty much anything, making their time at home just a bit more interesting. 
May  
Following the death of George Floyd in early May, nationwide (as well as in about 60 other countries) protests broke out in support of the Black Lives Matter movement. These calls for protest against the unjust police brutality towards people of color gained support from hundreds of thousands of people. Although some of these protests turned into riots, causing hate against the integrity of the movement, a lot of the country came together to fight systemic racism rooted deep into our nation's history. 
To continue the movement towards widespread racial equality, Crayola released a pack of 24 skin tone crayons called "The Colors of the World". This pack will allow for kids to "accurately color themselves into the world".  "[Crayola] wants the new Colors of the World crayons to advance inclusion within creativity and impact how kids express themselves," CEO Rich Wuerthle said. 
June  
In early June, the Supreme Court rejected President Trump's end to the Deferred Action for Childhood Arrivals program (DACA). The 5-4 vote will keep the program up and running, ruling Trump's termination of DACA wrong. This will keep 650,000 undocumented children from being deported. 
The DACA vote wasn't the only huge Supreme Court ruling in June. In the same week, the Court held a 6-3 vote stating a half a century old law (Title VII of the Civil Rights Act of 1964) forbids discrimination due to gender identity or sexual orientation. This was another ruling that the Trump administration strongly opposed leading up to the result. 
July  
In an attempt to regain normalcy, the NBA sent their 22 teams into a "bubble" in the ESPN Wide World of Sports Complex in Walt Disney World. No fans were allowed to attend in person, but it allowed for families to watch national sports again from the comfort of their isolation. Exhibition games started in July and were followed by playoffs in September. The season ended on October 11th with the Los Angeles Lakers vs Miami Heat championship game. The Lakers came out victorious, a bittersweet ending to a season that started with the loss of their beloved alumni, Kobe Bryant.
A survey conducted by Neilsen in July gathered that 20% of respondents adopted at least one cat or dog between March and July. The pandemic quarantine caused a spike in demand for pet adoptions from rescues as well as private breeders as families were stuck in their homes. Last year, less than 5% of respondents had adopted a pet. But not only was the demand for adoption much higher than usual, but the number of dogs being sent to shelters also decreased by 24%. 
August  
To add to the successes in past disease outbreaks, the World Health Organization announced in August that the entire African continent is officially free from the wild poliovirus, with Nigeria being the last African country to be declared Polio free. Polio mainly affects children under the age of five, but once vaccinated you are protected for life. This leaves only Afghanistan and Pakistan with patients still affected, but Polio vaccine campaigns have resumed in these countries in light of the Covid-19 pandemic. 
Many charities and organizations found ways to adapt and overcome the challenges that Covid-19 presented. For the fourth year in a row, six-year-old Caroline Gallagher was able to hold her charity lemonade stand to raise money for children's cancer research. Gallagher was only 19 months old when she was diagnosed with leukemia. The event took place on August 8th as a live stream on the C&C Lemonade Stand Facebook page. 
September  
Carbon emissions have been a worldwide problem for many years and the consequences have started to show themselves. Back in 2015 in the Paris climate deal, China promised its emissions would peak by 2030. But now, they have taken it one step further, pledging they will be carbon neutral by 2060. China is not the only country to do so, there are about 60 other countries who have made the same pledge, but none of which have emissions comparable to China's 28% of the world's carbon. 
As schools started to open up for the new school year, the idea of hybrid learning and working from home was proven to work even better than they had in the spring of this year. After working out the kinks that occurred in many systems during the remote period last semester, in most places, virtual learning has been quite successful. Working from home has even proven to produce more productive workers, making it a more viable option in the future. 
October 
Major League Baseball (MLB) made racial history late this year. Dodgers' general manager, Dave Roberts, was the first manager of Asian descent to take their team to a World Series title. But the news doesn't stop there. Kim Ng became the Miami Marlins' general manager. Ng is the first woman and person of East Asian descent to hold this position. 
In October, two opposing governor candidates in Utah, Spencer Cox and Chris Peterson appeared in an ad together to call for political civility. Although it was a small scale union, not like if Trump and Biden did this, it proved that neutrality in an election is possible, it doesn't only need to be taking shots at your competitor, you need to look mature. 
November  
We all know how much of a circus the 2020 Presidential election was, but there were many good things that came from it. The election saw the most voters in the last 120 years with more than 159 million people, two-thirds of the eligible American population. Joe Biden received the most votes for any candidate with over 80 million votes, a vote which was led by the votes of Black American women. At least 50 women of color will now serve in Congress for the next term, as well as many LGTBQ+ members being elected into office. Many drug laws were passed in many states including the decriminalization of marijuana. And the largest stepping stone from this election, the United States will now have their first woman vice president, VP elect Kamala Harris. 
In addition to the election, in international news, Finland became the first country to make period products free in many public areas. The Period Products (Free Provision) (Scotland) Bill was passed unanimously stating that schools and designated areas must have feminine hygiene products freely available to those who need them. In a 2019 study, 2 out of 3 respondents said they were unable to have access to menstrual products at some point in the last year. 
December  
Another huge milestone for the LGTBQ community was hit in December. 370 religious leaders banded together to call for the global ban of conversion therapy, a very harmful practice that attempts to change one's sexual orientation and gender identity back to the "norm". The declaration, put out by the Global Interfaith Commission on LGBT+ Lives, for the ban has now been signed by leaders from all types of religions including Christians, Jews, Hindus, Buddhists, Muslims, and Sikhs. 
On Christmas Eve, the Crossfit community was given a long-awaited gift, the confirmation of an adaptive division for athletes who need it. The 2021 competitive season was finally announced, in addition to the addition of eight adaptive classes for the March 2021 Crossfit Opens. These include Upper/Lower Extremity Impairment, Visual Impairment, Seated Athletes, and four others. It is a possibility that these classes will not be added to the Crossfit Games until the 2022 Games. 
---
Some of these things may seem minor, but if you step back and look at all of the tragedies we have undergone, it is nice to see that there was any happiness and progress made. As we enter 2021, make sure to take care of yourself and appreciate the small things in life. The destruction of this year will not be fixed the second the ball drops on New Year's Eve, but I promise, things will get better. 
Leave a Comment
About the Contributor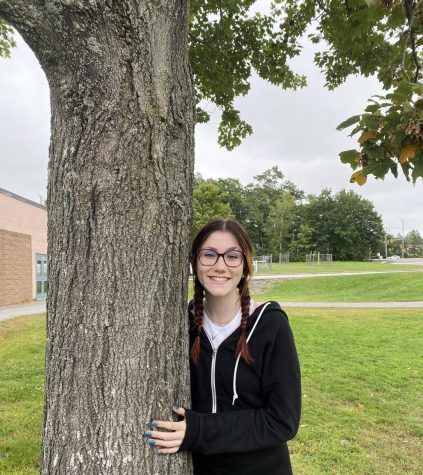 Audrey DeAngelis, Assistant Editor in Chief
Audrey is in her third year on staff, starting as a reporter her sophomore year. Her first year as an editor, Audrey was Online Chief and is very excited to be Assistant Editor-in-Chief this year. Next year, Audrey plans to study forensic science and pursue a Master's degree in chemistry in hopes of becoming a crime scene investigator.