Field hockey team is "locked in" coming into the semi-final game against Pinkerton
Field hockey beats Timberlane, advances to semifinals against Pinkerton
October 27, 2015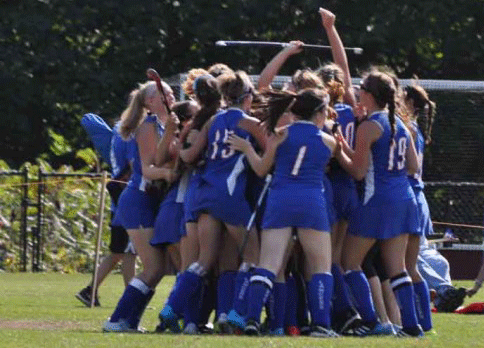 The hearts of every Lancer field hockey girl were pulsing during their second playoff game against number two seeded team Timberlane because after losing to them 4-0 earlier in the season, they knew this team would be tough competition.
"But we also knew we had improved throughout the season," sophomore Caroline Russell said. "Our coach drilled it into our heads that we could win [against a tough team] just like we did during Mack Plaque."
Sophomore Krista Fletcher said their coach often talks about how the intensity of the game "starts in warm-ups and then it reflects in game-play." So on game day this past Sunday, they came to the field ready to play hard.
"We have everything it takes," Fletcher said, "and we are going to stick together as a team and work to get that number one spot."
After the game against Timberlane, they are one step closer to making that happen.
But it wasn't easy.
The score was 0-0 through the game, so they were forced to go into overtime.  But no one scored, so they had to then go into double overtime.
Still, no one scored until there were 12:36 left.  That was when sophomore Katie Meuse pulled left, pulled right, and shot the ball full force into the net to score the winning goal.  Now the team advances to play their rival, the Pinkerton Astros, in the semifinals on Thursday, Oct. 29 at Exeter High School at 5pm.
Senior captain Hannah Cohen said she hopes people will come out to support the team.
"It will prove to us that people believe we have a shot at winning," Cohen said.
Road to semifinals: Field hockey girls have stayed "locked in" and ready to win.
Every season, the Lancer field hockey team has a little saying that they like to play by, and this year's theme is "Locked In."
Although the team is on the younger side, with only three seniors and two freshmen, they are still a force to be reckoned with.
"Coach doesn't expect perfection," senior captain Hannah McGrath said.  "She expects perfect effort."
Since Aug. 17, the Lancer field hockey team has been working hard to prepare for the upcoming season.
"Our team is always looking to improve our skills," freshman Hunter Langley said.
The team also takes part in many different activities to get to know one another and feel comfortable playing together. Before games, a team member sometimes hosts a pasta party with food and fun to get them in the winning spirits. Just recently, the girls also held a carwash to help support their booster club.
"We get along and have fun," Langley said, "but we are serious when need be."
Two people who help the team maintain this focus are coaches Federico and Chrissy.
"Coach Federico is very intense," McGrath said. "She loves to win, and she has high expectations for how far our team can take it."
This team proved just how far they'd take it when they defeated Pinkerton in overtime during Mack Plaque.
"That win showed how close of a team we truly are," sophomore Caroline Russell said. "It was an undeniably fantastic feeling that I don't think my team or I will ever forget."
A big part of their success seems to be the leadership various players have shown throughout the season.
"Hannah McGrath and Hannah Cohen are both great leaders on and off the field," Chrissy said. "Hailey Gilbert is also a great leader with great insight, especially on game days. Olivia Palumbo, our junior captain, is always positive and sets a great example for our younger players."
The one thing missing from this team?  Lancer fans to watch them play.
"I'm done with it just being my parents [at the games]," McGrath said. "We need more students to come out and support [us]."
For McGrath, she knows it is her "last chance to get a title."
"I hope I can do it with this team," she said.