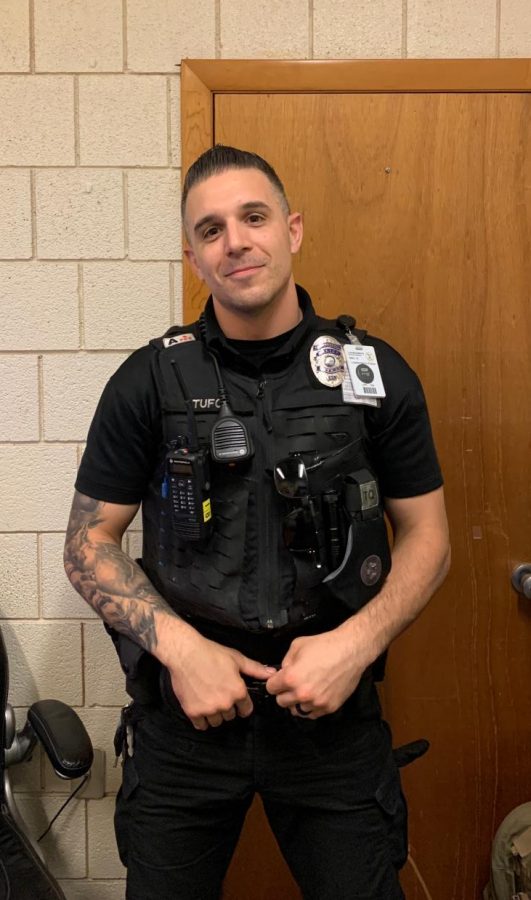 Officer Tufo, Resource Officer
Lancer Nation is excited to welcome a new resource officer, Officer Tufo. 
Tufo has been a police officer for 11 years, three of which being in Milford and the rest at Londonderry. 
It is Tufo's first year as a resource officer, as he wants to form connections with the upcoming students. 
"I think this is a very important role because you are protecting the next generation," Tufo said. "Especially in our society today it's going to be important to bridge the gap between the new generation and police."
Although Tufo has been part of LPD since 2013, he still wants to continue learning about Londonderry and what the town has to offer. 
"I want to learn your culture here, I want to be in the classrooms, I want to be a resource for you guys," Tufo said. 
When not at the school, Tufo enjoys being with his family, consisting of his wife, 4 year old, and 5 month old. He also goes to the gym daily, as health is important to him. 
Tufo grew up in Northshore Massachusetts, then graduated from UMass Lowell in 2010 with a degree in criminal justice. After being in the police academy immediately after, he got the opportunity to work in the detectives department. 
Tufo's main goal at Londonderry is to get to know the students and faculty, no matter what. He wants to be approached by students and staff as someone to go to. 
"You won't find me in my office much, but I want the kids and faculty to feel comfortable to approach me, ask me questions," Tufo said. 
Overall, Lancer Nation is happy to see Officer Tufo in the halls and classrooms. He wants to show a different perspective of police officers and form connections with each student. 
"I'm an open book, just make sure if you have any questions or concerns, want to have a talk, go for a walk, whatever I'm here for you guys," Tufo said. "You're not here for me, I'm here for you."