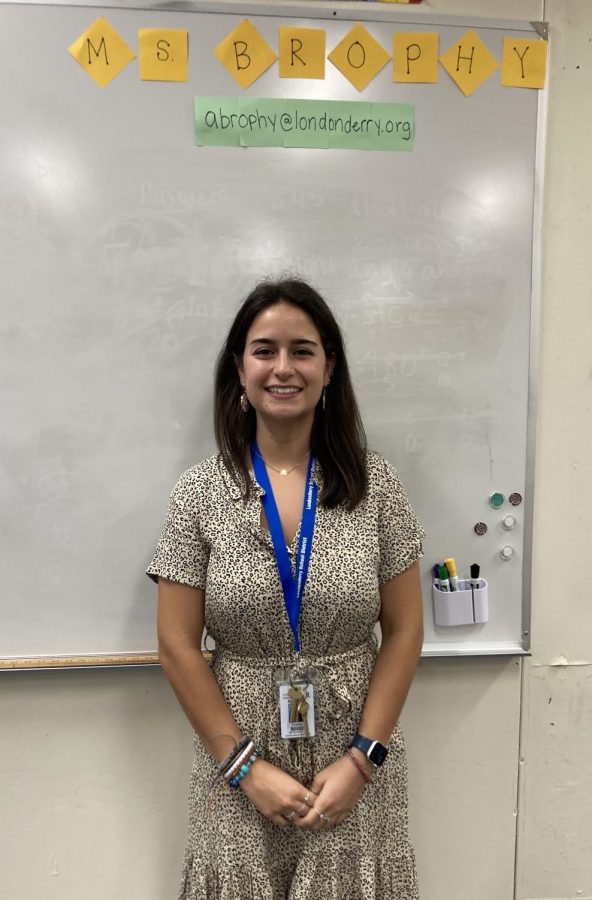 Angela Brophy, math
This year, Londonderry High School is honored to welcome Ms. Angela Brophy to its math department; and Brophy is starting the new school year with many goals for the future. 
"I hope to become part of the LHS community, get involved outside of the classroom, and make connections with all of the students," Brophy said. 
Before working at LHS, Brophy was a student teacher at Winnacunnet High School in Hampton NH. Prior to, she taught as a substitute teacher at Alton Central High School in Alton NH. 
"This gave me a chance to see if I liked working with high school students or younger students," Brophy said. "I really enjoyed getting to teach students in high school, and I'm excited to have my own classroom here at LHS."
Brophy not only teaches Algebra, Geometry, and Integrated Math to freshmen, sophomores and juniors, she is also the new advisor of the Math Team, and said that she is excited to "meet students who are not in my classes."
"I heard how much of a great community LHS has," Brophy said. 
From a young age, Brophy has been recognizing the importance of a positive teaching environment, and how it can have a constrictive impact on student's lives. In fact, Brophy said that her second-grade teacher inspired her to "share her passion of math with others."
"She always stuck out to me, and I remember her to this day," Brophy said. "She was very caring and made learning fun. When I decided teaching was what I wanted to do, I was determined to be like her."
Brophy's memory of her second-grade teacher has made her desire to be a good example to her students, and encourage enthusiasm in the teaching environment.
"I like to share my passion for math with students who don't always like it," Brophy said. "I like to show them that they can succeed, and make a safe and positive space where they can do so."
Though she's only been teaching for a few years, Brophy has already made some crazy memories, one of her favorites having to do with rubber bands. 
"I had one student whom I let borrow a few rubber bands," Brophy said. "And he came back the next day with 5 lbs of rubber bands to pay me back."
Though it may have seemed ridiculous, Brophy couldn't deny that those kinds of silly moments are quite meaningful to her. 
"This is something so silly, but really, it showed me how much he appreciated that small act."
Even when times get tough, and it's difficult to move forward, Brophy finds that the words, "you learn something every day," encourage her to keep going. 
"I can walk away from the day knowing I made a positive impact," Brophy said, "whether it be in math, or everyday life learning experiences. You never know what someone could be going through or experiencing, and having a positive attitude for them may help them, even if it's just a little."