Caroline Keras, English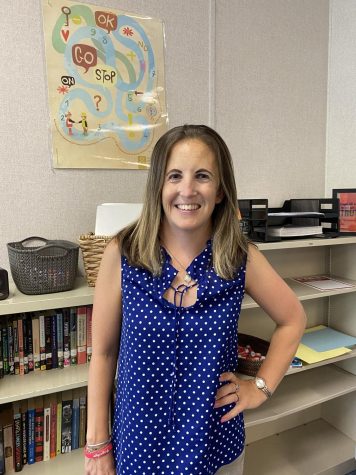 New English teacher, Caroline Keras, plans to "fully immerse" herself in the community. 
"I noticed that the Londonderry community, the athletics, and the band are really big parts [but] I feel like the best way to get to know you guys is seeing you outside of the classroom," Keras said.
In addition to teaching, Keras enjoys spending time with her family and friends. One of her good friends from college was part of the reason she ended up choosing LHS. Mrs. Brayall, our digital technology coordinator, recommended the school to Keras.
After hearing positive things about the school, Keras was "really excited" to join. Even though she has a forty-five minute commute, Keras said that it isn't too "unreasonable" since she is "getting [her] feet wet."
Keras plans to be as involved here as she was at her old school. She was a co-adviser for her old school's yearbook club. She was able to be the scorekeeper at basketball games and that allowed her to become more involved with her students. 
"I feel like [extracurricular activities] is something we lost during Covid, so I'm excited to have that back," Keras said. 
Keras said that she "values" her students and is looking forward to getting to know them more. One of her biggest goals this year is to become like a "big family" with her classes.
"Getting to the point where we know each other inside and out is what I'm most looking forward to," Keras said.
The Lancer Spirit editorial board welcomes your comments. We reserve the right to delete/edit comments that contain the following: Off-topic statements or links, abusive content, vulgarity, poor grammar, personal attacks or spam.