Photo courtesy of Hannah Cohen
Hannah Cohen, English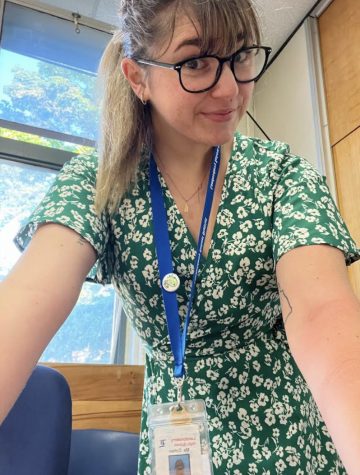 With the start of a new school year, LHS welcomes new English teacher, Ms. Cohen. With it not only being her first year teaching at LHS, but her first year teaching in general, Cohen's decision to come to Londonderry was one that was quickly and confidently decided.
"There's something about the feel of walking into this school that was like an instant yes for me," Cohen said.
 "I heard a lot of good things about this town itself," Cohen said. "I have a family friend whose son came through the high school…she had nothing but good things to say. Not only about the community and the teachers, but also Mr. Parent. When I came here for my interview I don't know what it was, but I knew instantly that this is where I wanted to be. I didn't have to think twice about [working at LHS]." 
After only a few weeks of being in this community, Cohen has already had a "fantastic" experience.
"The students have been amazing and helpful and kind as well as the parents and staff so I'm really thankful that this is the place I chose my first year to be," Cohen said.
Being a people person, one of Cohen's biggest goals is to get to know people around the school and have quality relationships with her students.
"I love learning any and everything I can about somebody," Cohen said. "I definitely want to find things that I have in common with my kids so that I can make those good connections."
The Lancer Spirit editorial board welcomes your comments. We reserve the right to delete/edit comments that contain the following: Off-topic statements or links, abusive content, vulgarity, poor grammar, personal attacks or spam.