LHS welcomes alum Mr. Secor to House 2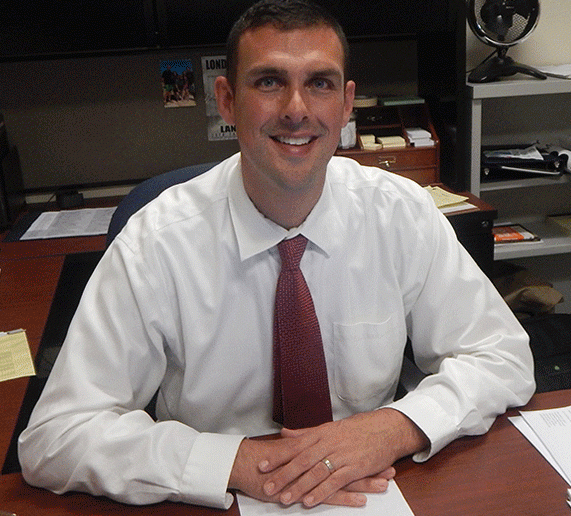 Hang on for a minute...we're trying to find some more stories you might like.
Arriving no later than 5:30 in the morning for the past 20 school days, new Assistant Principal to House 2 Mr. Secor now gets to school even earlier than he did 22 years ago when he was a student.
"I feel as though I never left the halls of LHS," Secor said. "We [the staff] do a good job working here together at LHS as a team, and I think everything works out really well."
Secor started his new job two weeks before students filled the halls, but noted that the transition was quick.
"I was impressed with how both students and staff approached and introduced themselves to me," Secor said. "Some students even quiz me on their names while we walk down a hallway."
Being the new person in any situation can be difficult, but Secor keeps up on everything he has to do as a new assistant principal with ease.
"I'd have to say that the best part of my job is watching kids grow and develop by trying new things and being successful," Secor said.
In fact, with just two weeks under his belt, he has already found joy in "understanding students' goals and helping to achieve them."
One day Secor might be found directing traffic outside, and the next day he could be dealing with a curriculum issue. There's still a lot to learn on the job and each day brings something new in a school of almost 1600 students.
"It's a great place to be," Secor said. "It's why we come to work everyday and feel rewarded."
As a varsity football player senior year and varsity basketball player throughout high school, he keeps fit now by playing basketball, running, and lifting. Fifteen years ago, he used to auto race as well at NH International Speedway.
"I used to race on part of the oval track at the speedway which was a really cool experience," Secor said. "I have pictures for memories, but that's all now. Someday, I will buy another race car and get back out there."
Today, Secor and his son frequent Star Speedway and watch auto races to pass the time.
After being made to feel welcome, Secor noted the sense of community that LHS has to offer, and how it has a perfect size to get to know everyone.
"It's great to see that the school is a good place for students and staff, and I'm looking forward to being a part of it for years to come," Secor said.