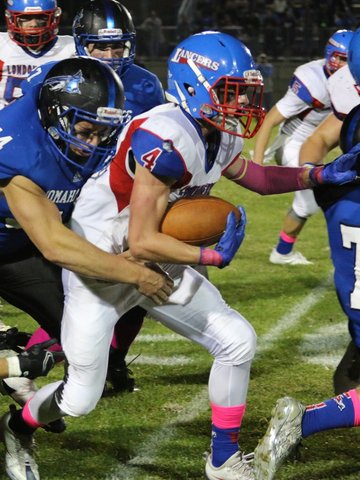 Sophomore football player Jake Holland began playing the game in first grade just because his older brother played, but now, almost nine years later, he is exploding into a starting role for the Lancer varsity team. He has stolen the spotlight on the stadium field, running 10 kick returns for 261 yards so far this season.
"He has football instincts," special teams Coach Clement said. "He has a very high football IQ."
Holland's first opportunity to step onto the field in a varsity game came under the Friday night lights at Bedford on September 16, playing only on special teams.
The next week he began playing slot on offense, the position between the last offensive lineman on either side of the center and the wide receiver on that side, where he sometimes ran the ball and sometimes received a pass.
It is this kind of diversity that caught Head Coach Lauzon's attention.  He recognizes the skills that make Holland a strong player–especially in returning kicks.
"[When you are a kick returner], you have to run without fear of being hit, see the field, and know the game," Lauzon said.
And that's just what Holland does.
Holland also stands out on the team for his "smarts." Clement says he knows how to react to a situation before it even occurs on kick returns.
"He has good vision of the field and knows what's going on around him," Clement said.
Holland, however, is just now recognizing these skills in himself.
"I never really knew I was good at [kick returning] until coach just put me in the spot," Holland said.
Teammates have described Holland as the "perfect player" for this job, saying he is a tough kid on and off the field.
But it's not just his toughness that makes him a good player, according to  Coach Lauzon Sr., the head coach's dad.  It's because he's just plain talented.
Coaches Clement and Case agree that Holland shows a strong competitive nature and athletic ability. Each said Holland is willing to make mistakes and learn from them. He wants to stand out, especially among the older players on his team, and Holland's coaches say his confidence is growing.
"When he trusts himself, he is a lot better," Clement said.
Holland did not have much of an opportunity to play during his freshman season due to injuries, but he's seizing his opportunity to play in his sophomore year.
He said he's impressed with how well the freshman team is doing this year.
"On the field, the [players on the freshman team] don't get nervous," Holland said. "They go into every game thinking they're going to win. Their confidence is key."
Holland thinks the freshman team will play a key role in making the team better over the next few years.  But Case believes it is Holland who will not only make huge contributions on the LHS team, but will also find success beyond high school .
"He has a bright future. I'd say that for sure," Case said.