Marching Lancers to perform in 2018 Rose Bowl Parade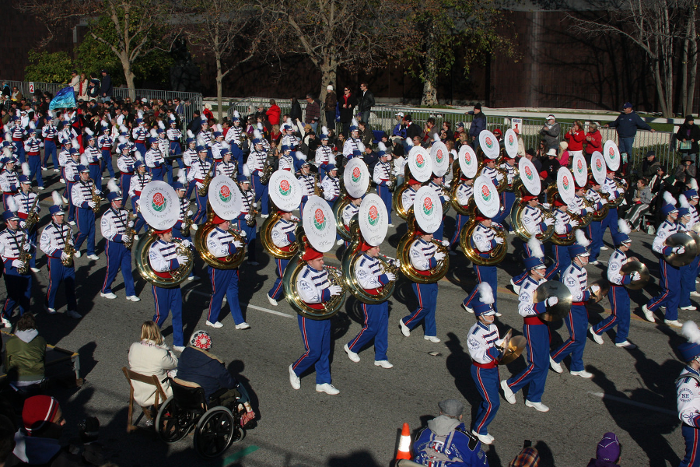 Rumors and whispers were abundant in Room 320 last Friday, as band members wondered why they were called down for a special meeting.
Speculations varied from rain cancellations to Mr. Soucy's retirement, and even as far as a possible guest appearance from Billy Joel in honor of the halftime show.
However, as photographers, videographers, and reporters poured into the classroom, band members began wondering what the announcement could possibly be, and why it was worthy of so much news coverage.
"I honestly thought the announcement was just going to be a rain cancellation for the halftime show that night," sophomore Michael Kennedy said. "But to my surprise it was much more thrilling news."
Although Friday night's performance was in fact cancelled due to rain, the real reason for the last-minute meeting was so the band could could hear this announcement all together: The Marching Lancers will be marching in the 2018 Tournament of Roses (Rose Bowl) parade.
"This is our fifth time [going to the Rose Bowl]," band director Mr. Soucy said. "And every time we get the invitation, it's just an overwhelming moment. It's a real honor."
Soucy shared the news with music teacher and band director Mr. Beaulieu first, who had the same feelings of astonishment.
"It's exciting, you know?" Beaulieu said. "We have a lot of planning and preparing to do over the next year, especially with the rising freshmen, but it's very exciting."
The Tournament of Roses is a five-and-a-half mile parade that takes place on New Year's Day in Pasadena, California. The march takes approximately two and a half hours, where an audience of 750,000 people gather to watch the performances, and a television audience of 60 million watch from home.
The application process to be a part of the parade is extensive, consisting of a videotape, a resume, letters of recommendation and a description of the band. Out of hundreds of applications from across the country, only 12 high school bands are chosen to represent each region.
"The chance of being a high school student in the Rose Bowl Parade is less than 1%," Soucy said. "And this will be our fifth time. We've also done Citrus Bowl twice, and the Orange Bowl. There's just not too many bands that have what we have, and we're incredibly fortunate for that. Our students are amazing."
In order to prepare for the five-mile parade, the band will have marathon practices around the school.
"Five miles is equivalent to twenty laps around the track, or walking from the school to The Yard restaurant," Soucy said.
One junior, Sophia Scaccia, shed a few tears of joy during the announcement.
"I've already made a countdown," Scaccia said. "I've been hoping for this trip since freshmen year, but I didn't think we'd get in. It's so far away, though. I don't want to wait!"
Junior band member Tyler Reynolds said that while the march won't be easy, he's excited regardless and "knows the band can handle it."
"If it wasn't for [the seniors'] hard work, we wouldn't have gotten this incredible opportunity," Reynolds said.
The senior class is especially proud and excited for the younger marchers.
"I am very proud of the underclassmen and what they have accomplished," senior drum major Nick Ramy said. "They deserve it, and I hope they have a blast in Pasadena."
Senior drum major Anna Kemball-Cook is also very happy for the younger band members.
"I am extremely proud of them," Kemball-Cook said. "This is yet another awesome opportunity offered by the music department, and I can't wait to see them succeed in 2018."
While the senior class will be unable to attend the parade next year, Soucy is appreciative of the hard work and dedication over the past four years.
"That's the part that always hurts," Soucy said. "I have had some of the greatest seniors over the years. Tell me kids like that don't deserve to go. But they were really cool about it. They understood, and they've worked really hard for this. I always tell kids: 'You are where you are because of the kids in this program before you.'"
In addition to the Rose Bowl Parade, the Marching Lancers will also perform in Disneyland as part of the six day trip.