Sports commentary: A behind-the-scenes look at cheerleading
One LHS cheerleader talks about how people's judgement of cheerleading can be misinformed.
While cheering on the football team is a cheerleader's main priority during the season, most of us join cheer to be able to compete.  So while fans in the football stands may see us laughing on the sidelines as we do cheers to get the crowd going, what they may not see is how hard we work and how seriously we take our preparations for competitions.
"It's hard being a cheerleader," junior Ally Rose said. "I put so much passion into cheerleading, but we don't get the credit for all the hard work we put in."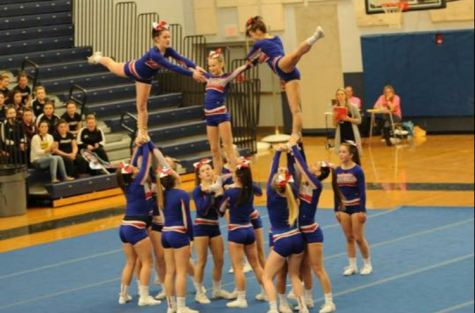 We work for several hours a day to practice our routine for each competition we enter.  Competitions can be intense. Each team performs a two-and-a-half-minute routine with music that includes stunts, jumps, and tumbling. Teams are judged by a panel of cheerleading experts on difficulty and execution.
We have about four competitions in the fall, with tomorrow's States competition at Pinkerton being the last one of the season. To make States a team has to come in the top eight during prelims to advance on, and if a team places first or second at States, then they advance to Regionals. In 2015, the varsity team made it to Regionals in the coed division and placed 8 out of 18 teams.
"Every year for competitions, we just want to improve ourselves more and to have fun with the routine and the girls," junior Cassie Stuart said.
To prepare for each competition, cheerleaders spend hours tumbling, performing the dance, coordinating stunts and practicing the execution of the whole routine over and over. In fact, we practice five times a week for two hours doing conditioning, running, and going through our full stunts. However, this dedication can often be overlooked when people see us wearing uniform-high pony tails and flashy red lipstick at the competition.  
People need to look beyond the ponytails and lipstick and appreciate how dangerous cheerleading can be.  
A 2015 Fox News Health article discusses just how dangerous this sport can be.  Dustin Currie, a public health researcher at the University of Colorado Anschutz Medical Campus, said even if the amount of injuries in cheerleading is low, when injuries do occur "they tend to be more severe than when injuries occur in other sports (i.e. they tend to be concussions, fractures, etc.)."
"That may be because cheerleaders, due to the nature of the sport," Currie said, "are more likely to have falls from elevation – for example, flyers during stunts – or to land awkwardly or be struck by another athlete landing awkwardly – for example, bases during stunts."
Also, unlike in other sports who have second or third-string players to replace any injured teammates, cheerleading is different.  If one member on the team is hurt, it could throw off the whole routine and even force us to create a whole new one without the injured teammate. 
"So much trust is involved in cheerleading," junior Taylor Mellinger said.  "You need to be comfortable with everyone and learn to trust and balance each other out to be the best we can be."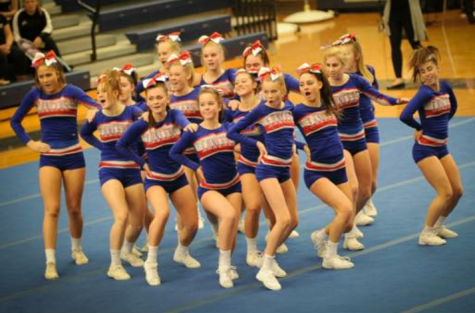 Cheerleaders also get heat sometimes because many cheerleaders in movies are all stereotypical "dumb blondes," which is not who we are. Cheerleaders on the varsity team are mostly in advanced classes and must keep up their grades to stay on the team. The cheerleaders even have a study hall to help make sure everyone is doing there work in school. If you maintain above a C in a class you are excused from the study hall.
"The study hall is great because it ensure our cheerleaders are maintaining grades, which is the most important thing," Dennis said.  "We want grades to be the top priority and then cheerleading."
So if you are questioning whether or not cheerleading is a sport because you are distracted by our lipstick and ponytails, remember those items do not tell the full story.  Take another look at the next game  or pep rally–or better yet, at the States Competition at Pinkerton tomorrow at 2:00pm, and then you will then see how many risks cheerleaders take with every tumble and complicated stunt.
Leave a Comment