3rd graders give out toy soldiers to remind community members to honor veterans
"
Please take a soldier home and place it somewhere that will remind you to pray for our men and women who have served and continue to serve our country."
— Grace Rich's sign
Customers shopping at the Nutfield store in Londonderry left with more than a cup of coffee or a pack of gum in their hands this past Friday.
They most likely also clutched a small, toy soldier.
Grace Rich, a 3rd grader at South School, and her friend Emily Hoyt, a 3rd grader at Matthew Thornton, stood behind a small table displaying patriotic decorations, a bowl filled with tan and green soldiers and a sign that read, "Please take a soldier home and place it somewhere that will remind you to pray for our men and women who have served and continue to serve our country."
The girls hoped their sign and gift of a toy soldier would help others remember to honor veterans on Veteran's Day.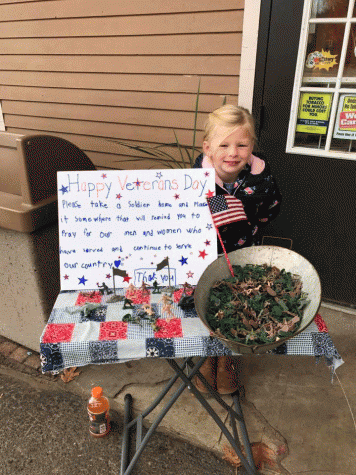 "I am so proud of Grace," said Mrs. Rich, who is an LHS English teacher and Grace's mom.
A few days prior to Veteran's Day, according to Rich, Grace had asked her why there was no school on Friday.  Rich then explained to her daughter how important it is to honor veterans on Veteran's Day.
Grace's response to her mom? "We have to do something."
So Grace went to work.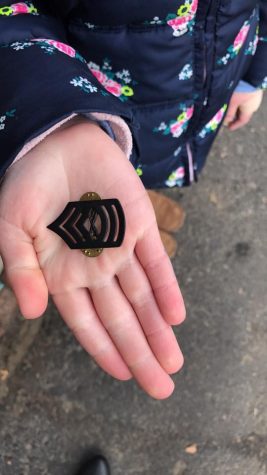 "Over the summer," Rich said, "we saw this [display] outside a store in Maine, and we loved it. Last night she wrote this sign, and [Friday] morning she got up at 6:30 to stand outside Nutfield all morning to hand out military men. A retired Marine even gave Grace his pin."
Rich said people kept wanting to donate to them, "but the girls only wanted them to read their sign," she said.
For Grace, seeing people read her sign and take a toy soldier made all her hard work worth it.
"Lots of people got a military man today, Mom," Grace said. "I think we made a difference."
Leave a Comment