'Fantastic Beasts and Where to Find Them' is a fantastic return to the Wizarding World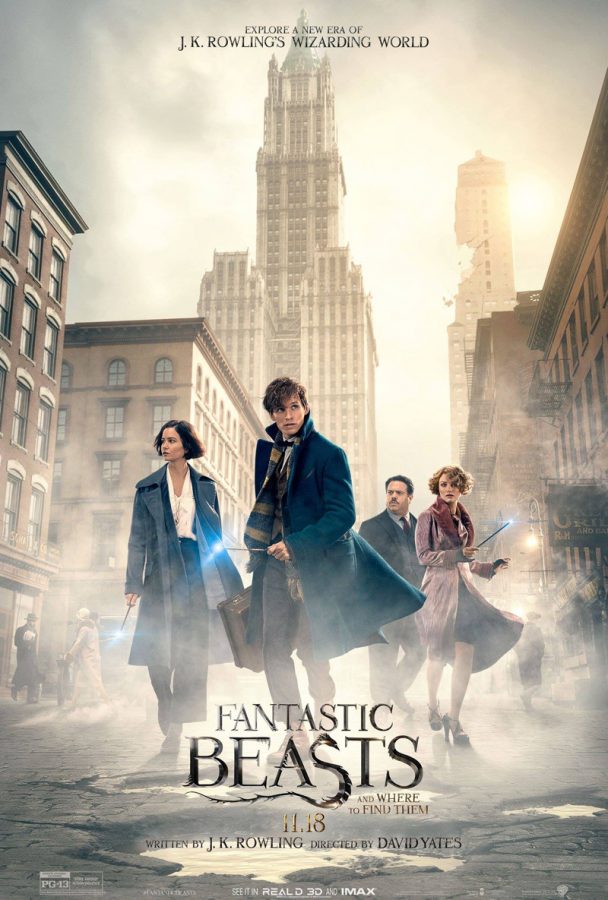 Chance Broderick, Reporter
December 15, 2016
In the five years that have passed since Harry Potter and the Deathly Hallows Part 2, Harry Potter fans have remained just as passionate as before. Ever since Fantastic Beasts was announced, fans have been eagerly awaiting the return of the Wizarding World. This movie marks J.K. Rowling's first original screenplay, and she only continues to prove that her truly imaginative writing cannot be matched.
The movie takes place in the year 1926, about 70 years before the original Harry Potter series, which took place in the 1990's. It follows self proclaimed magizoologist, Newt Scamander, on his journey in New York with a magical briefcase full of magical creatures.
Unfortunately for Newt, a bunch of his creatures escape from his briefcase into the streets of New York. The american wizarding government has very strict laws regarding wizards and non-wizards interacting and the whole wizarding community have to live in secret. So of course when Newt's creatures go free into the street full of non-wizards, the government is not happy. All of this is happening while the great dark wizard Gellert Grindelwald is gaining power, so tensions could not possibly be higher.
My main concern before watching this movie was whether or not J.K. Rowling could bring back the feel and magic of the original series. If you're a Harry Potter fan, you know exactly what I'm talking about. After seeing the movie I can say without a doubt that J.K. Rowling succeeded.
The world just completely immerses you and while watching this movie you feel like you are a part of the wizarding world. All of the magic in the movie is unique, but  familiar in such a good way. It's so interesting to see how the American magic community is set up in contrast to England and provides even more depth to this full story.
Eddie Redmayne, the actor who plays Newt Scamander, absolutely kills it. He added so much depth to this character while making him lovable and relatable, but clearly different and unique from Harry Potter. You can tell that he's had a difficult life where he's had to struggle greatly. At this point in time people would rather just exterminate magical beasts than live with them, so it is extremely hard for Newt to get across that we should be saving these creatures, not killing them. But he sticks true to his beliefs, and you really feel for Newt throughout the whole movie.
The supporting cast also does a great job, especially comedian Dan Fogler, who plays a non-magical man who's trying to open up a bakery. Somehow he gets exposed to the magical world and becomes wrapped up in Newt's adventure. It is really unique to see a non wizard get exposed to the wizarding world, and his role as a main character provides an entirely new perspective. He also added so much humor to the movie, including several laugh-out-loud moments.
My only complaint in the movie is that there weren't enough magical beasts. The title of the movie is 'Fantastic Beasts and Where to Find Them,' which is completely misleading because throughout the whole movie I couldn't find them. All jokes aside, there were some really cool scenes with the beasts and they all looked really awesome. I feel like the story didn't quite revolve around them as much as I thought it would. I loved the scenes that the creatures were in and only wanted to see more of them. This is a very small complaint however and didn't take away from the movie too much.
Overall, this movie really was fantastic. Watching this movie was the perfect return to the wizarding world that I, and many other Harry Potter fans, have been waiting for. All of the effects were amazing, as well as the acting. This was a very good start to what is reportedly a 5-movie franchise, and I am very excited to see what comes next.
8/10