Review: Apple AirPods most beneficial to iPhone 7 users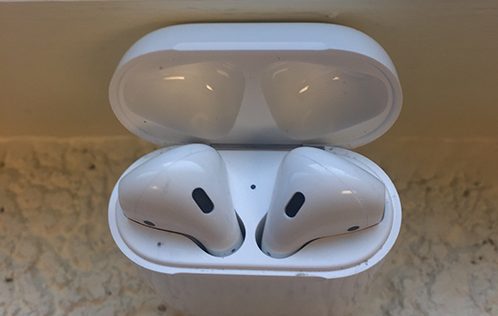 Hang on for a minute...we're trying to find some more stories you might like.
After a week of using Apple's new wireless headphones, the Apple AirPods, I have come to the conclusion that they are only worth buying if you have the iPhone 7.
Advantages:
The AirPods have a very generous battery life, with five hours from a single charge and the case doubling as a charging station with over 24 more hours worth of charges in it. What's even more impressive is the fact that 15 minutes of charging equals three hours of battery.
The Bluetooth works seamlessly. When you open up the case, the headphones automatically connect to your phone, or whatever device you are using and displays the amount of charge both the headphones and the case have. The AirPods also sense when you put them in your ears or take them out, playing a beeping noise when you initially put them on so you know that you're connected, and pausing anything you may be listening to when you take them out.
The Siri function of the AirPods is extremely easy to use, just double tap on either one of the headphones and give your command to Siri. This means you don't even have to touch your phone to call someone or turn up the music.
The AirPods are wireless, meaning no more untangling your headphones or getting caught on something while you're walking by. This also means you can make a meal and listen to music without even being in the same room as your phone.
iPhone 7 users rejoice, because with the new AirPods we can finally charge our phones and listen to music at the same time, due to the lack of a headphone jack.
Disadvantages:
Despite the fact that Apple has said that the AirPods will have superior sound quality, I have noticed little to no difference between their sound and the sound of regular headphones.
While it is true that the charging case for the AirPods is extremely useful and easy to use, it is also extremely small. I have already almost lost it, along with my headphones a few times in the one week I have had them.
Although the AirPods do have a lot of technological advancements over other headphones, they are still pricey, costing $159.00. What's worse is that, as of now, if you order a set of the AirPods, it will not deliver for six weeks, and they are sold out in almost every store across the country.
The Verdict:
Personally, I do not think that the AirPods are worth buying unless you have the iPhone 7. While it is extremely convenient to have wireless headphones that don't snag on anything, the sound quality is so similar to that of regular headphones that there's really no reason to drop $159.00 to get them. The reason why I say it is worth it for iPhone 7 users is because of the lack of a headphone jack. Without the AirPods, you can either listen to music, or charge your phone, there is no in-between. Add that with the other benefits of the AirPods, and the price suddenly becomes more bearable.