Rap trio Migos delivers (for the most part) on latest album 'Culture'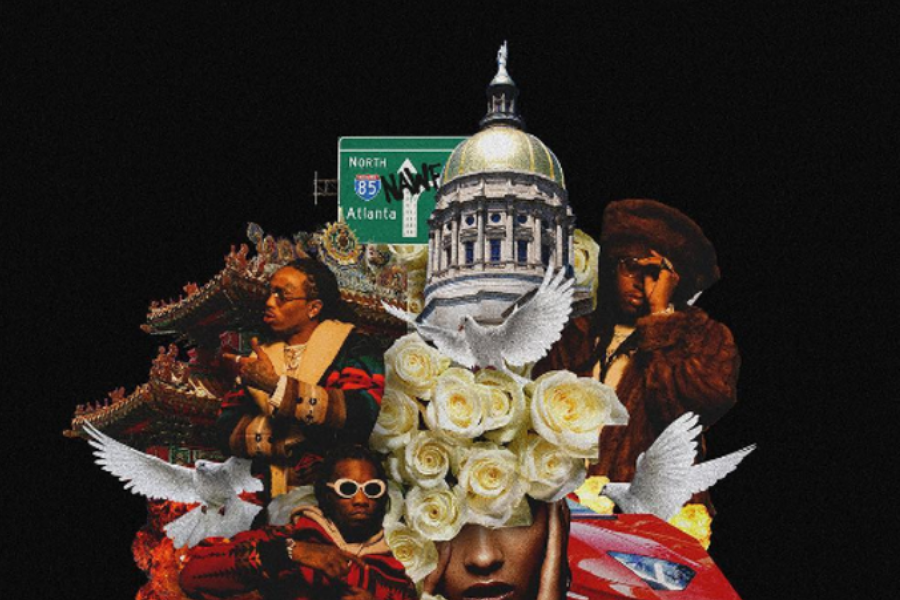 Bobby Lebrun, Reporter
March 29, 2017
The rap trio "Migos" have worked hard to be crowned kings of modern day rap, and what they've accomplished during the latter part of 2016 and early 2017 has helped prove that statement to be far beyond correct.
Migos is mainly known for their song "Look at my Dab," which increased the popularity of the crazed "dab" dance, as well as their 2016 hit single "Bad & Boujee," which hit the number 1 spot on the Billboard Top 100 this past January, surpassing Rae Sremmurd's 'Black Beatles."
With those hit singles and others like "Versace," Migos has been bumping in almost every teenager's headphones consistently since the group began in 2009. The rap group which includes three relatives, Quavious Marshall (Quavo), Kirshnik Ball (Takeoff), and Kiari Cephus (Offset),originates from Atlanta, Georgia, the state which also produced famous rappers like 21 Savage, Lil Yachty, and Rich the Kid.
The group released their highly anticipated album "Culture" on January 27, and for the most part the album's 13 songs lives up to the group's standards.
Intro to CULTURE (feat. DJ Khaled)
This song was a poor choice to start with, and DJ Khaled is the main reason. Khaled is the first voice you hear on this album and it's super corny and cliche. None of the members of Migos had outstanding verses and the beat was very different from what Migos usually puts out. All in all the album started off weak. (4/10)
T Shirt
T Shirt was one of three songs the group released before the album came out, which gave fans a little taste of what they were in for. This song is definitely a little different from what people are used to hearing from Migos, but it has a nice, uplifting production paired with a memorable verse from Quavo, leading the song to be a fan favorite. The song is definitely catchy and is one of the top five songs in the album. (8/10)
Call Casting
Call Casting was another one of the three songs Migos deliberately released pre-album, and it's definitely one of the top three songs on the album. It features an electrifying beat paired with a melodic piano line, an organ and a bass synth. The hook to this song was properly carried out by Takeoff, and each member of the group produces a smooth verse with ad libs that are impossible to not rap along to if you know the words. (8.5/10)
Bad & Boujee (feat. Lil Uzi Vert)
This song has been bumping in almost every single teenagers' earbuds and radio, shooting up to #1 on the Top 100 Billboard in no time. This song flows perfectly, especially the whole "rain drop, drop top" hook sung Offset. The only downside to this song is, surprisingly, the feature of Lil Uzi since he is usually good.  But his feature in this song is just beyond annoying, and his voice is too high and ends up being irritating. Still, overall, the song is a complete "banger" and is a well deserved multi-platinum hit that will go down in Migos history. (9/10)
Get Right Witcha
This is another song in the top three spot. Produced by veteran Migos producer "Murda Beatz," this song begins with a Chinese flute beat mixed with the deep bass and followed up by Quavo's nasty hook, which makes it good right from the start. This song has such a nice flow between the beat and the lyrics, which is what is typically heard from Migos. (9/10)
Slippery (feat. Gucci Mane)
Everyone is constantly posting videos on Instagram and Snapchat of themselves jamming out to this song. Veteran Migos producer OG Parker need some credit for building such a weird and unfamiliar instrumental. Quavo also deserves some of that credit as he does a solid job on the first portion of the track, including his verse and the hook. Offset and Gucci Mane delivered their parts nicely and with ease, giving this song a nice flow to it. (8/10)
Big on Big
This song is rather lacking. One of the most popular rap producers, Zaytoven, does an excellent job with the uplifting piano and violin-based beat, but that's about the only likable thing about it. The hook that's carried by Takeoff is sub-par.  And what does "Big on Big" mean anyway? This was just not a very good song, and Migos can certainly do better. (5/10)
What The Price
This song starts off strangely with an electric guitar, which wasn't that interesting at first. Then after about 40 seconds into the song, you'll fall in love. This song feels heavily influenced by rap artist Travis Scott, and that's far from being a bad thing. Quavo and Takeoff traded off on the hook together, which blended perfectly, and Offset had one of his best verses on this album. Between the electric guitar, the hook, and Offset's strong verse, "What The Price" is certainly a different song and one of the album's best. (8.5/10)
Brown Paper Bags
Brown Paper Bags will definitely be a fan-favorite song on this album. All three members really hold their own on this song as far as rapping goes and the beat just goes perfectly with them. It's a song that will get you pumped up. Who could've produced such a song? Zaytoven. Of course. This song is one of many reasons why that guy is still in business with Migos.  (10/10)
Deadz (feat. 2 Chainz)
Judging this book by it's cover, you might guess this song is awful and corny, thanks to 2 Chainz attachment to it. The guy's almost 40 years old and yet he's rapping with early 20's rappers. It just doesn't mix. Quavo has a funny and catchy "hook," and he does go off a little bit on this song, but that's about it. Nothing else stands out, and 2 Chainz just isn't what he used to be. (6.5/10)
All A**
In all honesty, this song should be garbage, but it's Migos. Throughout this song, the beat feels like there's too much going on at once and Takeoff seems to be mumbling on most of his verse. Yet for one reason or another, the song is good with most of the credit going to Offset and Quavo. The song is literally about drugs and strippers, (if you couldn't tell by the title,) yet it still works. (7.5/10)
Kelly Price (feat. Travis Scott)
This song, featuring Travis Scott, is basically the opposite of Deadz.  Migos and Travis have some history of cooking up fire songs together, but oddly not this one. This song is a let-down. It seemed incredibly plain and boring, and honestly, you'll probably end up skipping over it when it comes on your playlist. The beat was super flat and uninteresting, and too much autotune was used in the making of this song, which made it a huge disappointment. (5/10)
Out Yo Way
This is not the way a highly anticipated album should have ended. This song has a classical type beat to it and it's totally different from what normally comes from Migos. In it's entirety, the song is basically Quavo singing some corny line about a girl who always "goes out yo way" for him. His verse was decent at best but not horrible. As crazy as this sounds they'd be better off rapping about harder-hitting topics, leaving the sentimental music to someone like Drake or J.Cole. (5/10)
All in all, the CULTURE album wasn't quite what I expected. They took a different path on their music and which is respectable. If they keep it up the way they have been, and keep releasing music, they might just go down in history as some of the best rap/trap artists in Atlanta.
OVERALL : 7.5 / 10