Twirling Together: Emily Cowette joins Morgan Torre on the pep-rally floor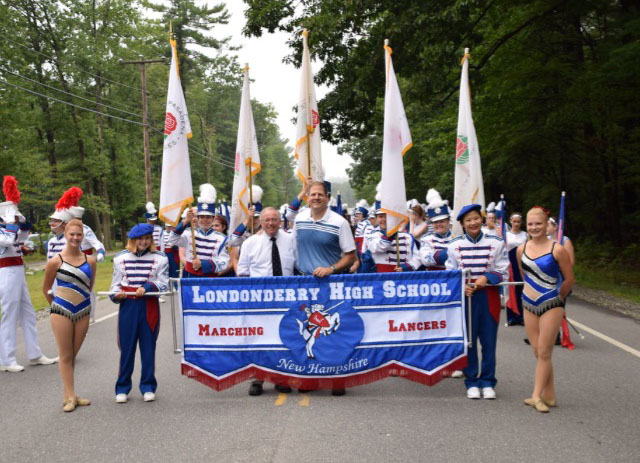 Whenever she steps on the floor at pep rallies, a roar runs through the whole crowd, each one of her tricks ends with cheering, and shouts of praise erupt when she takes a bow.
Since Lauryn DeBaie started the tradition in 2005, a performance by baton girl has become as iconic a part of pep rallies as Mr. Juster's voice-cracks.
Starting this fall for the first time in the history of LHS there will be two baton girls stepping onto the floor. From now on Freshman Emily Cowette will be performing alongside junior Morgan Torre at pep rallies and parades.
 "I'm excited to join my friend and team member Morgan Torre," Cowette said. "There have been other twirlers at LHS before us, but I love the fact that there are two of us now, supporting each other in the sport we both love."
Cowette was inspired to begin baton twirling after seeing the Red Star twirlers in a parade. When she was six years old, Cowette attended her first class with the Red Stars and has participated in the sport ever since. She met Torre shortly after the joining the Red Stars and the two them have been performing together for eight years.
"It's going to be really fun having someone next to me," Torre said. "It was kinda lonely before, and Emily and I are really good friends."
In baton twirling, duet divisions are based on the combined ages of the two twirlers and the level of difficulty of the tricks they perform. For the past four years Cowette and Torre have taken first in Northeastern Regional Twirling Competition at Holyoke Community College in the 25-30 advanced division.
The two have also placed in the top 10 in their division at the National Twirling Competition at the University of Notre Dame every year they have competed in it. This year Cowette and Torre took 8th at the national competition.
"It felt invigorating to be able to stand on the top of the podium at regionals," Torre said. "We beat some pretty good pairs."   
Every three years Cowette and Torre are eligible to enter into the World Baton Twirling Championship if they get into the top three at nationals. Since they were in 8th place this year, they did not make it.  
"It was a little bit disappointing, but we need more difficulty in our routines to get to Worlds," Torre said. "Our routine is really clean but we just need a little more."         
For their pep rally performances this year Torre and Cowette will be choreographing their own routines and have selected their own music. According to Torre, the girls plan on combining routines they have used in competition in the past and add in some new tricks to create their pep rally routines.              
"I am used to performing at competitions and in shows," Cowette said. "But to twirl in front of the entire school, my friends and peers, will be a whole new audience and a whole new experience. I can't wait."
At the Rose Parade Torre and Cowette march in front of the banner and lead the band down the five mile parade route. Along the routine they perform tumbling and baton tricks during the songs.  
"I'm also looking forward to seeing all the other marching bands who were invited to be there," Cowette said. "And of course seeing all the amazing floats made of roses."
Cowette and Torre will hit the floor together for the first time at the Mack Plaque pep rally this Friday.