'Glory Days: The Platinum Edition' brings tribulations to Little Mix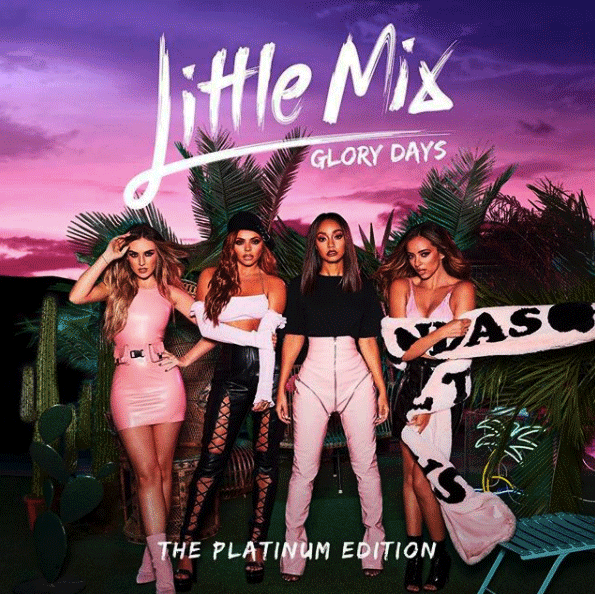 Anna Drabik, Executive Arts and Entertainment Editor
December 5, 2017
With three new songs on Glory Days: The Platinum Edition, a documentary, and a sold-out UK arena tour, it could be said that girl band Little Mix is at the top of their game.
Are they really, though?
The first of their three new songs, "If I Get My Way", is very anticlimactic. The vocals are choppy and pouty, which I don't particularly enjoy. Vocalist Leigh-Anne Pinnock's high note before the beginning of the final chorus is when the song finally has some substance, but the chorus itself builds up to nothing before quietly dimming down with each passing second. In a nutshell, "If I Get My Way" is one of those songs that has to grow on you.
The second song, entitled "Is Your Love Enough", is easily the best of the three new songs. The pre-chorus is backed by wonderful harmonization after each line sung by either Pinnock or vocalist Perrie Edwards, an element that adds to the build up to the chorus. Though repetitive, the song reminds me of "Reggaetón Lento (Remix)," a collaboration song between Little Mix and Latin-American boyband CNCO released in August.  I wish that Little Mix had thrown some Spanish into "Is Your Love Enough," like they've done in other songs, as it would have added to the 'vibe' of the song.  
"Is Your Love Enough" most represents the tropical, sultry feel of the new album artwork. With this vibe appearing more often in Little Mix's discography, I look forward to what they'll be releasing in the future, as it will most likely have this type of sound.
Finally, the new song "Dear Lover"  has light and airy verses, but a quiet, smooth chorus that builds up to a beat drop. However, the transition between the verses and chorus is a bit confusing as the difference between the two could easily be two different songs. "Dear Lover" reminds me of pop artist Ariana Grande's "One Last Time" in the quiet choruses and technological instrumentals in the background.
With a brutal 2017, Little Mix's success may be taking a toll on them personally and vocally. They've toured three times in the span of ten months. They opened 33 shows during the Dangerous Woman tour for Grande, performed in 20 shows for the Summer Shout Out tour, headlined 18 shows for the Europe and Oceania Glory Days tour, and will have headlined all 32 UK dates of the Glory Days tour by the end of November.
Vocally strenuous songs such as "Secret Love Song" and "Power" are certainly taking a toll on all members of the band, as they often struggle to reach powerful notes night-after-night during tour. Vocalist Jade Thirlwall spent two shows of their UK tour on vocal rest, and Pinnock went on stage during the Dangerous Woman tour with badly burned legs after a prop mishap before a show.
They rarely see their families, and we see Thirlwall break down in the documentary. It was absolutely heart-wrenching to watch, and I can't imagine being in that position. This stress is beginning to show in their music, as the quality of their music has declined over the past few years. "Is Your Love Enough," "Dear Lover," and "If I Get My Way" are all 'eh' tracks, and Glory Days: The Platinum Edition is their worst album yet.  
Excluding "Shout Out To My Ex," all other singles from the original version of Glory Days featured another artist. Syco, the label for Little Mix, doesn't seem to think the girls can sell on their own, and I completely disagree. The addition of another artist completely ruined the songs for me. For example, adding a male rapper to a female empowerment song completely destroyed "Power".
To see the light draining from these incredible women is heartbreaking, and their label needs to give them a long, well-deserved break. Even the biggest girl group in the world needs time to relax.