Girls need to have each others' backs, not stab them.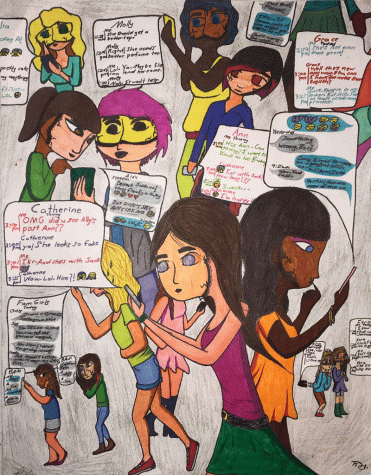 Art by Rhea Hernandez
Ever since I started going to school, I have found girls often worry about one thing: fitting in. Sadly, I know I've wondered if that outfit I bought is "cute" or not, so I've sent pictures of my outfit to my friends on Snapchat to get their approval before I step foot out of the house.
And if I choose to wear leggings and a sweatshirt? God help me because I know other girls in school might laugh and tell their friends to "check out what she's wearing."
One word to describe young girls in this day and age? Disappointing.
It's so disappointing that girls can't choose that comfy outfit to wear to school instead of feeling like we have to wear that really scratchy shirt, super tight jeans and those really uncomfortable shoes (which you only bought because you saw one of the "popular" girls wear them the other day).
It's disappointing that I can't go a day in school without hearing a girl make fun of another girl for how she looks or the makeup she's wearing. I want to be able to go to school in a sweatshirt and no makeup without feeling self-conscious.
That'll be the day I'm really free.
It's been a recent trend to go "a week without makeup" for a lot of girls, and many stop mid-week because they can't stand to look at their own naked faces. How discouraging is that?  
We should take a break from this "make-up mask" just to prove to ourselves that we don't need it.  But it's so intimidating to not wear it, so you feel like you have to put that mask back on.
It so draining thinking I can't be myself for fear of being judged.
Yes, everyone is guilty of judging people, but can't you just keep it to yourself? So maybe there's a girl in your gym class that is wearing a shirt you find hideous.  Is it necessary to talk about her to all your "friends"?  What if she overhears your mean comments?  Is it worth it to lower her self-esteem just to higher yours? Thinking it is different than speaking it.  
How can girls expect respect from guys when they don't even respect one another?
When you're a kid, your mom might have told you not to play with certain kids because she doesn't like them. Then in preschool, girls will say to another girl, "You can't play with us" while playing Four-Square or Hopscotch. In middle school, the cliques start, which make you start worrying about where you stand on the "social totem pole."
In high school, the judging continues and often reaches a whole new level.  I've even heard girls talk about how teachers look and the way they "act." When you go to college and then get a job, will it continue then too? It seems like it's a never-ending cycle.
Yes, I understand that everybody is "different" and everyone sees things differently, but that doesn't mean that someone is any less important because they don't dress like the other 100+ girls in the school. That doesn't mean that girl is any less important because she doesn't dress like you do.
What if that girl you judge everyday and make fun of can't help what she wears because her family can't afford a sixty dollar pair of jeans from American Eagle? What if that girl you see in the hall with short hair is getting over a sickness and you're making her even more aware that she's "different," whatever that word means. . .
Judging someone isn't going to make you feel any better, but it will make that girl feel worse.
So stop it.
Girls, let's commit to building each other up, not tearing each other down. Let's get to know people before judging them.  
Let's think about the words coming out of our mouths: If you would be hurt by those same words if they were directed at you, then don't say them.  Keep those judgy thoughts to yourself.
Have—don't stab—each others' backs. Then maybe us girls can finally be free to be who we truly are.
Leave a Comment
About the Contributor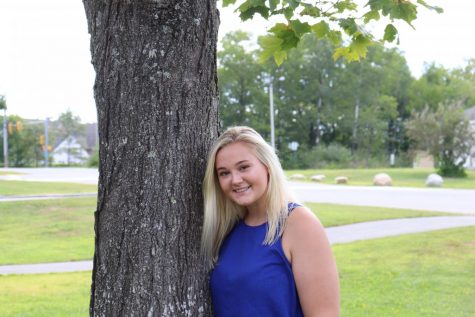 Kate Ehl, Social Media Coordinator
The blonde girl always holding some type of caffeine. She lives in Hooksett so if you need her, it will be at least 30 mins before she gets there.