End-of-school motivation playlist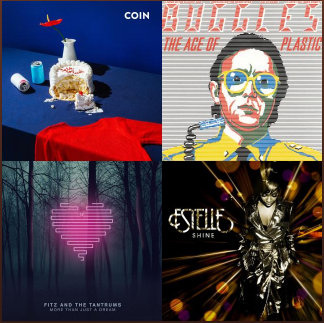 Hannah Alback, Reporter
June 4, 2018
With the end of school in just a few weeks, students are losing motivation to keep grades up and apply any effort to their work. Music is one way for me to keep going during and after school. I've made a playlist that includes songs that keep me working hard through these last few days.
More Than Just A Dream by Fitz and The Tantrums is an upbeat song that I often listen to when I'm feeling down and the backing tracks are loud and fun to dance to. Another song that keeps me happy throughout the day is Talk Too Much by COIN. This song effects me in the same way that the previous song does. When I start to feel tired I play these two songs on repeat until I'm feeling great again.
The next song, American Boy by Estelle feat. Kanye West is a new favorite of mine although it is eight years old. I like to listen to this while I'm walking because the beat could go along with your footsteps if you walk fast. Electric Love by BØRNS is another good song for getting you moving. The chorus is loud and easy to remember considering it's about five words drawn out.
Hey Ya! by Outkast is another easy song to remember because the chorus is just screaming "hey ya" and my favorite part of it is just the "alright alright alright alright alright" part. This song is super well known and if you start singing it anywhere someone will probably join you. It's an all around bop and I love it.
Video Killed the Radio Star is a classic song by The Buggles. A fun fact about this song is that it was the first music video to be played on MTV. Many people have probably grown up listening to this. It starts out soft and quiet and I have made the mistake of turning it up to hear it, then all of the sudden it turns into a loud dance song.
Rex Orange County is an artist that is becoming more popular and it's for a good reason. The song Best Friend starts out slow and transitions to a fun song towards the middle. His voice is pleasing to listen to and I can't get enough of it. I recommend checking out his other music too.
Heavy by Anne-Marie is a song I accidentally added to another one of my playlists and I am so glad I did. It is upbeat even with the negative lyrics. Love Song by Sara Bareilles is a song most of us have heard before if you listened to the radio from 2007 to now. I remember hearing this on my way to daycare in my mom's minivan. This throwback is still great even today, 11 years later.
King of Anything is another hit from Sara Bareilles. I listened to this every day of seventh grade because I was so obsessed with it and I recently rediscovered it after going through all my music. I love how this song is so happy sounding with negative lyrics just like Heavy.
Whatta Man by Salt-N-Pepa feat. en Vogue is such a good song. I first heard of this song on Rupaul's Drag Race during the lip sync on season 6 with Milk and Trinity K. Bonet. I am always listening to this and my friends are so annoyed with me constantly singing it. This song may not be something that you may typically like, but give it a chance. Trust me it will be worth your time.
Say Amen (Saturday Night) and High Hopes by Panic! At The Disco are new songs from the soon-to-be-released album Pray for the Wicked. These songs are super similar to their previous album Death of a Bachelor. So, if you like these two, listen to the rest of the tracks on their last album. At least until their new one comes out.
Yet another song I discovered from Rupaul's Drag Race, Shut up and Drive by Rihanna is really good song to keep you motivated. Whenever I listen to this, I can only picture Alyssa Edwards and Tatianna lip syncing to this. You should watch the lip sync on YouTube and you will know what I am talking about when I say that this is a perfect song to dance to.
Beyonce's Love on Top is a really motivating song, the drums in the background add so much to it. It makes you feel powerful in a way and her vocals make this song incredible. The lyrics aren't hard to remember and it's fun to try and hit the higher notes towards the end of the song where it builds up to intimidatingly high octaves.
Another Panic! At The Disco song that seems to give me more energy and will to work is Death Of A Bachelor. This song is perfect for people who love loud and powerful music. Brendon Urie, the singer of Panic! At The Disco, really brings this song to another level that any other singer couldn't do. I listen to this while doing homework on my speaker as high as I can without getting noise complaints.
Barbie Tingz and Chun-Li are Nicki Minaj's newest songs. These are just as high energy as her other music and have a huge impact on my mood when I listen to them. It's really hard not to dance along to these two when listening to them.
These songs and more are included on a playlist I've created on Spotify. Just click the link and finish the school year with a positive attitude.