Crew unites rivals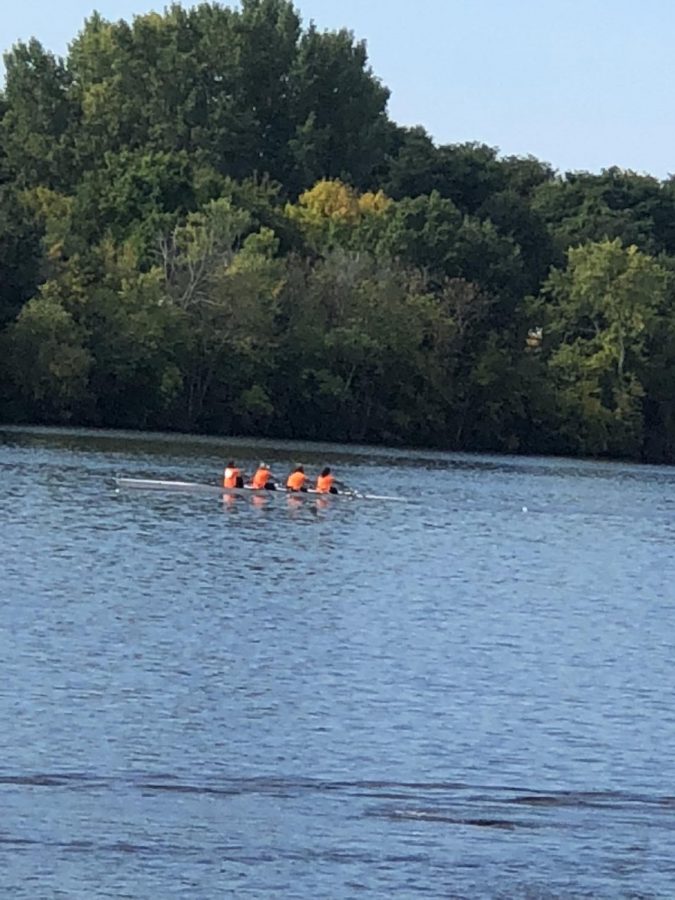 Mack Plaque is the time when sports teams from Pinkerton and Londonderry battle it out on the field, court, and mat. However, on the water, it's a completely different story and the two opposing sides become one.
For crew, both high schools meet in the middle to make one cohesive team. They practice and race together, win and lose together, and celebrate mack plaque together.
"It doesn't feel like we're two different teams from two separate schools, because we're not really," varsity rower and junior Kathryn Maheras said. "We're one team. It doesn't matter what school we come from, because that's not what it's all about."
Though the schools are miles away from each other, the rowers don't let that divide them.
"We all talk to each other and at practice, we don't stand and talk in separate little groups," Maheras said. "We all talk and hang out. There really is no rivalry there, we're just one team."
All of the rowers are able to put their differences aside and get along well for the most part, but just like any other team, sometimes disagreements are inevitable.
"There's drama sometimes, but in the end, you're all a team," Maheras said. "Even if you don't necessarily like everyone that you work with, you have to find some way to get along. If you're in a constant back and forth when you're rowing, you'll never get anywhere. We all like the sport, and we all like each other. We're just there to row and not to have drama."
On the downside, being so close to 'the enemy' eliminates some of the fun spirit of Mack Plaque.
"It's weird, because I could go to the football game and see my teammates, and there, we're on different sides, but at crew, we're all one team," Maheras said. "We kind of joke about it all at practice. Since Pinkerton tends to beat us, their rowers kind of joke about being better, but in the end, it's not a passive aggressive thing. It's just a joke, and nobody really thinks like that or takes it seriously."
Regardless of the lack of competitiveness between the rowers, Maheras is still ready for the season to begin and optimistic about how it is going to turn out.
"From the practices we've had so far, I can tell that people are trying," Maheras said. "I can feel the power behind that in the boat. As long as in the next few weeks, before our first regatta, we really work on our technique and power, I think we have a good shot."
Rowing together has made the team close, which will help them to succeed in their upcoming regattas.
"Everybody is trying a lot more, now that we are considered varsity. We've been a team now for like three seasons, so we all know each other really well. It'll be fun for us to become more competitive and become better rowers together."
Captain Julia Brockney also sees how all of the team's hard work is paying off.
"As a team we are all very dedicated and willing to work," Brockney said. "This mindset will help us to improve as a whole and place higher at regattas."
She is ready to take charge of the team and pass on her experiences to the younger members.
"I've had the opportunity to see several amazing captains graduate, so I am excited to help advance the team and share my knowledge I've gained through the years," Brockney said.
No matter if they win or lose this season, Maheras knows it will still be fun and wouldn't trade this opportunity.

"Through crew, I've met a lot of people from different schools that I wouldn't have met or been friends with otherwise, so I'm glad that I've been able to have this experience," Maheras said, "I'm very excited for this new season and can't wait to see what we can do when races start."