Lancer hockey season preview from senior perspective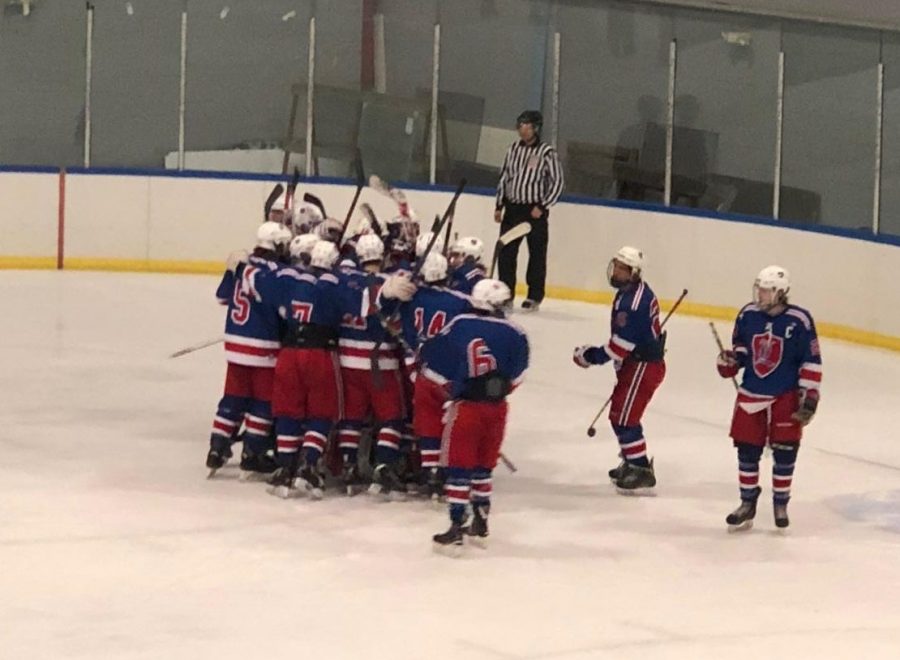 Blake Melnik, Sports Editor
December 7, 2018
December is amongst us, LHS. A time when students can look forward to snow days, vacation, and most importantly…..the start of the Lancer hockey season. Looking into the 2018 preseason, the Lancers are gelling together just as smoothly as if last years season never ended.
"The team so far has the chemistry of a team that has been playing together for years," senior captain Anthony Federico said. "Everyone gets along from the freshman to the seniors and it shows on the ice. The passing is crisp, the energy is high, and the brotherhood is well established. The team can only go up from here, and that's something to look forward to," Federico said.
As the start of the regular season gets closer and closer, Federico has already acknowledged the importance of taking all that he learned from last year's season as assistant captain, and developing into a more complete senior captain this season. Federico will lead the team alongside senior Cam Donovan, junior Austin Cardosi, and sophomore Zac Rheault.
"We're all a brotherhood and the players respect one another and myself. It makes my life as a captain much easier," Federico said. "On the ice I will lead by example and play hard, loud, and physical just like my teammates. We all have the same goal, and that is to get to the Verizon Center which is all that matters," Federico said.
While Federico gives it his all to give good leadership to his teammates, the significance of having coaches such as Coach Bedford, Coach Bears, and Coach Cotter to help assist Federico and provide strong support for the team, is something that is worth more than most fans may realize.
"All these coaches bring an energy to the ice that I don't think many other high school teams have. Their ideas and play making often times are exactly what the players are thinking," Federico said. "The players take to their criticism optimistically knowing the coaches are making us the best we can be," Federico said.
With a new season comes new opportunities for all players to show what they've got to bring to the table. Federico has high expectations for this years offense, especially for a player like senior Patrick Cohen.
"Looking into our options offensively this year, Patrick Cohen is going to be a huge factor in scoring this season," Federico said.
Individually, Cohen believes he will be able to provide various skills and characteristics this season to the team that could prove to be crucial to the team's success.
"This year, I will bring size to our team. Shockingly enough I am the biggest returning varsity player. I also will put goals in the back of the net for our team and get rowdy for the boys," Cohen said. "More specifically, when it comes to being a senior on the team, my role is going to be to answer any questions a rookie might have as well as being an enforcer of rules and traditions that rookies may not be familiar with," Cohen said.
The journey that is created from your first time on a varsity sport to your last, is always something that will be sentimental to a player. Now being a senior, Cohen reflects on his growth from his first experience on the Lancer hockey squad.
"When I played my freshman year I was put in charge of waters, pucks, and sticks and had a great experience playing with my brother," Cohen said. "This year, as a senior, I am at the point where I am able to control the speed play much more than I have been able to prior."
Going into his second year of playing hockey, senior Derek Felix will get his first chance at experiencing what being apart of LHR is all about.
"It's an amazing feeling and honor to be able to put on the varsity sweater. Being able to look down and see the shield is an experience that shouldn't be taken for granted," Felix said. "Joining the varsity squad for the first time definitely gave me a nervous feeling, but that changed as soon as I stepped in the locker room. The atmosphere of being around the varsity hockey team is so welcoming. I instantly felt like I was a part of the brotherhood, Felix said."
To Felix, there is going to be a deeper meaning to what he is going to learn this year that he will be taking into account.
"My main goal this season is to just prove to myself that anything is possible as long as you work hard for it and stay determined. Being able to compete at the varsity level was something that I never imagined possible."
Whether it be Federico, Cohen, or Felix, the mindset that all the players share on the team this year (along with the strong brotherhood) is nothing but positive and something that can fuel success early for this team before the season even starts.