College football players question participating in College Bowl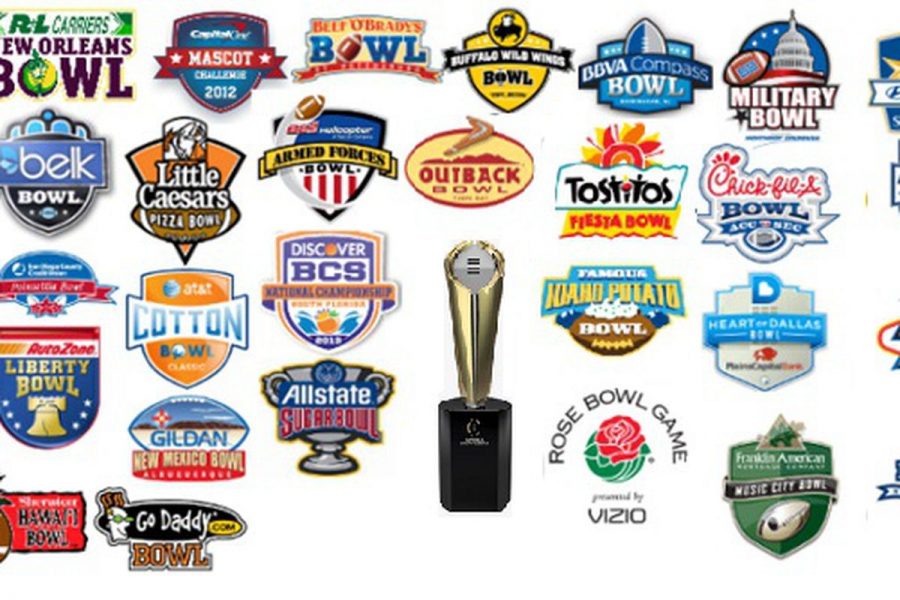 Thomas Fougere, Multimedia Director
December 17, 2018
The college football playoffs have changed the way that college football functions. It makes games more competitive because there is an incentive for teams to win so that they can try and win the national championship. However, only the top four teams in all of college football make the playoffs. Teams that have more than one loss are essentially eliminated, but for those teams the chance of playing in a bowl game still lives. There are 39 bowl games to cap the season. Two of them (the Cotton and Orange
Bowl) being the semifinal playoff games. For a college football fan it is great to be able to watch all of these different match-ups that fans might not get to see during the regular season, such as last year's University of Central Florida (UCF, or the real national champions) versus Auburn game.
A new trend has emerged among players that are on teams set to play in these games. Players that are set to be top picks in the NFL draft have taken to forgoing their bowl games in order to protect themselves from injury.
These new prospects can look back to 2016 when Notre Dame's Jaylon Smith suffered a significant knee injury in a blowout loss against the Ohio State Buckeyes. Smith had been projected to be a high first rounder, possibly even top three before the injury. He ended up as the 34th pick in the draft. While still being drafted in the second round, Smith lost millions of dollars by falling out of the first round since the discrepancy between money in the first couple rounds is huge.
On the other side of the blowout, the Ohio State Buckeyes lost star pass rusher Nick Bosa (the brother of NFL star Joey Bosa) to a core muscle injury. After suffering the injury, Bosa withdrew from the university to rehab his injury and prepare himself for the NFL draft and combine to showcase his impressive strength and speed. Bosa would've been able to return in time to play that season with the Buckeyes if he had chosen to, however, his resume was already very good. In Bleacher Report's most recent mock draft, Bosa is projected to be the number one overall selection. By withdrawing to play in the Rose Bowl, he could secure his high round draft pick and the more money that goes along with it. To him and those around him this was a good decision. The game of football is always a risk and if he had returned, he could've suffered the same fate as Smith.
Ex-college quarterback Tim Tebow has a different view of players like Bosa being selfish. Tebow commented that he would've liked to see Bosa return and try to help his squad make the playoffs. A game changing player like Bosa could've helped the team reach the playoffs instead of ending up the sixth ranked team. He could have helped make a difference in the Buckeyes 29-point loss to an unranked Purdue team.
Many players are following in Bosa's footsteps, but instead of skipping the whole season they are foregoing their bowl games. Back in 2016, LSU RB Leonard Fournette and Stanford RB Christian McCaffrey skipped their bowl games and both ended up being first rounders. This was an anomaly back then, but since it has gone from a strange occurrence to a trend with the list growing each year. The list includes potential top 10 picks like Michigan's Rashan Gary,  Houston's Ed Oliver, and LSU's Greedy Williams. Many other potential first rounders are sitting out from the bowl games for similar reasons.
The reason for this trend is the lack of meaning in the bowl games that these players would be playing in. Winning the bowl game could help their coaches reach win quotas or their incentives for the year. It could bring the school more national attention by winning and therefore more high caliber recruits. But that is not enough for these players who could risk losing millions of dollars by participating. The other potential top five picks are on teams participating in the College Football Playoffs. These players have enough value in that game that they will risk playing in it for the chance at a national championship. They also know that a strong performance could bring up their draft stock like the last 2018 first rounder Da'Ron Payne.
So how does the NCAA get more players to play in their bowl games? The simple answer is expanding the College Football Playoff to manufacture more meaningful games. Qualifications for bowl games are light and teams essentially just have to have a winning record to make them. But, College Football Playoff expansion would allow teams like Georgia and Ohio State who barely missed the playoffs this year a chance to have their stars shine on the biggest stage. No one can blame these players for sitting out after seeing Jaylon Smith lose millions of dollars due to injury.