Dedicated tennis star prepares for his final season
Cam Ness is a senior at Londonderry High School who plays a prominent role on the boys' varsity tennis team. He has been on the school tennis team since his freshman year, and has developed into a viable college prospect.
In just his sophomore season, he worked his way into the number one spot on the team and almost qualified for states, which would've made him one of the youngest players to make it. He has received scholarships from several colleges to play tennis, and is also expected to draw the eyes of scouts throughout this year's season.
"I feel I have my own unique style of play," Ness said. "When I watch professionals play, I pay attention to small details that I can apply to my own game."
Altogether, he improved himself physically and mentally so he could be ready for tryouts and the upcoming season. Ness wasn't going to let nerves stop him from striving for success, and as a result he ended up performing phenomenally in tryouts and quickly became the number one player on the Lancer varsity tennis team, only as a sophomore.
In his first match last year, Cam was the underdog of the match being younger and less experienced than his opponent, but Cam's confidence was so strong he felt as if he had a shot at winning. He went up 7-4 to his opponent, but ended up losing the next point which caused him to break. His opponent proceeded to get in Cam's head and he blew his three-point lead, losing 9-7 in a collapsing effort.
"I got pretty mad and it caused me to blow the lead," Ness said. "I wound up losing the match, but I learned from it… you know."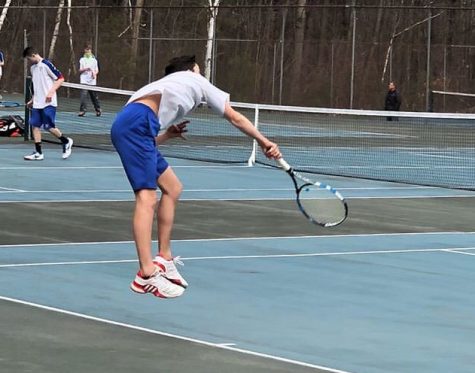 And so he did. Cam finished with an even record at the end of the season, and just missed making states by a thread. On the bright side, he completed his first season as number one, and made huge strides in his game from mainly sitting on the bench just one year before. His major improvement in skill and character was appreciated by his coach and teammates alike.
"As a teammate, he is a pretty fun person to be around," senior teammate Ben Doris said. "He always keeps the energy up and is always looking over the general well being of our team. As a player, the second he steps on the court he completely changes. He is able to lock in and focus on the match like nobody else."
In his junior year, Cam played two matches into the season and won both of them leading Londonderry to a 2-0 start. Londonderry was rolling until they hit a bump in the road during the season. Cam failed two of his classes, deeming him ineligible to participate in any tennis matches for the rest of the season.
"It was a terrible experience," Ness said. "I knew that I wasn't doing great in school and I had this one class that was really hard. We had a big match against Bedford, and I got a call from the athletic director saying I couldn't play. I was mad at myself and the world, but I definitely learned from that."
Cam realized that he needed to start putting effort into school if he was going to be able to play tennis next year or in college, so he began working harder in school and overall powered through the year. His experience can happen to anyone, despite how much he does for his school. Being a class representative and multiple season sports player didn't equate to anything if he didn't have the grades, and it tarnished his junior year of tennis. Cam's goal is to spread awareness for academic failures, so others won't make the same mistake he did.