Lover: Taylor Swift discusses relationships and love on her latest record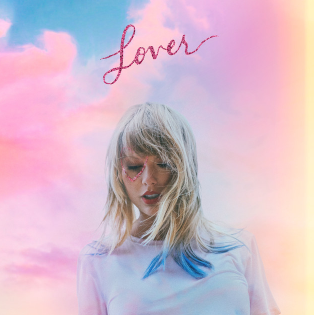 Taylor Swift began her career at only fourteen-years-old. Over the course of the past fifteen years, from 2004 to 2019, Swift has sold millions of copies of her albums, garnered a massive fanbase, and toured sold-out stadiums across the world.
While I was a bit too young for Swift's country days (though 2008's "You Belong With Me" somehow infiltrated my elementary school dances), Red (2012) found its way into my life with its chart-topping tracks "We Are Never Ever Getting Back Together," "I Knew You Were Trouble," and "22." Two years later, 1989 was unavoidable, and I quickly became obsessed with the popular singles and some deep cuts. I never quite gave 2017's Reputation the chance it deserved, as in I've never actually heard the entire album, but after hearing Lover, I think it's time I do give Reputation a shot. 
April brought the beginning of Swift's new era with the release of the lead single from her seventh studio album, Lover. The hype was so consuming, I actually listened to the lead single, "ME!", when it dropped at midnight, on April 26. Granted, it was April vacation, but regardless, I was excited, and I didn't even like Swift's music that much. 
For me, "ME!" is just a "no." I don't hate the marching band-esque drums or the horns, it's the lyrics that are just… bad. Exhibit A: "And you're the kind of guy the ladies want / (And there's a lot of cool chicks out there)." Exhibit B: "And you can't spell 'awesome' without 'me.'" Exhibit C: "Hey, kids, spelling is fun!" Well, the last example was actually removed on the album, but somehow, that line made the final cut for the single release, and that's still embarrassing. 
Not only is the writing immature, but "ME!" was simply not the right choice for the lead. It's not a true indication of the album's tone or sound whatsoever, and the Brendon Urie feature seems like a weak attempt to pull a larger fanbase to this god-awful song. "Cruel Summer," however, would have been perfect. It's smooth, and it's a true representation of the mature sound and tone of Lover. Additionally, the pulsing keyboards, hollow drums, and slick vocals from Swift encapsulate the current state of pop; "Cruel Summer" would have been an instant hit. 
Swift didn't quite hit the nail on the head with her second single, "You Need to Calm Down," either. This single is also immature, with oh-so-incredible lyrics such as: "You just need to take several seats," and, "Snakes and stones never broke my bones." To be honest, I don't understand how Swift has these extremely childish, lousy tracks when the rest of Lover exists.
For example, "Miss Americana and the Heartbreak Prince" belongs in my meh category, which I'll discuss later. However, in this song, Swift uses a high school relationship as a metaphor for the current political climate in the United States. That's amazing! Yet, somehow, "ME!" and "You Need to Calm Down" exist? 
Despite the duds that were "ME!" and "You Need to Calm Down," the two singles that followed are charming and show Swift as the extraordinary lyricist she is. "The Archer," released July 23, gives me chills. The haunting keyboards and simple beat keep the listener's attention on the poignant lyrics, in which Swift reflects on the self-destructive tendencies she has that ruin her relationships. She sings, "Dark side, I search for your dark side… And I cut off my nose to spite my face / Then I hate my reflection for years and years." As Swift explains, she has an unhealthy habit of looking for flaws in her partner that she could use as an excuse to break off the relationship. 
While "The Archer" is heartbreaking, it makes "Lover," the fourth single, all the more meaningful. I don't think I have the words to explain how much I adore "Lover," as it is pure heaven to me. Musically, the lax bass and drums complement each other, alongside the merry piano and nostalgic guitar/vocals. Lyrically, Swift is the sole writer of "Lover," and she knocked it out of the park. "I've loved you for three summers now, honey, but I want 'em all / Can I go where you go? / Can we always be this close forever and ever? / And ah, take me out and take me home… You're my, my, my, my lover," Swift sings, and each line is punctuated by these mellow "ah"s that tug at my heartstrings. As I mentioned, "Lover" makes "The Archer" even more enjoyable, as this track is about Swift's boyfriend of three years, Joe Alwyn. "Lover" shows Swift has been able to overcome her self-destructive tendencies and experience a healthy love with Alwyn. I love seeing Swift happy, especially because it gifts the world tracks as incredible as "Lover." 
Additionally, "Lover" reminds me of the point in a rom-com where everything is falling into place, though it'll all go wrong the next day. So, if "Lover" belongs in the happy, pre-breakup part of the movie, "False God" plays when the couple gets back together for one night, a very angsty and sad night full of unspoken feelings. I love "Lover," but "False God" is absolutely, without a doubt, my number one from this album. Swift's lower-tone, inviting vocals lead the chorus, which is rich with this guiding percussion and atmospheric, consuming keyboard. The blurts of saxophone add to the steamy mood, as Swift sings about a relationship so consuming, it's almost larger-than-life and sacred. Swift recognizes that concept is toxic and not a healthy way to view a relationship, but she continues the relationship regardless ("But we might just get away with it / Religion's in your lips / Even if it's a false god / We'd still worship.")
"Afterglow" is another one of my favorites. Funny story: Each afternoon, as I drive home from school with my younger brother, he groans each time "Afterglow" starts playing. I mean, in the 1.5-mile commute from LHS to my house, why not enjoy one of the best songs from Lover? As the title suggests, "Afterglow" has a dreamy, glowy vibe that I just cannot get enough of. The grandiose drums and striking, nostalgic guitar pave the way for Swift's vocals to take charge. In this euphoric track, Swift speaks about a misunderstanding ("Put you in jail for something you didn't do"), which she then apologizes for, takes the blame, and asks for forgiveness ("Hey, it's all me, in my head / I'm the one who burned us down… Sorry that I hurt you… I don't wanna lose this with you.") 
"It's Nice to Have a Friend" is another atmospheric, dreamy song. I feel as if I'm flying through the clouds while I listen to the story Swift tells, which follows the journey of two people who met in school and slowly transitioned from friends to lovers. Swift's vocals are more breathy and spoken on "It's Nice to Have a Friend," which accompanies the steel drums, horns, and plucks of guitar nicely. A percentage of the proceeds from "It's Nice to Have a Friend" will go towards funding music education for kids, specifically to the Regent Park School of Music, as this song samples the youth choir's "Summer in the South," which is a beautiful sample and a nice cause.
But, whimsical isn't all Swift specializes in. "The Man" presents Swift criticizing the double standards in the music industry. Why can't Swift date around, but men earn respect for it? Why are men praised for being open and honest about their past relationships, but Swift is oversharing and dramatic? Swift sings, "If I was out flashing my dollars, I'd be a b****, not a baller," which is unfortunately true. Considering Swift's fight to purchase and own the art she created against Scooter Braun, a man who bullied and tormented Swift, "The Man" is a powerful song hidden under the catchy instrumentals and sassy vibe. 
On the other hand, "Death By a Thousand Cuts" actually has no personal connection to Swift at all. Swift was inspired by Someone Great, a breakup movie. In this track, Swift compares a painful breakup to a slow death ("My time, my wine, my spirit, my trust / Tryna find a part of me that you didn't take up / Gave you so much, but it wasn't enough / But I'll be alright, it's just a thousand cuts.") The familiar, melodic acoustic guitar, paired with vocals from Swift that sound as if she's feeling all the emotions of a breakup, is heartbreaking, even though I know she's not speaking from personal experience. I guess that's what makes a good singer-songwriter, though. Additionally, this expanding, sugary sweet synthesizer adds depth to the track. Overall, I really enjoy "Death By a Thousand Cuts," too.
My meh category is best described in "I Forgot That You Existed." Swift sings, "It isn't love, it isn't hate, it's just indifference," which is exactly how I feel about the tracks from Lover I haven't touched upon yet, but am leaning more towards love. Concerning "I Forgot That You Existed," the short and bright piano chords, tight percussion, and horns add to the carefree, happy tone. Swift sings about moving on from feelings of negativity to find peace, and as the opener, this track is the perfect transition from the I'm-a-rebel-and-I'm-bad phase that was Reputation to the lighthearted Lover. In "Paper Rings," a cutesy, fun song, Swift speaks about being so in love and finding the one. The drums are lively, and the electric guitar is amorous. Swift sings, "I like shiny things, but I'd marry you with paper rings… Darling, you're the one I want, and / I hate accidents, except when we went from friends to this," and I just want to dance and bounce along. I also enjoy "Cornelia Street" and "Daylight," but I don't see myself coming back to these tracks often.
With all that said, Lover definitely has its weak and strong moments. But, for the first Taylor Swift album I've ever actually given a thorough listen to, I'm not disappointed. Sure, the tracklist is kind of a train wreck, and yeah, Swift and her team do not make good single choices, but Lover has some truly amazing moments that will definitely be on my end-of-the-year lists. Thus, I give Lover a 7.5 / 10. Swift has said that she's going to wait to tour, and so, for the time being, I will be working on convincing my dad to take me to a Taylor Swift concert, which is something I didn't think I would ever say.
View Comments (1)
About the Contributor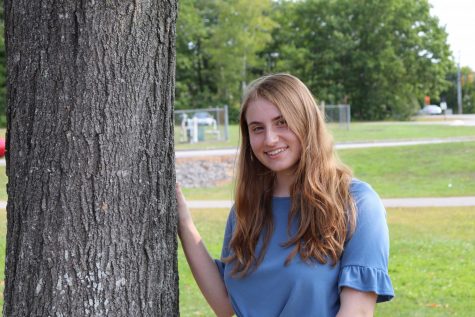 Anna Drabik, Executive Arts and Entertainment Editor
A frequent concert-goer and a nervous wreck (some of the time), Anna is looking forward to continuing to write music and concert reviews this year for The Lancer Spirit. She also enjoys working out, sleeping, and watching Jane the Virgin, her favorite TV show, on Netflix.