More than one month later, Mack Plaque rivalry stronger than ever
UPDATED NEWS: It is November 5, more than a month removed from Mack Plaque weekend, but the rivalry is far from over. This Sunday the LHS and Pinkerton cheer teams will meet in states, determining the outcome of Mack Plaque. But not only is this weekend important for Mack Plaque, this Saturday is the first round of playoffs for division one football. The undefeated Londonderry Lancers are the number one seed in the playoffs and will host the 6-3 Pinkerton Academy Astros this Saturday at 2 P.M for their second meeting this season. The rivalry fights on.
---
The following article was originally published on 9-30-19
Sooo… who won Mack Plaque?
Mack Plaque weekend is over. The score is 4-3 Pinkerton. Boys' soccer tied. What does that mean? Does cheer matter?
Prior to this weekend, three teams had already played their Mack Plaque events.
Boys' cross country lost their race but the girls won their Mack Plaque match-up. The golf team lost their competition earlier in the week leading up to Mack Plaque.
Heading into the weekend, the score was 2-1 Pinkerton.
In case you missed anything here is how the weekend played out:
Londonderry won in football 42-24.
Pinkerton won in volleyball three sets to one.
Pinkerton won in field hockey 4-0.
Londonderry won in girls' soccer 5-1.
The two teams tied in boys' soccer 1-1.
That's where it stands. Four to three. What does that mean for cheer?
"Cheer still matters," assistant principal Katie Sullivan said. "If the cheer team wins, we'll tie Mack Plaque which would be huge, taking into consideration winning the football game after all these years."
The goal is always to win, and unfortunately, that can't happen now, but a tie is worlds better than a loss. One thing is for certain. It isn't over yet. Lancer Nation needs to keep their heads up. Football won for the first time since 2001. That's something to brag about. Now it's time to finish.
"This would be the fourth tie in Mack Plaque history, but unfortunately the plaque would stay at Pinkerton because they won it last year," Sullivan said.
The tie isn't set in stone yet, as we await the results of the final Mack Plaque competition.
The cheer competition will take place on Nov. 10, and everybody needs to be there to support the girls. A football win and a Mack Plaque tie could be the start of a huge change in the rivalry for years to come.
Stay ready, Lancers. It isn't over. There's still time to prove that "It's just different."
Leave a Comment
About the Contributor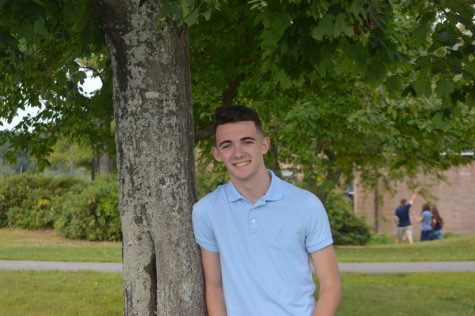 Tyler Wilbur, Executive Sports Editor
Big Sports Guy. Retired youth football and baseball player. Pro-gamer. Tyler is a sports guy's guy. Vivid outdoorsman. He's met more professional athletes than you.