Green Council hopes to paint the community green
The newly created, student-run Green Council hopes to change students' habits, one water bottle at a time. 
Seniors Kerry Daley and Will Kemball-Cook, with the help of Dylan Hotter, started the Green Council in the fall of 2019. This has always been an idea on the back burner for these boys, but in the last few months, they have grown more and more passionate about climate change and its effects on our community. 
"The idea sprouted up our junior year," Hotter said. "But it definitely kicked into high gear over the summer."
Meeting every other Monday in adviser Mr. Choquette's room 203, this club hopes to achieve the goals they created in the first meeting. 
"Future meetings will hopefully have guest speakers, but we will also try to fulfill our goals," Hotter said. "We just want to do whatever we can in the 45 minutes we have."
In the future the goal is to organize town clean-ups and bring in a more active community service component.

Right now, they have launched their first initiative to push Pathwater, a 100% reusable water bottle (see sidebar for more information). Additionally, an informational night is in the making.
"We also discussed a proposed "Climate Night," which would be an informative session on the consequences of human-induced climate change," Daley said. "We are looking to hold this night the week before Thanksgiving."
Each boy was inspired to start this movement in LHS in a bit of a different way. For Kemball-Cook, it was the trade ban between China and the United States.
"The stuff we think is getting recycled isn't actually because China isn't buying it anymore," Kemball-Cook said. "It's just going in landfills and is basically being treated as garbage. So that opened my eyes to the climate change idea and saving the environment, and I wanted to do something to change that." 
Daley's inspiration was more local. At Londonderry's Old Homes Day event, he spoke with a climate change activist group, Climate Action New Hampshire, a group that focuses on transferring to clean energy and reducing air pollution. 
"We have stayed in touch since that moment," Daley said. "They are really excited about the idea of an environmental club being started at our school."
Following Old Homes Day, Daley attended a climate change conference and said he learned from "the wise words of Mr. Al Gore, the founder of the climate change movement in America," as well as other students passionate about changing their habits.
"On top of that experience, I also met with several students from across the country who, like me, are passionate about the environment and are a part of their own climate organizations at their schools," Daley said. "These relationships really inspired me to help create an organization at our school."
Although the ultimate goal for anyone trying to advocate for climate change is to make a global impact, the Green Council is happy just changing students' habits at LHS.
"Being realistic, our goals are just to advocate around the school because we don't have the money or power to do anything too significant, yet," Kemball-Cook said. 
As all three leaders of this council are seniors, it will be the responsibility of the underclassman to keep the movement of this new club alive throughout the next few years, even after the core of the group has graduated.
"We definitely have a lot of not just underclassmen, but juniors as well," Hotter said. "I think that there is enough of a movement that people will still continue it once we are gone."
The boys believe they, along with other seniors, will continue to voice their concerns during the next chapter of their lives. 
"If it isn't offered as a club, I will definitely do everyday things like 'Don't throw that out, recycle it,'" Hotter said. "And if it's not formal, I will still keep it in the back of my mind."
The biggest hope to come out of this club is just to advocate for the changes students can make in their everyday lives.
"If we can get one student at a time to change their habits and advocate around the school, then I feel as though we are being heard," Kemball-Cook said. 
View Comments (1)
About the Contributor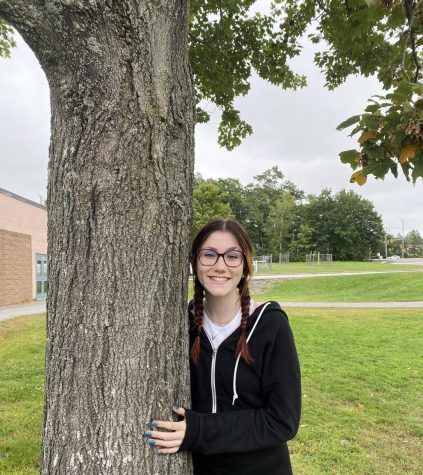 Audrey DeAngelis, Assistant Editor in Chief
Audrey is in her third year on staff, starting as a reporter her sophomore year. Her first year as an editor, Audrey was Online Chief and is very excited to be Assistant Editor-in-Chief this year. Next year, Audrey plans to study forensic science and pursue a Master's degree in chemistry in hopes of becoming a crime scene investigator.