Mavericks of music MGMT 'stick it' to the mgmt.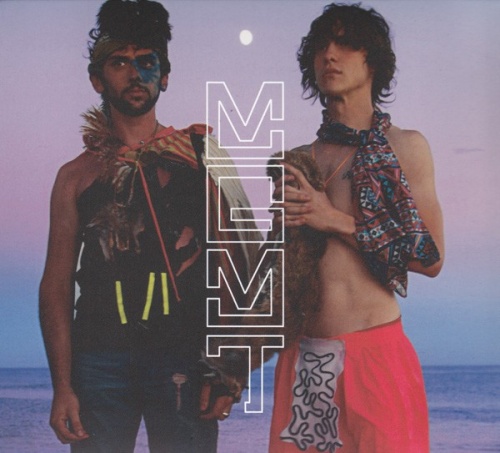 "Far out in the uncharted backwaters of the unfashionable end of the western spiral arm of the Galaxy lies a small unregarded sun." -from Hitchhiker's Guide to the Galaxy by Douglas Adams
Far out in the uncharted backwaters of the unfashionable end of western music, lies a small unregarded band.
A contumacious cacophony imagined through the heads of two dormroom stoners, with music that undresses listeners from the fabric of reality and into a psychedelic dream.
They acquiesced the title of being global rockstars, and willingly threw it all away.
This is the story of the rise and fall of the band MGMT.
Because they, like Icarus, were in love with the very thing that destroyed them.
Hailing from an ideology of "sticking it to the man," and being enthralled with the sound of experimental music, the brains behind MGMT, Andrew VanWyndgarden and Ben Goldwasseer, set out to create a work that would let them hold their middle fingers high to the idea of what popular American music should be.  So in 2007 MGMT worked with Atlantic Records and legendary music producer David Fridmann to produce their first studio album Oracular Spectacular.
This antithetic team would face many challenges working together.  Atlantic Records wanted produce commercially successful, radio-friendly songs, while MGMT wanted to produce experimental, psychedelic sounds truer to their dorm room rocking roots.  After working together with Fridmann as a mediator, the amalgamation of all the ideas of this team would be complete in a fortuitous, finished studio album.
The album, quite simply put, was a masterpiece.  But for all the wrong reasons.
MGMT's goal of Oracular Spectacular was to put the sound of their dorm room experimental music into the ears of a mass audience.  They did this with seven of the tracks on the album, but they got overshadowed by the "Big Three" tracks (as they've been dubbed) on Oracular Spectacular.
The Big Three tracks, "Time To Pretend," "Electric Feel," and "Kids," were constructed as a pasquinade to mainstream pop music.  It was making fun of the thing that MGMT hated the most: mindless, meaningless, messes of catchy choruses, and memorable melodies.
The unfortunate turn of events came in how the public perceived these songs.  The satirical message of the songs went over the head of the American music audience.  Everyone who listened to these songs took them for what they heard: a foot-tapping, psychedelic-sounding pop hit.
These tracks were played in countless mid-2000's movie scores, including Sex Drive, 21, and The Kids Are All Right becoming pop cultural statements in the process.  Radio stations would perpetually play them, kids would have them bumping from their ipods, and anyone who listened to them would remember the catchy hooks after just one listen.
VanWyngarden and Goldwasser had made it; they were true rockstars.  Guys wanted to be them, girls wanted to date them, and Rolling Stone ranked Oracular Spectacular number 18 in the best albums of the 2000's and number 494 in the greatest albums ever.
Despite this success, MGMT wasn't content with what they had.  They wanted to be known for their experimental sound, not some synthetic, poppy anthem.  So they threw everything they had away to work on new projects truer to themselves. In an interview with Electronic Beats Magazine Goldwasser said, "Experimental music for us is about throwing good taste out the window and seeing how taste is a construction.  You can't just say, 'I am above taste. It doesn't affect me."'
Their next two albums, 2010's Congratulations, and 2013's self-titled album MGMT.  The former was a far-cry from the pop sound of the "Big Three."  The latter is a complete dissociation from any radio friendly sound we've heard before.
Neither album received much, if any, critical success.  The high point of Congratulations came in the titular ninth track, "Congratulations."  The song is an experimental, well… experiment. And like all experiments, it wasn't guaranteed to produce the desired results.  
And it didn't.
"Congratulations" is a sort of homage to the band's previous works, but it lacks any of the qualities that made the previous works commercially successful.  It doesn't have an upbeat tempo, it doesn't have a catchy hook, and it ultimately just fills the niche of an easy-to-listen-to, soft, "stoner song."
As for album MGMT, a high point never really came.  Due to the album's complete lack of a mellifluous sound, a wide audience never really grasped onto the album.  The sound was just too out there. Unlike the success in Oracular Spectacular, there just wasn't enough "pop" in the psychedelic-pop sound for a mainstream audience to catch on to MGMT.
MGMT later released Little Dark Age in 2018.  Headlined by songs, "When You Die," "Me and Michael," and "Little Dark Age."  This most recent album gave many MGMT fans hope that the glory days of 2007 would return.
Whether or not Little Dark Age is a harbinger for better things to come for MGMT is yet to be seen, but one thing is clear: that over 12 years of rocking, VanWyngarden and Goldwasser never sat with the tragedy that the stars failed to align, instead they stood up, and got themselves a new damn sky.