How gymnastics made senior Marissa McKay who she is today
Chalk flies through the air as senior gymnast Marissa McKay practices her last routines for high school gymnastics. She only has one year left to be on the team with her best friends—some who have been with her since freshman year.
Yet McKay has been in gymnastics much longer than that.
"I started at five years old," McKay said. "My mom put me in dance when I was really little, and I liked the tumbling process, but I didn't like being all proper. It just wasn't for me. I kept throwing fits in dance, so she put me in gymnastics instead and immediately I knew that was the place for me."
McKay was initially inspired to join gymnastics after watching the Olympics on TV when she was little. 
"I remember watching people like Shawn Johnson and thinking 'That's so cool. I want to do that and be just like them'," McKay said.
The Olympians inspired McKay to not only start gymnastics, but to keep with it and work toward getting better.
"They inspired me to keep going," McKay said. "I also just fell in love with the sport, and I couldn't leave it even if I wanted to."
One reason she's been able to continue doing the sport she loves is because of her parents' support.
"My parents are all in when it comes to gymnastics," McKay said.
Even with that support, she said she still gets "mental blocks all the time."
"I'm really in my head. I'll do something good in practice, and then I'll take it to a meet and it will be completely different, and I'll be on my face," McKay said. "I don't believe in myself a lot, which kind of puts me in trouble sometimes."
During those times, McKay works hard to reassure herself that she does know what she's doing and that she shouldn't stop believing in herself.
"Gymnastics is all a head sport," McKay said. "You know you just have to get your head in the right place, think positive, and say over and over again 'I can do this'."
This has helped McKay only focus on herself when she's on the floor. 
"I've been competing for so long, I don't really notice the crowd anymore," McKay said. "I don't hear anybody cheering, and I just go out there and do what I know how to do."
When she is back with her team, however, it isn't just about her anymore. McKay said high school gymnastics teaches athletes to "think about more than just yourself." It has also taught her that it is good to have "qualities of a team player and to not be selfish." 
"I wasn't really a team sports kind of kid," McKay said. "I am a gymnast, so I am used to doing things on my own and only worrying about myself. High school gymnastics is team based so it taught me to work more as a team."
During her freshman year, however, McKay couldn't compete with her team for a couple months due to her back problems, which have been made worse by the intensity of gymnastics. 
"I couldn't even breathe without my back hurting because I just kept pushing it," McKay said. "I hated not being able to compete. It was awful watching my team go out there and I just had to stand on the side lines."
Since then she hasn't had to completely stop competing, but her back pain hasn't gone away completely.
"Every once and a while my back hurts and I have to slow things down," McKay said.
But the pain has never made her want to stop because not only has she enjoyed competing, but she also loves the different friends she's made along the way.
"Freshman year I was definitely more shy," McKay said. "I was kind of intimidated by the seniors then because they were kind of stuck up. So now I try to talk to all of the freshman and be friends with them."
McKay said before meets she and the team talk to get themselves ready and to relax any nerves. They motivate each other and always support each other. 
"I will miss my teammates the most because we are all really close," McKay said. "Some of my best friends are on the team. But gymnastics got me more involved in the school. I don't do any other sports so this brought me out of my shell a little bit and showed me what it's like to be a Lancer." 
View Comments (3)
About the Contributor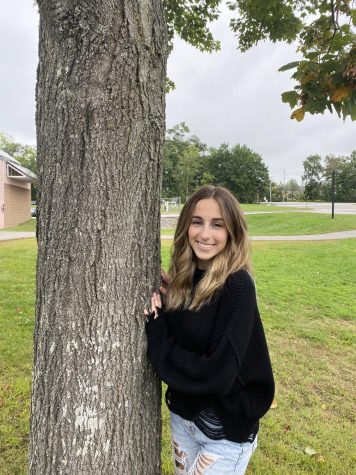 Abby Foley, Executive Features Editor
Senior Abby Foley has been on the Lancer Spirit Staff for three years, and has worked her way up to being the Executive Features Editor. In her free time, Abby enjoys hanging out with her friends, and playing with her dog.