Oldies But Goldies: The Beatles bring bops despite breakup upheavels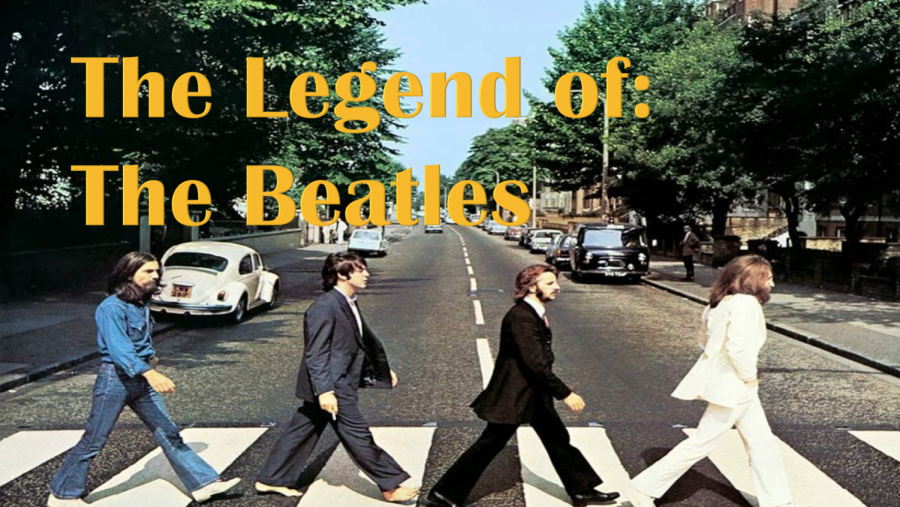 People tend to give what they have in abundance.
Love or hate.  Scorn or care. Hope or sorrow.
As for four bowl-cutted boys from Liverpool, the thing given with such abundance was music.
Accumulating in 213 songs over 23 albums, 21 EPs, and 63 singles, they became the most legendary band of all time, and signed all of it off with one of the stupidest names in music:
The Beatles.
Looking back almost 60 years at some of their earliest works, The Beatles had their roots in quick and simple pop songs.
The perfect encapsulation of this is their 1962 hit "Love Me Do."  Spanning all of two-and-a-half minutes, the song gets in and gets out before you can get bored of it.  Tied together with a simple yet catchy chorus, and the "schoolboy crush" love song lyrics, "Love Me Do" was the Beatles' first step into becoming legendary global superstars.
Another feature of The Beatles' two-minute-clinic was 1964's "I Want to Hold Your Hand."  Another short and sweet one, The Beatles made love simple by writing about one of the most innocent forms of it: holding hands.  Where most songs would be wrapped up in some drawn out allegory on love, The Beatles decided to make the anti-60's-love-song by making it akin to some arbitrarily constructed poem you wrote for that girl you like back in fourth grade.
Capping off their run of being the kings of quick hits, was another 1964 jam, "A Hard Day's Night."  Despite being made an era where the band only made simple songs, this one stood out because it is basically only consisted of a chorus and a bridge.  The song ended up being lost in The Beatles' vast discography, but it stands out as one of the simplest pop hits ever composed.
Transitioning into a new era in the late-60's, The Beatles entered their "Golden Age."  Changing their sound and style, but continuing releasing hits, The Beatles released some of their best songs, like "Hey Jude," "Here Comes the Sun," and "Let It Be."
"Hey Jude," is longer than long.  Like six-and-a-half minutes long. A juxtaposition to what everyone was used to from The Beatles, "Hey Jude" was a mishmash of beautiful ballads, a hard-rocking rampage, and a conglomerative chorus.  Ultimately it became the staple song for the band's "second coming" and has now become a classic that still holds up today.
"Here Comes the Sun," was the band's foil to the Rockstar sound they had been rolling with during the end of the decade.  Going back to their roots with an indie sound, yet still adopting the late 60's psychadelamania, this song ended up becoming an iconic kumbaya song.  Making this stripped-down acoustic track and pairing it with delicate vocals from Paul McCartney ended up being a decision we're all still thankful for today.
"Let It Be," was The Beatles' heartfelt piano ballad.  Supposedly coming from a dream front man Paul McCartney had about his late mother, the simple yet somber message of the song is sobering and causes true emotion when listening to it.  It was one of the band's first commercially successful songs that focused on substance over repeatability, and it paid off big time, as it still stands firm as one of the greatest songs ever.
Then came 1970. Yoko Ono destroyed the greatest band ever.  Lennon left the band, and soon the remaining members followed suit.  The Beatles each went their own ways to write their own stories, and with that a new era was ushered in: The Lone Stars.
Luckily for music listeners the world over, The Beatles were composed of four incredible individual artists.  So, as the band split up, each of the four had the opportunity to flaunt their musical prowess with solo work, and with that came some of the most iconic songs of a generation.
George Harrison
George Harrison's solo career was filled with hits.  While tragically being cut short by his untimely death in 2001 after battling lung cancer, Harrison showed off that he was more than a JAG in The Beatles during his solo run with songs like "My Sweet Lord," "What Is Life," and "Wah-Wah." 
"My Sweet Lord," was a melodically whimsical and spiritual performance by George Harrison. Pandering towards the likes of the Beatles' most intimate works, with the acoustic instrumentation and cheery supporting vocals.  With this one, Harrison created a truly amorous, acoustic aubade.
"What Is Life," seemed more Sargent Pepper's than anything else.  It has that quirkiness and exotic instrumentation that immediately brought back a sound of prime Beatles works.  That paired with the cheery nature of the song bring it up to the next level and made listeners the world over wonder if the Beatles splitting up was really the worst thing in the world.
"Wah-Wah," was Harrison's simplest hit.  The sappy lyrics are extenuated with the two word chorus: "wah-wah."  The song can get kind of annoying after a few listens just because hearing the chorus could drive you mad, and the fact that its like five minutes long doesn't help either.  Despite this, the rocking guitar makes this song a great one listen wonder.
Ringo Starr
Ringo Starr's solo run to stardom wasn't as mainstream as his other Beatle counterparts, but he was able to craft some undeniably lasting songs.  With his works including "It Don't Come Easy," "Grow Old with Me," and "Photograph," Starr came onto the scene with a Beatle reputation and a Billy Joel flair.
"It Don't Come Easy," sounds so far from a Beatles song that you would never know that Ringo Starr was a Beatles disciple.  Coming more from the Billy Joel, or Elton John sound family, this song was catchy and a quick classic, but was easily overshadowed by former Beatles works, a reoccurring theme in Ringo Starr's solo career.
"Grow Old with Me," was supposed to be a slow and loving song, but it just isn't very good. Ringo Starr just doesn't have the vocal chops as some of his Beatles counterparts and it shows in this song. Constructed to rely on the vocals to carry the track, it just ends up being like a tower of cards waiting to topple over.  It's very bleh instrumentation backing a monotone set of vocals.
"Photograph," was probably Ringo Starr's best solo track.  It is reminiscent of Beatles works of old. Whether it be telling a story of the mundane through ordinary yet artful lyrical weaving, or the acoustic heavy instrumentation, the song just works.  After two paragraphs of being chastised, Starr deserved a break with this one, and truly earned it with his work.
Paul McCartney
Paul McCartney's solo career became so long-lasting it almost seemed evergreen.  Spanning over four decades, McCartney made incredible songs for numerous generations, ranging from his Wings days in a song like "Band on the Run," to his bodacious ballad "Maybe I'm Amazed," to his more recent work in 2018 album Egypt Station like song "Fuh You."
"Band on the Run," the second song in McCartney's three track medley from his album Band on the Run, was a test of the line between experimental music and radio friendly sound.  The song explored the world of experimental music with its unique structure but was familiar enough to be accepted by the pop world.
"Maybe I'm Amazed," was the amalgamation of McCartney's bout with depression during the demise of the Beatles, and the resulting support he received form his wife. McCartney, encouraged by his wife to write again, created this masterclass for his wife Linda.  And she should be flattered, because this track is one of the single greatest songs ever, ranging from it being one of the best constructed ballads, to most intimate feeling music has ever heard.
"Fuh You," is Egypt Station's crowning jewel.  A far cry from what McCartney previously produced, this track relies on a syntho-pop sound, and goose-bump-inducing bass drops.  The McCartney vocals are still raw, where much of the song sounds heavily produced, creating a delicate balance that accumulates into a jumping, bumping, party-pop anthem.
John Lennon
John Lennon's solo career was ephemeral yet prolific.  So prolific in fact that it can be argued that it overshadowed his days in The Beatles.  Creating masterpieces like, "Instant Karma," "Merry Xmas (War Is Over)," and "Imagine," Lennon was baptized in the waters of greatness, and after being killed in 1980, rose to the status of a musical deity.
"Instant Karma," was Lennon's solo rocker.  His raspy voice, the catchy hook, and the tight instrumentation paired with the aura around Lennon gave the song an edgy, rebellious-rock flair.  The song's hook was unforgettable, and the chorus was a blasting sing-along banger, letting anyone who listened "all shine on."
"Merry Xmas (War Is Over)," became Lennon's Christmas classic.  Where most holiday hymns would be a cheery, fluffy song, Lennon makes his Christmas tune a political statement masked in holiday cheer.
"Imagine," will go down as one of the greatest ballads in the history of music.  The dreaming, nubivagant track tells tales of a wonderful life where lust is love, and highs are happiness; where everyone is accepted and equal.  Unfortunately, Lennon never got to see this world, and quite frankly we haven't either. Says something about the world Lennon lived in, one he was truly foreign to. 
A Beatles beginning and an end that's fitting
While time made strangers of them, The Beatles arguably shined brighter apart, like the moon and the sun.
And while we may yearn for their golden days, we can't hold onto an idea that isn't meant to come back to us, because an idea, like a rubber band, often hurts the one who holds on last.
So, we'll have to settle for the same feeling as the last line of a poem:
An utter sense of completeness.