Championships should be earned, never given
My coach once told me "Do whatever you can to win your last game." So that's what I try to do. It's what I did during the recent Unified basketball season, but it didn't matter.
The Lancer team was named "runners up" behind a team we never faced in a championship game. This was also true for the girls basketball team, who also fought hard and won their last game only to be told they were runners up.
It's one thing to earn the runners up position, and another thing to have it thrust upon us by people who probably never even saw us play.
Due to the Coronavirus, the NHIAA had to cancel the remaining tournaments still in progress. I'm not disagreeing with this decision. The safety of the student-athletes comes before anything. When they cancelled the playoff games, the NHIAA had to decide how to determine who would be champions. This was obviously difficult to do since none of the teams were able to play the final games in the playoffs.
Therefore, the NHIAA decided that if there were only two teams remaining in a championship, those two teams were to be named co-champions.
If there were more rounds than just a championship, such as the semi-finals, then the highest remaining seed IN EACH BRACKET would be named co-champions, and everyone else would be named "co-runners-up."
As a member of the Unified basketball team, I am heartbroken. 
Not just for myself, but for my teammates, my coaches, and the families that have sacrificed so much to get where we were. 
I wasn't a member of the girl's basketball team, but they were just getting started, and then, out of our control, tragedy struck. All of their hard work and grit, just to be named runners up. Senior captain, Courtney Shay, had a lot to say about the situation.
"Personally, I am upset because my team had so much potential and we knew we could have beat Goffstown and made it to the championship," Shay said, "but we didn't get the opportunity to prove that."
The girl's basketball team had a history of beating teams who were seeded higher than them, which is reason to believe why their team is upset.
"We made it all the way to the Final Four as the 10th seed and we were on a roll, playing our best basketball," Shay said. "It's frustrating that they decided champions and runners up based on seeding even though we upset both Pinkerton, who was the 7 seed, and Merrimack, who was the 2 seed, to get there. My team is frustrated because we have worked so hard to get this opportunity and to have it taken away and be named co runner up is disappointing to all of us because we know we deserve more."
In spite of everything, Shay is a little more understanding than I am.
"I guess that's what they had to do to be politically correct," Shay said. "So we'll enjoy being runners up and even consider ourselves champions because we went out as winners and didn't get our chance to prove what we could really do."
Many solutions could have been made to prevent teams, like ourselves here in Londonderry, from feeling like a lesser. Two stand out to me in particular. 
One, no champion at all. How can there be a champion if there is not a championship game? Sure, that would create a lot of tension, but it is a logical solution. 
Two, everyone is a champion. I can already hear it in my head right now. "Why do you kids insist on everyone getting a participation trophy." I agree, we shouldn't get them, but in this situation, it's not a participation trophy. Every team that was still remaining was there for a reason and still had a lot to prove. 
We all had a chance to win.
Unfortunately, no championship game will be played, and there is nothing we can do about that. However, there is one thing that we can do: look at the bright side. We played our hearts out all season and our coaches are so proud. To every winter athlete out there whose season got cut short, keep your head held high. After all, we did win our last game.
Leave a Comment
About the Contributor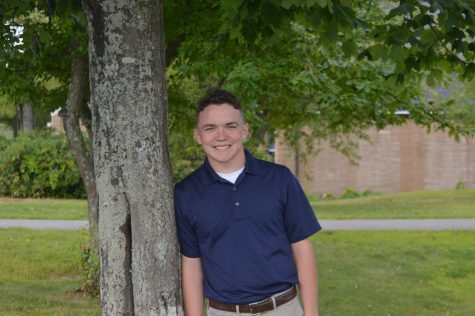 Chris Tutt, Sports Editor
Big Sports Guy. Chris is apart of the unified family, captain of the varsity baseball team, president of senior gators, and is involved in numerous clubs. He is a two-time concussion survivor.