Mrs. Sanborn motivates students in the classroom and on the track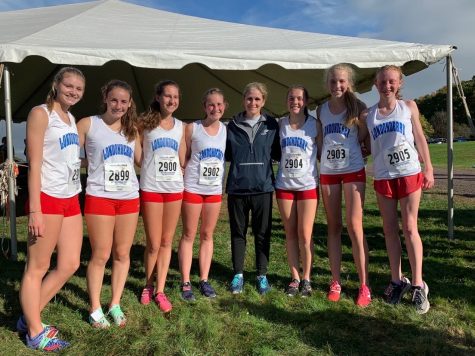 Math teacher Amy Sanborn walks in every day to class with her binder, her laptop, a big smile and a great attitude to help others around her learn and enjoy math. She takes pride in her work and makes sure all of her students have an understanding of the concepts she teaches.
"I want math to be something people can easily grasp and learn rather than hate and get sick of," Sanborn said.
Sanborn first wanted to become a teacher her sophomore year of high school, when she took geometry. Her teacher's passion and excitement about math inspired her to pursue a career in this field of work.
"It wasn't just the subject that came easy to me, but my teacher that made me fall in love with math," Sanborn said.
Not only was her geometry teacher an inspiration, but math had always been around Sanborn from a young age.
"My father was also a math teacher, and I would always watch him and be inspired to do what he was doing," Sanborn said.
When she first started teaching, she had a few goals in mind in order to become a successful teacher. One of her biggest goals was to get kids to expand their minds on the topic of math and allow the subject to grow on them as they learned about it.
"Instead of kids hating math, I want them to not fear it," Sanborn said.
Sanborn connects with all students she has or even ones she doesn't because of how much she cares about being a great teacher. She teaches geometry, pre-calculus, and calculus at LHS which allows her to make connections with a large number of students.
"Having the variety and ability to teach different classes at different levels helps keep my days fun and exciting while working with all kinds of students," Sanborn said. "If it weren't for these kids, I wouldn't know how I would make it through my day."
Senior Katie Sullivan has a huge appreciation for Sanborn as well. She decided to take pre-calculus knowing that it would be a struggle for her last year of math. The previous year she had Sanborn as a geometry teacher and had the ability to work with her throughout her free periods on any work she needed help with. Sanborn was always there in Math Lab, A period bright and early, to help her, as well as other students.
"I couldn't thank Mrs. Sanborn enough for helping me get through the most challenging math course I've ever taken," Sullivan said. "If it wasn't for her dedication and hard work I probably wouldn't have that grade I have now in pre-calc."
Not only is Sanborn known for her great teaching skills and hard work inside her classroom, she also is the girls varsity track and cross country coach.
Sanborn is one of the two coaches that helps out with these two sports, but she likes to get to know all the girls on the team and not just the long distance girls. She makes sure to interact with sprints and pole vault girls just as much as she does with her long distance girls.
Sanborn had run most of her life and all throughout college. After she graduated from college, she realized that helping coach younger girls at the high school level would be something she could put her extra time into.
"Even when I was in high school I would be asking my coach why we were doing certain workouts and how it would help us," Sanborn said. "I always wanted to know how it all came together and worked for me as a runner."
Sanborn realizes that as a teacher, she can have a whole other experience outside of the classroom as a coach by helping others just like she does during her class time. Sanborn enjoys coaching the cross country team more because it is usually a smaller group of 10 to 20 girls. She gets the ability to build a relationship that is closer together, just like a family.
"Track is a little harder for me to see all of her girls as a whole because of how big the group is," Sanborn said. " I enjoy learning about different techniques while helping others learn and improve on their ability within the sport."
Junior Ashley Griffin is on the girls varsity track team and does pole vault and sprinting. Griffin has been around Sanborn for the last three years and doesn't know what she'd do without her.
"I enjoy having Mrs. Sanborn at practice because not only was she one of my coaches, but a great role model for me to look up to when wanting to improve and learn new skills," Griffin said.
Sanborn's students and fellow staff members have an appreciation for her skills as a teacher and everything she has done for the school. She's there as an educator, but also as a friend to go to talk to whenever.
"I want kids to feel comfortable with their school work as well as come to me with any problems they have," Sanborn said. "School related or not, I'll be here."