5 Seconds of Summer explore new sounds on 'CALM'
Over the course of their eight years as a band, 5 Seconds of Summer (5SOS) have proven themselves unafraid to take on a new challenge. From the pop-punk of their self-titled debut to the synth-heavy Youngblood, 5SOS have amassed a worldwide fanbase and become the first band to have all of their albums debut at #1 on the Billboard 200.
Until now. Unfortunately, the release of 5SOS's fourth album, CALM, was anything but. 
According to The Music Network, 5SOS debuted at #62 after 10,000 copies of CALM were accidentally distributed by Ticketmaster a week early. However, if those 10,000 copies were counted the following week, 5SOS would have debuted at #1, continuing their streak, as they absolutely deserve.
In many aspects, CALM is a progression for 5SOS. Luke Hemmings completely takes on the role of lead singer, and not only did that provide for a more consistent sound, but it granted 5SOS the opportunity to experiment with different genres and styles of writing that they hadn't before.
On CALM, the Australian group explores a New Wave sound. "No Shame" is what I like to call light-dark: a song with a happy sound (bright guitars and airy keys) that hides a deeper message, one that's a critique of how people are willing to do anything for fame; Hemmings sings, "Diggin' my grave to get a reaction / Changin' my face and callin' it fashion / Got no shame / I love the way you're screaming my name."  Additionally, last year, in my review of "Teeth," I said that thinking about the song live "sent a thrill up my spine." I was correct and can now confirm that "Teeth" is fantastic in a live setting—the snappy percussion, bumbling bass and biting lyrics make it perfect a concert. 
"Easier," however, is the worst of its counterparts. It is synthetic and structured: the drums clash at just the right time, and the bass is punchy, all of which I enjoy. Yet, the grating falsetto reminds me that "Easier" should've remained in the hands of its original writer, Charlie Puth. Unfortunately, the falsetto in "Easier" is not the only offender on CALM; "Old Me" is generic, lackluster and the use of Hemmings's upper register is painfully irritating. 
Yet, even as "Not In The Same Way" sounds like a recipe for disaster—with its extremely questionable, shrill falsetto and cycling beats—I love it. The chorus is explosive, and the lyrics, acrimonious, as Hemmings sings, "I'm sick of sadness, and you're sick of Xanax… I love you, you love me / But not in the same way."
In fact, the writing on CALM is another improvement. "Best Years" is melancholic, as Hemmings desperately promises, "I'll build a house out of the mess and all the broken pieces / I'll make up for all your tears / I'll give you the best years." "Lover of Mine" has the strongest lyrical pattern of the entire record, and "High" is heartbreaking (in the best possible way). 
And yet, none of that matters when CALM's tracklist is as chaotic, disorderly and, even, confusing as it currently is. Love and its emotional turmoil is the most common theme on CALM. There is a clear storyline within the lyrics, from courtship to dating to breaking up, but the tracklist doesn't reflect that.
Take, for example, "Wildflower." The agile guitar and enthusiastic jabs of synth make for a fun, albeit saturated, track about having an infatuation with someone. However, "Wildflower" is stuck between the angsty "Teeth" and the hopeful-yet-sad "Best Years." What's up with that? Jumping from love to hate to hope in ten minutes is simply too much to comprehend in such a short span of time.
Plus, the first three songs have no place in an album entirely about love. "Red Desert" is about staying true to your roots, and "No Shame" is a commentary on the music industry. "Old Me" is about self-love, so that could pass for CALM, except it should be at the end of the album, once the break-up is over.
In addition, there were some questionable choices made regarding the production. There's a certain grit present in multiple songs that ruins the quality. The powerful drums and strikes of piano in "Lover of Mine" don't sound good together, and the chorus of "Thin White Lies" features this metallic, monotonous, incredibly distracting synth. 
With that said, CALM was another step in the right direction for 5 Seconds of Summer. The writing, the sound, and the exploration of new elements, such as more bass and synth-heavy choruses, all make for a better 5SOS, which is exactly why Billboard should do the proper thing by counting the accidental 10,000 copies and rewarding 5SOS with the number one they earned.
7 / 10
Hear CALM yourself!
Leave a Comment
About the Contributor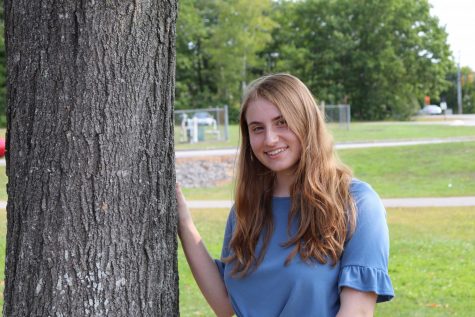 Anna Drabik, Executive Arts and Entertainment Editor
A frequent concert-goer and a nervous wreck (some of the time), Anna is looking forward to continuing to write music and concert reviews this year for The Lancer Spirit. She also enjoys working out, sleeping, and watching Jane the Virgin, her favorite TV show, on Netflix.